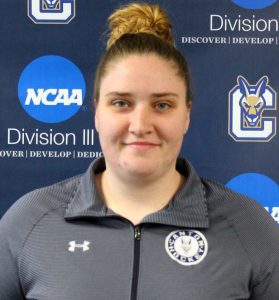 Hannah Brady has been named assistant coach for the Canton women's hockey team.
Brady, a 2019 graduate of Canton, was a four-year member for the Roos women's hockey team, appearing in 103 contests and totaling 27 points on 10 goals and 17 assists.
The Jeannette, Pa., native helped lead the team to four straight CHC playoff berths.
"I am extremely excited to have Hannah join our staff," Canton head coach Dave LaBaff said in a statement. "Hannah is one of the most respected players to have ever been a part of our program both on and off the ice. She brings a wealth of knowledge about the game of hockey, and she will no doubt continue to have a positive impact on the family that is SUNY Canton women's hockey."
"I am honored to continue to be a part of the SUNY Canton women's hockey program," Brady added. "I am excited to bring my playing experience and now shift to a role behind the bench. I have learned a lot while volunteering at the Hockey Training Institute over the past few summers and I cannot wait to help build this program and work alongside Coach Labaff."
Brady graduated with her Bachelor's degree in nursing from Canton in May 2019.