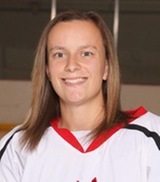 Olivia Spellmire has been named an assistant coach on the Maine women's staff.
Spellmire joins the Black Bears after a well-decorated playing career at Lake Forest and one year of professional hockey in the Swedish Women's Professional League.
At Lake Forest, Spellmire played in 110 career games and tallied 132 career points (53 goals and 79 assists).
The Bloomington, Minn., native left the Foresters program first all-time in assists, second all-time in points, and third all-time in goals and game-winning goals.