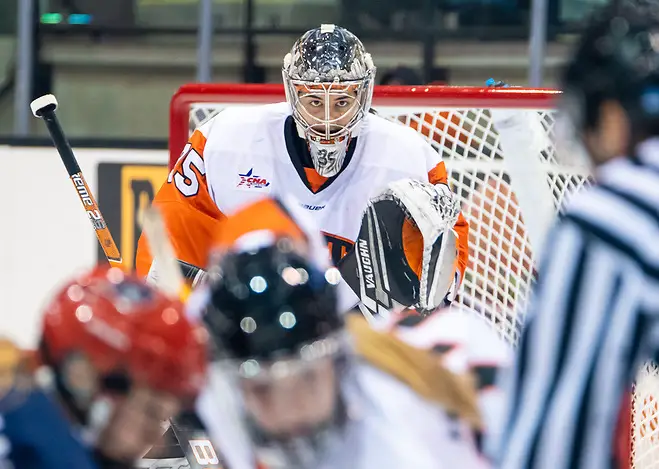 The CHA has never been more competitive than it is right now. Three different teams received first-place votes in the conference's preseason poll, though Mercyhurst was tabbed the early favorite. Robert Morris and Syracuse were within three points and Penn State was voted a close fourth. The conference feels as wide open as it's ever been.
Syracuse are the reigning conference tournament champions, winning their first-ever title and first-ever NCAA berth. Robert Morris won their third-straight regular season title, with Mercyhurst three points behind and Syracuse four points behind them.
Lindenwood
Last Season
7-22-4, 3-14-3 (sixth). Lost to Syracuse in the opening round of the CHA tournament.
Names to Know
Lindenwood begins this season with a new head coach. Shelley Looney may be best known to women's hockey fans as the gold-medal game-winning goal scorer of the 1998 Olympics. This is her first NCAA women's hockey head coaching job, though she brings a wealth of coaching, development and program directing experience through work with USA Hockey as well as a number of girls hockey programs. Additionally, she was the head coach of the 2017 and 2019 World University Women's National Team and coached the Buffalo Beauts during the first season of the NWHL. Kristi Kehoe is joining her as an assistant coach alongside second-year assistant Greg Haney.
Sophomore Sophie Wolf was a revelation for Lindenwood in goal last season, where she finished with a .897 save percentage, which was tied for third in the conference. She'll be the base the Lions build off of this season.
Jada Burke led the Lions with 11 goals last season as a freshman. She's 6'0" and she uses her size well in front of the net and in the faceoff circle. Expect her to break out even more as one of the team's offensive targets. She was named to the conference All-Rookie team and was the conference Scholar Athlete of the Year
What to Watch For
The Lions will be without last season's leading scorer, but otherwise graduated just four players. Their eight sophomores have a year of experience to build on and will need to make a step up if the team is to find success this season.
They have just three home series after the winter break. They start the season at home against reigning National Champions Wisconsin.
Crystal Ball
I see improvement for the Lions this season, but unfortunately for them, the rest of the conference has made big strides recently, as well. It's possible that the top four beat each other up a bit and leave an opening, but even with a better year, I think Lindenwood still finishes fifth.
Mercyhurst
Last Season
15-14-5, 12-6-2 (second). Lost to Syracuse in the CHA Tournament semifinals.
Names to know
Senior Emma Nuutinen has been an offensive force for the Lakers since joining the program after North Dakota cut their women's hockey team. She led Mercyhurst with 16 goals and 28 points last season and was third in the CHA in scoring. A 2018-19 CHA first team All-Conference selection, she will need to once again be the driving scoring force.
The Lakers graduated seven seniors, including Sarah McDonnell, who took half the team's starts in net. Will Kennedy Blair earn the starting job or will one of the other three goalies on the roster push her for time in the net? The team gave up nearly three goals per game, something they have to improve on if they are going to return to the top of the CHA and earn a berth into the NCAA tournament.
What to Watch For
Mercyhurst led the country with 11.50 penalty minutes per game. Their 391 penalty minutes are equal to more than 19 periods of hockey. It's simply something they have to become more disciplined on. Their already weary defense is being put at a disadvantage way too frequently.
They perennially play one of the tougher non-conference schedules in the country, which can really help prepare them for the post-season, but can also sometimes knock them off their game. They open the season with Colgate and also play Clarkson, Minnesota Duluth and Cornell over the course of the season.
Crystal Ball
After years of conference domination, the rest of the CHA has been giving Mercyhurst a run for their money recently. They finished just three points outside the top slot last season and will be looking for places to make up those points. In my opinion, the top three teams in the CHA are indistinguishable right now and the championship is up for grabs for whoever steps up and takes it. For now, I'll go with Coach Mike Sisti's experience and put the Lakers first, but I'll not be surprised if they finish third.
Penn State
Last Season
13-14-9, 6-9-5 (fifth). Lost to Robert Morris in the CHA tournament semifinals.
Names to know
Junior Natalie Heising is the offensive spark for Penn State. She is just the third Nittany Lion to be named to All-CHA First Team. She led the team in scoring.
Freshman Rachel Weiss won gold with Hockey Canada at the 2019 IIHF U-18 Women's World Championships while Mallory Uiehlein won silver with Team USA.
Penn State has one of the tallest blue line corps in Division I, but they're adding 5'10" Mikayla Lantto as a forward. She's shown a prolific scoring touch in prep hockey and should be a good option to help Heising out up front.
What to Watch For
Over the past two seasons, Penn State has played 25 overtime games and has just one win. They also only have five losses, but those twenty ties in two seasons are a huge missed opportunity for the Nittany Lions. They finished five points out of third place last season. Converting just a portion of their ties to wins would be a huge step forward for them.
Four of their final six series are on the road.
Crystal Ball
Penn State is currently solidly the fourth team in the conference, but there's room for them to move up. They are not that far off from the top three teams and as those teams focus on each other, the Nittany Lions could find a window of opportunity.
RIT
Last Season
12-18-5, 8-11-1 (sixth). Lost to Penn State in the opening round of the CHA tournament.
Names to know
Senior goalie Terra Lanteigne was CHA Player of the Year after leading the country with a .944 save percentage. Her 1245 shots faced and 1175 saves were both second in the nation. The 1,175 saves are a RIT single-season record and her 2,389 stops in three years are the most in program history.
Freshman Rachel Goff is tiny, but knows how to use her size to her advantage. She could be the spark the Tigers' offense needs.
What to Watch For
RIT improved massively last season. Their goal differential improved by 82 and they won seven more conference games than they did last season.
The Tigers graduated nine seniors and lost their second-leading scorer to transfer, which accounts for 55% of the team's scoring last season. They only averaged 1.91 goals per game – though that was .71 more goals per game than two seasons ago – so there has to be immediate impact from some of the rookies to help this team score. Lanteigne can't do it all and the team has to give her some goal support.
Crystal Ball
I have RIT finishing sixth, but that says more about the talent in the rest of the league than my lack of belief in them. Langteine gives them so much upside that if any of the freshman step up and push the offense, both Penn State and Lindenwood will need to watch out for them.
Robert Morris
Last Season
16-14-6, 13-4-3 (first). Lost to Syracuse in the CHA Tournament final.
Names to know
Senior Jaycee Gebhard and junior Lexi Templeman led the CHA in scoring last season. Gebhard set a new program record with 51 points (19g, 32a) and was a first team All-Conference selection. They are the
Freshman goalie Raygan Kirk was the MVP of the 2019 IIHF U-18 Women's World Championships and a gold-medal winner with Hockey Canada.
Junior Emily Curlett was third on the team in goals (11) and fifth in total points (21) as a defender.
What to Watch For
The Colonials won their third regular-season crown in a row last season before being upset by Syracuse in the conference tournament championship game. They graduated their starting goalie, but are bringing in Kirk. Sophomore Arielle DeSmet played ten games for RMU last season, so the goaltending battle could be a very interesting one.
They open against Union, but then have a six game gauntlet of Minnesota, Clarkson and Cornell – all Frozen Four participants last season. They also play three of four series on the road to close the regular season.
Crystal Ball
With questions at goalie, I'm putting Robert Morris second. I expect RMU, Syracuse and Mercyhurst to be in a close raise for the top spot all season.
Syracuse
Last Season
13-22-3, 10-8-2 (third). Lost to Wisconsin in the NCAA quarterfinal.
Names to know
Sophomore Abby Moloughney is the team's highest returning scorer. She was third on the team last season as a rookie. She also led the team with five power play goals.
Junior Jessica DiGirolamo was second on the team with 70 blocks and was a threat from the blue with 11 assists and 18 points.
What to Watch For
Don't expect last season's success to be a fluke. They once again return 13 upperclassmen and seven of their nine leaders in points from last season.
Syracuse brings size to the ice. There are nine women on this roster that are 5'9" or taller and the Orange are talented at using their height to shield the goal mouth. They are also one of the most penalized teams. If they can find a way to balance that out and use their size without bowling over opponents, they could be even more difficult to face.
They start the season with nine games against NCAA tournament teams – Clarkson, Boston College, Northeastern, Colgate and Princeton. They had a tough road to start last season and didn't get a win against any of those top teams. If they want to show they're moving forward as a program, they have to get some points from that incredibly difficult slate of games.
Crystal Ball
I've got Syracuse third for now. I'd like to see what they might have learned from their post-season experience and how they handle themselves through that opening stretch.