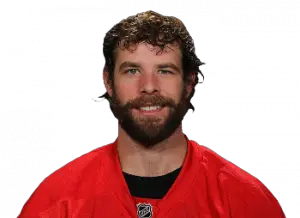 New Hampshire announced Monday that the Wildcats have named 2001 UNH graduate Ty Conklin as the team's volunteer assistant/goaltending development coach.
"Ty is the most successful goalie in program history and we are lucky to have him as our goaltending development coach," said New Hampshire coach Mike Souza in a news release. "He brings playing, coaching and goaltender development experience from his time in the NHL, which will be a tremendous asset to our program. I'm very excited for our goaltenders to have someone that has excelled at the highest level to mentor them."
Conklin most recently served as the goaltending development coach for the St. Louis Blues for four seasons.
Conklin had a stellar career as a Wildcat recording a 57-23-12 record. He is the career record holder in GAA with a 2.18 mark. In 1998-99, Conklin posted a program-record 1.84 GAA and tallied a 18-3-1 record as the Wildcats advanced to the NCAA tournament championship game. He was named an All-American in 2000 and 2001 and was the Hockey East Co-Player of the Year in 2000. The two-time Hobey Baker Award finalist (2000, 2001) and the 2001 co-winner of the Walter Brown Award, Conklin was also a 2008 inductee into the UNH Athletics Hall of Fame.
After his career at UNH, Conklin went onto play in nine NHL seasons, posting a 96-67-1 record with 17 shutouts over 215 games with Edmonton, Columbus, Buffalo, Pittsburgh, Detroit and St. Louis.