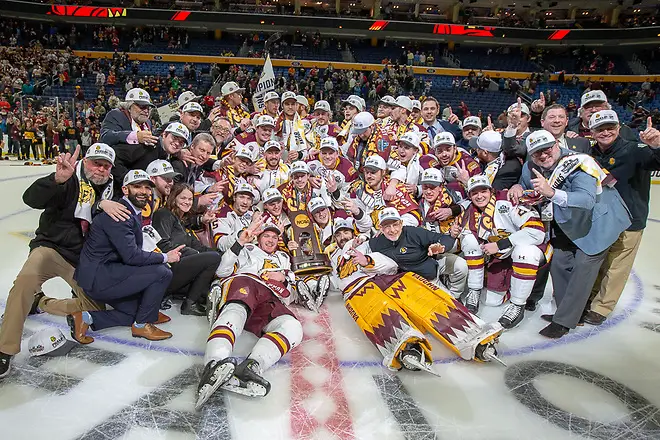 Four straight national championships.
Not since the early aughts when the WCHA produced two schools that won back-to-back championships, then added a fifth title with Wisconsin's win in 2006, has a conference been this dominant.
Now entering its seventh year, the NCHC has emerged as college hockey's best conference, consistently racking up the highest inter-conference winning percentage and sending a high percentage of its squads to the NCAA tournament, with at least three making it to the tournament every year.
Both the ECAC and Hockey East have also sent at least three teams to the tournament the last six years, but when it comes to Frozen Fours, the NCHC is the big dog, having two teams in the Frozen Four in four of the six years, and a total of 10 Frozen Fours overall. Hockey East is hot on the NCHC's heels with seven Frozen Four teams but has only captured one championship in that time.
On top of that, Denver was an overtime goal away from making it two of the past three years that it would have been an all-NCHC final.
"We are very proud of what this conference has built," said league commissioner Josh Fenton. "We continue to focus our efforts on providing experiences for student-athletes and fans. As we completed our sixth season, the results on the ice have been nothing short of astounding."
There are many new faces in the NCHC this season. As far as scorers, 10 of the top 13 from last year either graduated or departed for the pros. The coaching carousel changed again too, as Enrico Blasi has been replaced at Miami by Chris Bergeron, who last season led Bowling Green to the NCAA tournament and will look to improve on the RedHawks' back-to-back last-place finishes.
"They seem to be excited coming to the rink every day," said Bergeron. "There's been some guys that this is not what they signed up for in terms of these two coaches are here, they leave, and now two new coaches come in, and now Rico's gone. They've had six assistant coaches and two head coaches, so I think it's trying to bring some stability to an unstable situation."
Last April, Minnesota Duluth became the first school since Denver in 2004-05 to win back-to-back national championships. With its third title in the last decade, UMD has emerged as the top college hockey program in the country.
Only Boston College managed to win more than one national championship in that span, but the Eagles last won in 2012.
The Bulldogs were ranked first in the USCHO preseason poll, with 49 of 50 first-place votes. No surprise, given that the Bulldogs returned most of their roster from last season. Among the returnees are dynamic defenseman Scott Perunovich and goaltender Hunter Shepard. Since coach Scott Sandelin's teams usually win with impregnable defenses, the Bulldogs will again be one of the favorites.
Right behind UMD in the poll was Denver, which also returned most of last year's Frozen Four team. Yes, the Pioneers lost goaltender Filip Larsson, who emerged as the starter in the postseason, but Larsson split time with Devin Cooley during the regular season, and Cooley actually had a better goals-against and save percentage than his counterpart.
While UMD and Denver, the winners of the last three national championships, look as solid as ever, there are many question marks below them. Western Michigan, picked third in the preseason coaches poll, does return most of its roster, but the Broncos lost top scorer Colt Conrad and starting netminder Trevor Gorsuch to graduation. Senior Ben Blacker had been the starter the previous year and if he returns to form, that solves WMU's goaltending issues.
Perennial power North Dakota, after winning the NCAA championship in 2016 (the first NCHC team to do so), has not even made the NCAA tournament in the last two seasons, something that has set its passionate fan base on fire with questions and concerns. Coach Brad Berry will be looking to find scorers to improve on last season's offensive struggles.
"We have a good returning group," said Berry at NCHC Media Day. "Our forward group, the guys are going to elevate as upperclassmen. We're going to have a well-balanced team."
St. Cloud State's fans thought that perhaps a new coach would change its postseason fortunes. In his first season, coach Brett Larson led the Huskies to their third Penrose Cup title, but the Huskies lost in the NCHC Frozen Faceoff championship game in OT to Minnesota Duluth, then its vaunted offense went AWOL in a 2-1 loss to huge underdog American International in the first round of the NCAA tournament. St. Cloud was hit hard by graduation and early departures and will likely struggle in the first half of the season.
Regardless, the NCHC usually brings surprises, and teams that might be counted out often do well. It would not be a surprise to see an NCHC team holding the NCAA championship trophy again come April.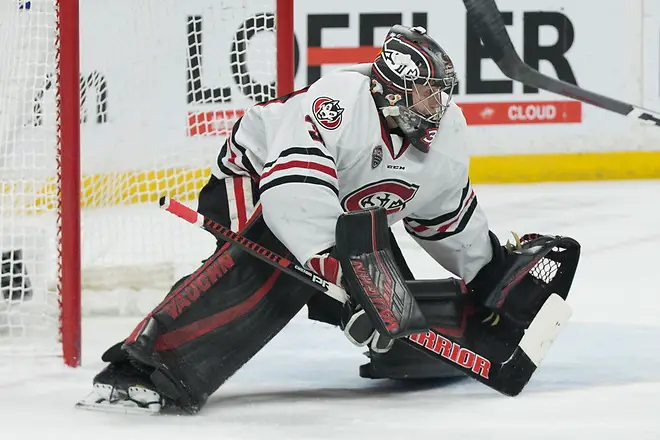 COLORADO COLLEGE
HEAD COACH: Mike Haviland, entering his sixth season at Colorado College
2018-19 OVERALL RECORD: 17-20-4 (9-12-3 NCHC, sixth)
KEY RETURNING PLAYERS: Senior forward Nick Halloran (4-9-13), senior forward Alex Berardinelli (9-8-17), sophomore defenseman Bryan Yoon (3-23-26), senior forward Chris Wilkie (6-13-19)
KEY LOSSES: Forward Trey Bradley (15-19-34), forward Westin Michaud (13-17-30) forward Mason Bergh (7-21-28), goaltender Alex Leclerc (17-19-4, 2.70 GAA, .914 SV%), defenseman Ben Israel (2-2-4)
KEY ADDITIONS: Forward Josiah Slavin (Lincoln, USHL), forward Patrick Cozzi (Prince George, BCHL), forward Sam Renlund (Des Moines, USHL), goaltender Matt Vernon (Aberdeen, NAHL)
2019-20 PREDICTIONS: The good news for Colorado College is the Tigers have been trending upward in recent years. Last year they finished sixth in the NCHC, then advanced to their first-ever Frozen Faceoff in the NCHC's young history, losing in the semis to St. Cloud State and then the consolation game to in-state rival Denver.
The bad news is that many of the players responsible for CC's turnaround over the last two years have graduated, including stalwart goaltender Alex Leclerc, as well as CC's top three scorers from last year, Trey Bradley, Westin Michaud, and Mason Bergh.
If CC coach Mike Haviland can take heart from anything, it's that CC did as well as it did last season while losing two star players to injury for much of the year. Nick Halloran, now a senior, was leading the team in scoring when he was lost to injury in January, and senior Chris Wilkie, a transfer from North Dakota, played well in limited action last season. If those two are back and healthy, CC at least has some scoring it can count on.
Another bright point is defenseman Bryan Yoon, who dazzled as a freshman with 26 points. Yoon will be one of the anchors of a blue line that lost three steady defensemen to graduation
Haviland's first task will be replacing Leclerc, who could be counted on to keep the Tigers in any game during his career. Leclerc's backup, Alec Calvaruso, left CC in December last year, and junior Jon Flakne did not play a game last year. Ryan Ruck, who played for Northeastern, has one year of eligibility left and will play at CC this season. Ruck will compete with freshman Matt Vernon for ice time early in the year.
"We like our group that came in," said Haviland. "We had a good run last year in the second half into the playoffs and getting to the Frozen Faceoff. We certainly want to build off that. Again, we like our class, we like who we brought in, like the guys returning; they're a good group."
Candace's pick: 6th
Matthew's pick: 6th
DENVER
HEAD COACH: David Carle, entering his second season at Denver
2018-19 OVERALL RECORD: 24-12-5 (13-10-1 NCHC, fourth)
KEY RETURNING PLAYERS: Senior forward Liam Finlay (16-20-36), sophomore forward Emilio Pettersen (6-24-30), junior defenseman Ian Mitchell (6-21-27), sophomore forward Cole Guttman (14-12-26), junior goaltender Devin Cooley (11-6-2, 1.84 GAA, .934 SV%)
KEY LOSSES: Forward Jarid Lukosevicius (19-10-29), forward Colin Staub (8-8-16), goaltender Filip Larsson (1.94 GAA, .932 SV%)
KEY ADDITIONS: Forward Bobby Brink (Sioux City, USHL), goalie Magnus Crona (Sweden), Hank Crone (Fargo Force, USHL, played at Boston University in 2017-18)
2019-20 PREDICTIONS: Last year shows that you can never really tell what will happen in college hockey. Not too much was expected of Denver last season, given that they had lost three all-star forwards to the pros, as well as coach Jim Montgomery, who had led the Pioneers to a national championship in 2017. Most observers felt DU might, just might, make the NCAA tournament and fall in the first round.
When elite goalie prospect Filip Larsson was lost to injury in September for the first half of the season, those prospects dimmed even further.
As DU used to say in its championship season, "Trust the process." With a trio of dynamic freshman forwards leading them, Liam Finlay coming on as a top scorer after hiding in the shadows of players like Henrik Borgstrom, and goalie Devin Cooley taking advantage of his opportunity, the Pioneers rode a good start to another NCHC Frozen Faceoff appearance, becoming the only team to play in every Frozen Faceoff in the league's history.
Larsson eventually won the starting role back come playoff time, and he led Denver back to the Frozen Four, where DU rallied with 10 minutes left in the third by scoring twice before losing in overtime to Massachusetts.
Junior defenseman Ian Mitchell, a Chicago Blackhawks prospect and the team's captain, anchors the blue line and will look to improve DU's penalty kill, which hurt them all year, including in the loss to Massachusetts, where the Pioneers gave up three power-play goals in the first period.
Larsson departed for the pros, but Cooley is back, and his numbers were slightly better than Larsson's with equal playing time. Freshman Magnus Crona will look to duplicate what his countryman did as he battles Cooley for playing time.
DU's strength will again be its forwards. Back are sophomores Emilio Pettersen, Cole Guttman, and Brett Stapley, and Finlay is back as a senior. Hotly-touted prospect Bobby Brink, a second-round choice of the Philadelphia Flyers in June, will look to add to DU's potent offense.
"We're excited; I think our team has a good chance of doing something pretty special," said Mitchell. "I like who we have returning. I'm definitely excited to start playing games."
Candace's pick: 2nd
Matthew's pick: 2nd
MIAMI
HEAD COACH: Chris Bergeron, entering his first season at Miami
2018-19 OVERALL RECORD: 11-23-4 (5-17-2-1 NCHC, seventh)
KEY RETURNING PLAYERS: Senior forward Gordie Green (11-14-25), sophomore defenseman Derek Daschke (6-16-22), senior forward Karch Bachman (10-6-16), senior goalie Ryan Larkin (10-16-2, 3.06 GAA, .907 SV%)
KEY LOSSES: Forward Josh Melnick (10-16-26), defenseman Grant Hutton (7-14-21)
KEY ADDITIONS: Forward Ryan Savage (Muskegon, USHL), defenseman Alec Capstick (Langley, BCHL), goalie Ben Kraws (Sioux City, USHL)
2019-20 PREDICTIONS: Miami made a good hire in Bergeron, a former MU player himself who last season helped former CCHA rival Bowling Green end a 29-year NCAA tournament drought. Many talented Miami veterans return but given that the RedHawks haven't enjoyed a winning season since 2014-15, it comes as no surprise that MU has been picked to finish in the bottom half of the NCHC again.
This is the last collegiate hurrah for six Miami seniors, though, and Green, Larkin and Co. will be looking to threaten for a top-half finish and a potential first NCAA tourney berth in five years.
Candace's pick: 8th
Matthew's pick: 8th
MINNESOTA DULUTH
HEAD COACH: Scott Sandelin, entering his 20th season at Minnesota Duluth
2018-19 OVERALL RECORD: 29-11-2 (14-9-1 NCHC, second)
KEY RETURNING PLAYERS: Junior defenseman Scott Perunovich (3-26-29), senior goaltender Hunter Shepard (29-11-2, 1.76 GAA, .923 SV%), junior forward Justin Richards (12-20-32), junior forward Nick Swaney (15-10-25), junior defenseman Dylan Samberg (7-12-19), sophomore forward Noah Cates (9-14-23)
KEY LOSSES: Forward Parker Mackay (16-17-33), forward Mikey Anderson (6-21-27), forward Peter Krieger (9-15-24), forward Riley Tufte (9-10-19)
KEY ADDITIONS: Forward Luke Loheit (Penticton, BCHL), forward Quinn Olson (Okotoks, AJHL), forward Brandon Puricelli (Springfield, NAHL), goaltender Ryan Fanti (Minnesota Wilderness, NAHL)
2019-20 PREDICTIONS: Back-to-back national championships in college hockey are very difficult to do. Just ask Denver, which after winning in 2017 and returning its NHL-caliber offense and a Mike Richter Award winning goalie for 2018 struggled at times with motivation and consistency and bowed out in the quarters of the NCAA tournament just when it seemed the team had found its way.
In its championship defense season last year, Minnesota Duluth never had that problem. The Bulldogs started the season 8-1-1 and only three times lost back-to-back games all year. After closing the season with two losses to St. Cloud, the Bulldogs went on a roll, winning the NCHC Frozen Faceoff and then the NCAA tournament, becoming the first NCHC team to accomplish both.
Coach Scott Sandelin has found his team's ideal identity, one composed of stifling defense and timely scoring with gritty play in front of the net. Duluth generally doesn't have the players that are going to put up huge offensive numbers, but the Bulldogs usually have depth at forward and are difficult to shut down because so many players can score.
Leading the way again for Duluth will be Hunter Shepard in net, who was first team all-NCHC last season and is on the preseason all-NCHC first team this year. Defenseman Scott Perunovich was also named to the preseason all-NCHC team. He's been a first team selection the previous two years, is a two-time All-American, and has been the NCHC offensive defenseman of the year the last two years as well. Perunovich is especially dangerous on the power play, quarterbacking the Bulldogs with dynamic rushes.
Up front, Duluth will be led by Justin Richards and Nick Swaney, who were each named to the NCHC preseason team. Richards had three game-winning goals for the Bulldogs last year, while Swaney had four.
"Certainly, we have a target on our back again, but I think our guys are looking forward to it," said Sandelin. "We return quite a few guys, but in our league there's so many good teams, so hopefully we can continue to have a good start and get better through the year and hopefully get back to the tournament."
Candace's pick: 1st
Matthew's pick: 1st
NORTH DAKOTA
HEAD COACH: Brad Berry, entering his fifth season at North Dakota
2018-19 OVERALL RECORD: 18-17-2 (12-11-1-0 NCHC, fifth)
KEY RETURNING PLAYERS: Junior forward Jordan Kawaguchi (10-16-26), sophomore defenseman Jacob Bernard-Docker (5-10-17), senior defenseman Colton Poolman (5-12-17), sophomore goalie Adam Scheel (13-10-2, 2.07 GAA, 910 SV%)
KEY LOSSES: Forward Nick Jones (9-11-20), forward Rhett Gardner (8-7-15)
KEY ADDITIONS: Forward Harrison Blaisdell (Chilliwack, BCHL), forward Westin Michaud (graduate transfer from Colorado College), forward Shane Pinto (Tri-City, USHL)
2019-20 PREDICTIONS: When North Dakota missed out on the NCAA tournament in 2018, it was the first time that the Fighting Hawks had done so since 2002. UND was left out again, marking the first time it had stayed home in back-to-back years since 1996. Hope springs eternal, however, and not least in Grand Forks. Earning a top-four spot in the NCHC by the time the postseason begins wouldn't be a walk in the park, but with several highly-touted freshmen coming in and veteran talent like Kawaguchi, Bernard-Docker and Scheel back, this isn't a pressure-free season for UND.
Two consecutive years out of the NCAA tournament is a shock for North Dakota fans, who don't want to see that streak continue.
Candace's pick: 4th
Matthew's pick: 5th
OMAHA
HEAD COACH: Mike Gabinet, entering his third season at Omaha
2018-19 OVERALL RECORD: 9-24-3 (5-17-2-1 NCHC, eighth)
KEY RETURNING PLAYERS: Sophomore forward Taylor Ward (9-18-27), senior forward Zach Jordan (9-17-26), senior forward Tristan Keck (7-7-14), senior defenseman Dean Stewart (5-16-12)
KEY LOSSES: Forward Mason Morelli (19-15-34), forward Fredrik Olofsson (10-24, 34), goaltender Evan Weninger (9-23-3, 3.50 GAA, .900 SV%)
KEY ADDITIONS: Forward Ryan Brushett (Powell River, BCHL), defenseman Kirby Proctor (Des Moines, USHL), goaltender Isaiah Saville (Tri-City, USHL)
2019-20 PREDICTIONS: Twelve freshmen make up nearly half of Omaha's roster for the new season. Add in the fact the Mavericks lost to graduation their two top scorers and top goaltender from last year, and it's not a stretch to see why UNO was picked seventh in the league preseason poll.
An 0-6-1 start last season gave the Mavericks an early hill to climb, and the hope around UNO is that the same thing won't happen again in alumnus Mike Gabinet's third season in charge.
Taylor Ward is fresh off his NCHC rookie-of-the-year campaign, and he's far from the only talented returner on this roster, but with so much newness, outside expectations aren't through the roof.
Candace's pick: 7th
Matthew's pick: 7th
ST. CLOUD STATE
HEAD COACH: Brett Larson, entering his second season at St. Cloud State
2018-19 OVERALL RECORD: 30-6-3 (19-2-3 NCHC, first)
KEY RETURNING PLAYERS: Senior defenseman Jack Ahcan (6-28-34), junior forward Easton Brodzinski (16-13-29), sophomore forward Nolan Walker (8-19-27), junior goaltender Dávid Hrenák (23-5-2, 2.18 GAA, .906 SV%)
KEY LOSSES: Forward Patrick Newell (21-26-47), forward Blake Lizotte (14-28-42), forward Robby Jackson (19-21-40), defenseman Jimmy Schuldt (10-25-35), forward Ryan Poehling (8-23-31)
KEY ADDITIONS: Forward Kyler Kupka (Camrose, AJHL), forward Jami Krannila (Sioux Falls, USHL), defenseman Ondrej Trejbal (Minnesota Wilderness, NAHL), defenseman Trevor Zins (Trail, BCHL)
2019-20 PREDICTIONS: For a season that had been filled with such promise, it ended quite abruptly. The Huskies raced out of the gates, going 13-1-2 in the first half and finishing the season with just four losses overall. They closed strongly too, winning their last 10 games of the regular season and rolling past Miami in the first round of the NCHC tournament and easily beating Colorado College in the Frozen Faceoff semifinals, 5-2. St. Cloud's offense was second in the country, averaging four goals a game, and its defense 11th, giving up 2.18 goals per game.
Entering the NCAA tournament as a heavy favorite against American International, even the loss in overtime in the NCHC championship to Minnesota Duluth wasn't too concerning, as it could have gone either way. However, against AIC St. Cloud came out flat. An early AIC goal seemed to shake St. Cloud's confidence, and St. Cloud lost 2-1.
Many of the players from last season's dominant team are gone, either to graduation or early departure to the pro ranks, so coach Brett Larson has a tall task ahead of him.
Defensively, St. Cloud looks sound, returning senior defenseman and team captain Jack Ahcan and starting goalie Dávid Hrenák. Offensively, St. Cloud will look to seniors Jack and Nick Poehling, as well as junior Easton Brodzinski, to carry the load while the team's six freshman forwards adjust to the college game.
"It's a fresh start," said Ahcan. "That group of seniors we had was kind of the face the whole time we were here. Yeah, we miss them a lot, but it's kind of nice being the senior leader, guys looking up to you, the young guys looking to you for every answer. I probably don't have all the answers, but I try, Nick and Jack and Clark and I try, and that's one of the most exciting things, the greenness of our team this year."
Candace's pick: 5th
Matthew's pick: 4th
WESTERN MICHIGAN
HEAD COACH: Andy Murray, entering his ninth season at Western Michigan
2018-19 OVERALL RECORD: 21-5-1 (13-10-1-1 NCHC, third)
KEY RETURNING PLAYERS: Junior forward Josh Passolt (16-18-34), senior forward Hugh McGing (16-14-30), junior forward Austin Rueschhoff (13-14-27), senior defenseman Cam Lee (D, 7-19-26)
KEY LOSSES: Forward Colt Conrad (11-27-38), goaltender Trevor Gorsuch (19-11-1, 2.75 GAA, .905 SV%)
KEY ADDITIONS: Forward Jason Polin (Cedar Rapids, USHL), defenseman Ronnie Attard (Tri-City, USHL), goalie Brandon Bussi (Muskegon, USHL)
2018-19 PREDICTIONS: Western Michigan has high hopes entering the new season, and for good reason. Murray signed a long-term contract extension over the summer, many key veterans return and while there are only four newcomers on this season's WMU team, Attard enters his time in college as USA Hockey's reigning junior player of the year.
Also joining the fray is a 30-goal, 50-point junior-league forward in Jason Polin, and it will be interesting to see how he contributes to an attacking corps that returns players like Passolt, McGing and Rueschhoff.
WMU lost to graduation its top point-scorer and top goaltender, but while there are several sets of skates to fill, the Broncos should be very competitive.
Candace's pick: 3rd
Matthew's pick: 3rd