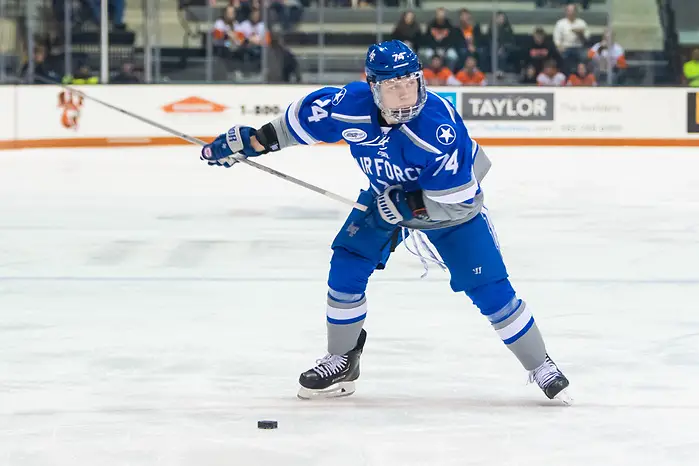 Service academy recruits and cadets live a completely different lifestyle than the average college student.
Their entire college experience is geared towards preparing them for military life after graduation as they join the service men and women of the United States Armed Forces. Everything they do is multi-tiered and is aimed at training their minds, bodies and emotions towards the single goal of service to the country.
It's a stark contrast that is equally unique for student-athletes. Staying in shape for them means more than just being healthy for a game or practice. It requires a steady balance between the service's physical requirements and the unique training needed to play a Division I sport at a high level.
For hockey, it's on display in Atlantic Hockey, where the two service academies sponsoring the sport are member institutions.
"Our guys train year-round just like everyone else trains all year," Air Force coach Frank Serratore said. "The only guys it really impacts are the freshmen because they're going through basic training (at Air Force) or boot camp at West Point."
The special distinction for service academy athletes is most sharply delineated and defined for first year cadets and athletes. Both categories require assimilation, but there is nothing like the initial indoctrination into military life. For Air Force, it starts in June with In-Processing Day, or I-Day.
It's the start of a six-week basic cadet training regimen, and it transforms civilians into air force cadets. The first three weeks introduce regulations and standards for everything from uniforms to briefings, with the second three weeks introducing field training. There is no concept of a "student-athlete" over that time because the sole purpose is to introduce the accepted basics to their new lifestyle.
It's an intensive process, and it concurrently exists at all three service academies. At Army, new cadets arrive to boot camp for Reception Day, or R-Day, and begin their own process of becoming soldiers. They have their own six-week training regimen during which time the athletes aren't exactly preparing for the upcoming season.
"I'm sure a lot of the other coaches have guys on campus skating, and there are guys back home that are skating," Army West Point coach Brian Riley said. "Our guys, during the summer, are out in the field. Our freshman class went through boot camp for six weeks and didn't touch a weight room."
It creates an inherent challenge at the beginning of every season for coaches who recruit players with the understanding and knowledge that their commitment means something more than just playing a sport. The academies don't have typical summer vacations, and returning upperclassmen are usually scattered in military training or exercises around the world.
"Our other players have summer programs, and they're on a routine, lifting weights as strength coaches want them to," Serratore said. "They can be doing a program at an operations base, if they're in Korea or Florida or wherever. They're still doing their hockey thing, so they're coming back in the same hockey shape as anyone at a traditional school."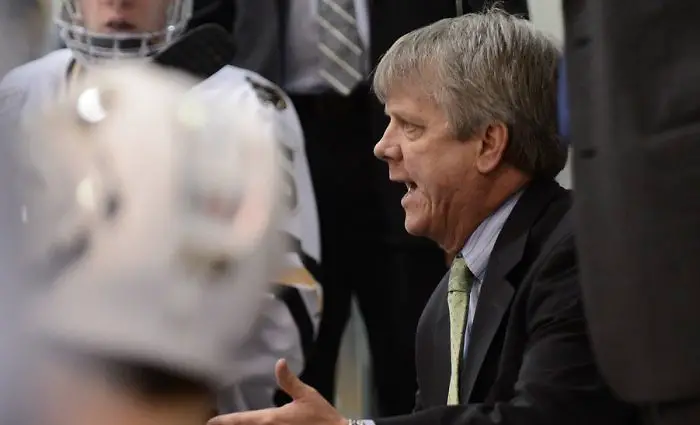 "Our upperclassmen are scattered around the world," Riley added. "For the most part, they come back in pretty good physical shape, but in some respects, it's also like starting over when the team gets back together. It's definitely different from what you see at other places."
It's a challenge, but it's part of what the cadets and coaches accept is part of the academy experience. It's why they all know the call isn't meant for everyone, and it's why they all wear a different kind of pride when they put their sweaters on for the first time.
"Being a Division I athlete is a 12 months per year deal," Serratore said. "These other kids aren't out on the golf course before playing themselves into shape. If you're not training 12 months per year, eating right and doing the right things, someone is going to take your lunch money. By the time October rolls around, our guys are two months removed from basic training, started school and assimilated to the camp. It's a bigger deal at our schools (at Air Force and Army), but it's an even bigger deal in a fall sport that gets into it right away (in August and September). It's a tough assimilation (for the freshmen), but it's not bad for us."
Air Force opens up its regular season this weekend with two games at Notre Dame. Army West Point, which defeated Union last weekend, plays at UConn on Friday.
Exhibition Season
Last weekend provided a small taste for those of us who were truly starving for college hockey. There were a couple of actual regular-season games across the NCAA landscape, but the majority were part of an annual tradition where Canadian university schools travel south to play American college teams.
Only three Canadian schools played four games against Atlantic Hockey schools this year. Ryerson went to Niagara, and Trinity Western played at Air Force. Simon Fraser played at Holy Cross before heading south to play at Sacred Heart the next day, though it should be mentioned that the school sponsors sports as an NCAA Division II school and announced a couple of years ago an exploration into Division I hockey for its Canadian-sponsored program.
There's a clearly-defined divide among teams playing Canadian schools versus ones that eschew the exhibition game:
Air Force, Canisius, RIT and Robert Morris are in the top group of annual games. Air Force hasn't missed an opportunity since 2005-2006, when it was part of the CHA, and this year marks the first time in a decade or more that Canisius, RIT and RMU don't play an exhibition game in the year's first game.
For the Colonials, this year actually marks the first time they won't play an exhibition at all. The closest they came was 2006-2007 when they opened at Canisius before playing Penn State.
The middle segment, which I deemed "off-and-on," includes Mercyhurst, Holy Cross, Niagara and Sacred Heart. The Lakers, for example, played Arizona State this past weekend, the third time in the last five years that they didn't play an exhibition game. Prior to that, it was mostly annual, with the 2010-2011 season sticking out for its game at Michigan preceding a game against Queen's College.
That trend is the same for the other three schools. Holy Cross played an exhibition this year (and has another one on tap on Sunday) but skipped the game in 2014, 2015 and 2018. Before that, it was mostly annual. A similar situation unfolded for Niagara, which didn't play it in a handful of years, and Sacred Heart.
The remaining group – Army West Point, AIC and Bentley – almost never play preseason games. The Black Knights, for what it's worth, have an asterisk here because they already play a midseason game against Canada's Royal Military College, and the games against Ryerson in 2006 marked the last season before the annual meet-up between the service academies began.
AIC played St. Nick's Hockey Club, an American amateur program, in 2005, two years before Bentley played Dalhousie. Neither team has scheduled a game since.
How and why teams come to the decision to schedule exhibition games is varied, and there is no direct science as to why a coach believes or doesn't believe in those games. There is also an increased push in recent years to play more regular-season games in Week Zero, so there's no correlation to any year-over-year statistics. It's just an interesting footnote to the start of the year.
Games to Watch This Week
Last weekend's soft opening only made me hungrier for the upcoming grand opening to the 2019-2020 season. This is my seventh year with USCHO (I finally did the math), and it marks my 11th year in Atlantic Hockey with Bentley. In total, this is my 20th season hanging around college hockey press boxes, and it never gets old.
Here are some of the games I think are worth tuning into this weekend:
– Canisius heads to the Ralph to play North Dakota for two games. Last year's sweep ultimately cost North Dakota a trip to the national tournament, and it was a celebratory moment for the entire Atlantic Hockey family. There's no real need for extra motivation to start the season, but a win by the Golden Griffins would send some serious shockwaves through Grand Forks for a second season.
– There's a litany of games against tournament teams from last year. Holy Cross is at Providence (which went to the Frozen Four), Air Force is at Notre Dame, Sacred Heart is at Penn State, RIT plays Bowling Green in the IceBreaker (and could play Ohio State if the field breaks correctly), and AIC plays two games against Quinnipiac.
– There is one conference series to open the season: Bentley at Robert Morris. The Colonials ended the Falcons' season last year in a three-game series where each game was decided in the last 90 seconds or overtime. If these teams play anything like they did last spring, I'm going to assume the new overtime format will come into play almost immediately.