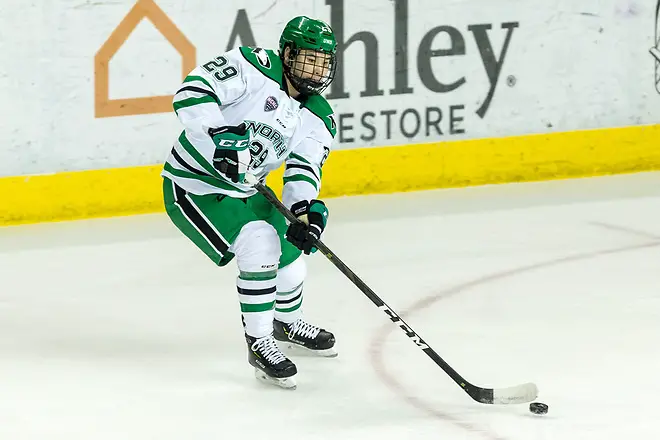 Normally, a season-opening series against an Atlantic Hockey squad would have little of note for perennial college hockey power North Dakota.
That, however, was before the Fighting Hawks failed to qualify for the NCAA tournament the last two years. On top of that, last weekend's series was against Canisius, which swept North Dakota last January in Buffalo, N.Y., and crushed North Dakota's PairWise position in the process.
For coach Brad Berry, the weekend likely couldn't have gone any better.
Last year, North Dakota often struggled to score, and in the series against Canisius in January the Hawks only scored once in each game. Chalk it up the friendly confines of Ralph Engelstad Arena, or a strong desire for vengeance, or not taking a team lightly, or whatever you'd like, but North Dakota opened with a sweep, winning 5-0 and 8-1.
"You know what? I thought we had a pretty good first weekend against Canisius," said Berry. "One of the things that jumped out at me was team speed. I thought our group, it seems like have a lot more pace in our game than last year. I thought our execution was pretty good for the most part. I think the one thing too is the depth of our team as far as the scoring side of it. On Saturday night, we won 8-1 and there were eight different scorers in our lineup. I think it was spread all around the four lines and the D."
Asked whether his team might have painted a bigger target on this series because of the results last January, Berry doesn't shrink from answering some of that might have been present.
"Yeah, a little bit. I think the biggest part is we know that our league is a 24-game league, and then there's 10 nonconference games. We have to treat the nonconference games just like our league games. They're equally as important in the PairWise. There was a sense of urgency of getting out early out of the gate, and again, we have another big weekend in front of us here with Mankato this weekend and then Bemidji the following weekend. So, it's one of those things where the early part of the season is nonconference, but we have to treat it like a conference matchup with the fact that it means a lot to PairWise."
Of the 13 goals on the weekend, there were three players who scored twice: Dixon Bowen, Cole Smith, and Gabe Bast. UND also got contributions from former Colorado College standout Westin Michaud, who graduated from CC but had a year of eligibility left, and rookies Harrison Blaisdell (1-2-3) and Shane Pinto (1-1-2).
Said Berry: "I think there was execution not only from our incoming freshmen, but some of the guys that have gotten a year under their belt, guys like Jacob Bernard-Docker and Jordan Kawaguchi and some of our guys that are becoming upperclassmen and are a year older here. It's a different year. Along with that, guys have an opportunity and are trying to get a bigger role on our team."
Additionally, of the 13 goals only one was scored on special teams. Berry likes the five-on-five execution early, and thinks the weekend also provides a place to build from on special teams.
"The majority of the game hopefully you play five-on-five, and that's where it's so tough to score," said Berry. "On a five-on-five situation, it's nice to be active early and have some success on it early. Now, in saying that, it gets exponentially harder each and every weekend leading up to NCHC conference play. We have to keep getting better at that, we've got to keep working on things on that side of it, but I thought it was good.
"On the specialty teams side, I thought our penalty kill was good. We didn't allow any power-play goals against us and did a good job of defending it. On the power play, we only scored one goal off it through the whole weekend, but I felt we had some really good looks. I think our shot count was up there in the double digits both nights. I think we're going in the right direction with our power play with the pace and execution side of it, and I know we'll be able to finish a few more plays here later on in the year."
Just like last season, North Dakota's second series is against Minnesota State, which is currently ranked second in the USCHO.com poll. This series is in Mankato and will present a staunch challenge. Berry thinks his team can take some lessons from last year where they split in Grand Forks.
"First of all, Mankato is a highly ranked team this year again. They retained a lot of their players from last year, and they play a fast-paced, heavy game, and we're going into their building. It's one of those same things as last year. We know what they're all about as far as their team, how they play, and there are not going to be any surprises that way. For us, it's about the way we have to play. I thought last year when they came into our building, they got a jump on us and dictated play a little bit, and then we got better as that game went on. Then leading into Saturday, I thought we did a pretty good job of responding and playing the way that we needed to win that game.
"It was a little bit of a learning lesson for us against an older team. They're an older team; I believe they have a lot of older players in their lineup. We've got to make sure that we know that they're experienced and they've been with their group for a while, and we've got to make sure that we get off to a start early on in Mankato like our Saturday night game at home here and not fall victim to playing catch-up hockey."
Last-minute heroics
After building a 3-1 lead in the third period Saturday night against Lake Superior, the Denver Pioneers gave up two goals with less than seven minutes to play and seemed to be headed to overtime. However, Ryan Barrow finished a two-on-one with Brett Edwards with only 20 seconds to play to lift Denver to a perfect 4-0 start, good enough for the top spot in the polls this week after Minnesota Duluth lost its season opener to UMass Lowell.
Said DU coach David Carle: "We didn't give up much for most of the night. Would we have liked to close it out a little simpler, for sure, but I'm happy with our resiliency to push back and ultimately find a way to win."
So far, freshman Magnus Chrona seems to have picked up where countryman Filip Larsson left off last season, going 4-0 with a .935 save percentage and 1.75 goals-against. Chrona and the Pioneers will be tested this weekend when they host No. 6 Boston College for a two-game set.
CC splits with Minnesota
During his three years in the net, Alex Leclerc could be counted on to make several near impossible saves per game and keep a CC team that often struggled offensively in each game. For CC, it was a big hit when Leclerc decided to forgo his last year of eligibility and sign a tryout with the ECHL's Utah Grizzlies. Leclerc had finished his degree in three years, and he led the country in saves last year with 1,140 while leading the team to the NCHC Frozen Faceoff.
Senior Ryan Ruck, who played three years at Northeastern and was the starting goalie in his freshman and sophomore seasons, got the call in both games against Minnesota this weekend and helped the Tigers earn a split. However, after building a 3-1 lead Saturday, CC was unable to hold it, giving up two goals in a 28-second span late in the second period and the game-winner halfway into the third. Two of Minnesota's goals were on the power play.
A big plus for the Tigers was the play of seniors Nick Halloran and Chris Wilkie, both of whom were lost to injury in the second half of last season. Wilkie had three goals and two assists, while Halloran had five assists. Those two being healthy will give the Tigers a big boost in the quest to return to the Frozen Faceoff.
Strong offenses
It's obviously early, but at least out of the gate NCHC teams are having strong offensive performances. Seven of the NCHC's eight teams are in the top 20 in team offense, all averaging three goals a game or more. Only Minnesota Duluth is under three goals a game, but the Bulldogs usually with defense anyway.
It's not just offense though. Five of the NCHC's eight teams are in the top 20 in team defense, giving up two goals per game or less.
Nonconference winning percentage starts strong
On the weekend, the NCHC went 9-3-4 in nonconference play, and on the year is 11-4-4 in nonconference play for a .684 winning percentage. The NCHC has consistently been a leader in nonconference winning percentages since its formation, one of the reasons it places three or more teams in the NCAA tournament each year.