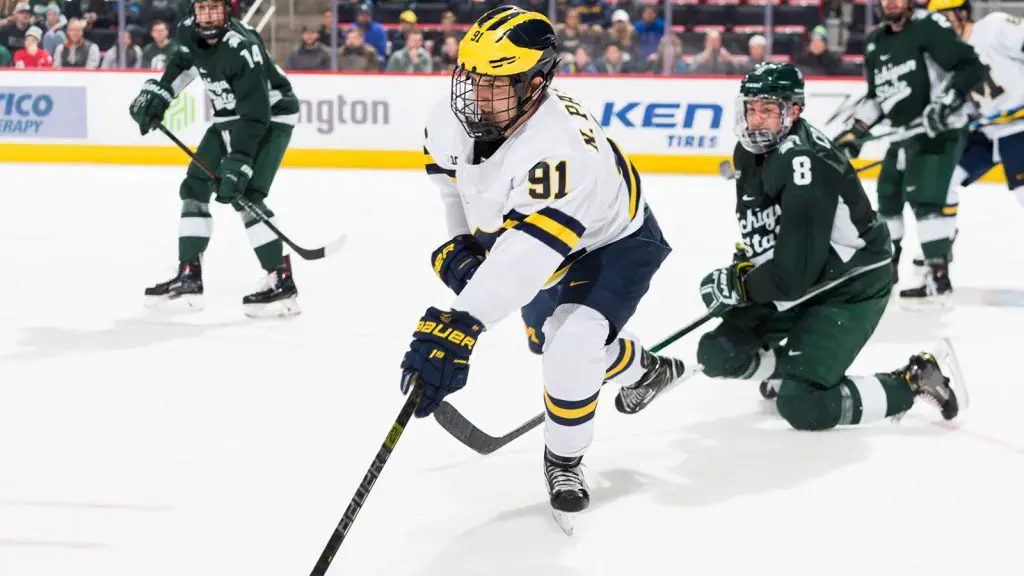 In a weekend that saw Wisconsin score 11 goals in a single game against Merrimack, Penn State net 13 in a sweep of Sacred Heart and Notre Dame score 10 in two wins over Air Force, Michigan's two-goal performance in a tie and loss to visiting Clarkson stands in stark contrast, even for an opening weekend of play.
And maybe especially because it's Michigan.
"You've got to work hard to get to the net," said coach Mel Pearson, noting that Clarkson has a big, experienced defensive core, but adding, "You have to want to get to that hard ice, as we call it. It's called 'hard ice,' because a lot of people just don't want to go there. You're going to get whacked and hacked and shoved and you've got to fight and battle to get in there. We'll work on that in practice."
It's difficult to imagine a Michigan team that isn't known for its scoring. Two seasons ago, the Wolverines powered their way to a Frozen Four appearance by scoring an average of 3.40 goals per game, sixth-best in the nation, in spite of giving up 3.02 goals per game on average (35th).
One of the more astonishing things about Michigan's offensive performance in 2017-18 is that the Wolverines had just the 36th-best power play in the nation (18.0), with just two players on the team netting four or more power-play goals that year. Senior Tony Calderone was a man-advantage specialist that season with seven.
In 2018-19, the Wolverines continued to struggle on the power play, finishing with a 43rd-best power play (15.7). Last season, too, Michigan struggled with overall offense, losing about a third of a goal per game on average, something that was enough to drop them to 17th overall.
Against Clarkson last weekend, Michigan's power play went 1 for 12, with senior Nick Pastujov finally breaking through early in the third period of the 3-1 loss.
"I think we were better at moving it," said Pastujov. "Both units moved it a bunch more. We were getting more chances to the net. I think over time, when we get more comfortable with ourselves, you're going to see a lot more goals."
As for weekend's overall offensive frustrations, Pastujov said that Clarkson was "older and a little more experienced."
"They won more of those 50-50 battles where maybe we are just kind of expecting to win and they dig their noses in a little more," said Pastujov. "If you look goals, that's what it came down to, little things that paid off in a big way for them.
"I think over time, the guys working are going to get used to that and get used to the pace of play that we need to play at to win these games. I'm not worried about it. Sometimes, it's not bad to get kind of punched in the nose early and then learn from that going on."
The Wolverines aren't dressing more freshmen than other Big Ten teams, but Michigan's rookies are expected to make a big impact on a team that has struggled to replace offense in recent years. Pearson said he was pleased with the play of forward Eric Ciccolini and would have liked to have had forward Cam York, out with a lower body injury, in Saturday's lineup. York's status is day-to-day.
"We missed him, obviously," said Pearson. "He played 27 minutes last night for us. Jake Gingell came in and I thought did a nice job but Cam York's Cam York. He's a special player and in a tight game where one goal makes a huge difference, you miss a player like that."
Pearson said that he liked how hard the power-play units worked, even if they didn't get the desired results. "A lot of good opportunities and that on the power play and that's something that will have to continue. That's one of the areas that we need to get better at. I think it's going to be a positive going forward."
Pastujov is even more optimistic than that. "I think we're going to get a lot of chances where we have a lot of talent up front and in the D-zone, so I think we're going to be drawing a lot more penalties, but we definitely power play a lot, so I think we can capitalize on a lot more on those chances. We're going to get a lot more bounces and swing the game a bit more."
The next two weekend see the Wolverines looking to improve its power play against old CCHA rivals. First up is a home series against Lake Superior State, a team that has killed 14 of 15 opponent power-play chances. The weekend of Oct. 25-26, Michigan plays a home-and-home series against Western Michigan, whose penalty kill has also allowed just one goal (8 for 9).
A new kid in net in South Bend
In South Bend, there was a new face in the Notre Dame net as the Fighting Irish swept Air Force to open the season. Freshman Ryan Bischel earned his first two collegiate wins, filling in for senior Cale Morris, the 2018 Mike Richter Award winner, who was out with an upper-body injury.
"I was pleased with his performance, the first time he's played back-to-back in college hockey," said coach Jeff Jackson after Sunday's 6-1 win.
In the series, Bischel posted a 2.00 GAA and .932 save percentage, particularly impressive given the way the Falcons opened Friday's game with a 2-0 lead, the first goal the result in part of fluky board action that caught the freshman goalie out of position.
Bischel's play may complicate things for junior goaltender Dylan St. Cyr, who was expected to back up Morris this season but may redshirt instead.
"I expected that [Bischel] would get a game or two in the first month," said Jackson. "We planned all along way back since we knew Cale was coming back [for his senior season], after some serious conversations with St. Cyr. Dylan's a good goaltender, you know, and he certainly could have been playing these games, but he wanted to maintain his redshirt so that he has two full years to play, potentially, but he's going to have some competition by the looks of it."
In three years with the USHL's Fargo Force, Bischel had a .909 career save percentage in 100 games.
A whole new game
After losing to Boston College 5-3 Friday night, Wisconsin rebounded with an 11-5 win over Merrimack. It was the first time since 1992 that the Badgers had scored 11 goals in a game.
"The players we have I think are elite," said Wisconsin coach Tony Granato.
Are they ever.
Freshman forward Cole Caufield, chosen No. 15 overall by the Montreal Canadiens in the 2019 NHL Draft, had 29 goals in 28 games for the U.S. National Under-18 Team last season and scored 126 goals from 2017 to 2019 with the program. His classmate, Alex Turcotte, is a mere mortal by comparison, netting 45 with the USNTDP alongside Caufield. Last weekend, Caufield scored four goals and Turcotte two.
"We're an exciting team," said Granato. "We've got a lot of offensively talented players that can make plays and finish plays. Cole's off to a great start. Turcotte's off to a great start, even [freshman Owen] Lindmark's off to a great start offensively. [Freshman Dylan] Holloway's got a chance to get great numbers."
Granato said that the team learned from its loss to Boston College Friday. That short learning curve can lead to a big season for a team with perhaps the best rookie class in the country.
"BC played better than us," said Granato, "but I think that in a month or two, we should be able to play that same way and maybe have more skill, so the potential where we can go is exciting."