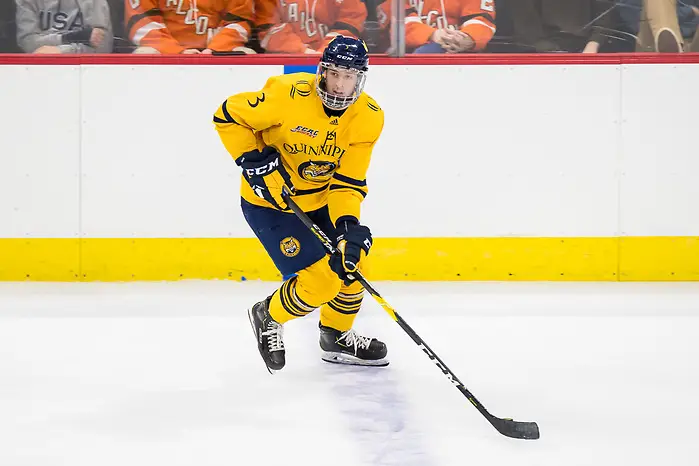 Mark
Last week:  7-4-1
Overall:  7-7-1
Nate
Last week: 8-3-1
Overall: 8-6-1
Mark and I did a little better last week after a rough opening week. Here are the games scheduled for this weekend. All start at 7 p.m. unless otherwise noted.
Friday, Oct. 18
Vermont at Clarkson
Nate: The Golden Knights are coming off an impressive opening weekend at Michigan, while this is the first game of the season for the Catamounts.  That earlier start should prove beneficial for Clarkson, a team that was 15-3-1 at home last season. Clarkson 3-1
Mark: This should be a good goalie matchup between Vermont's Stefanos Lekkas and Clarkson's Frank Marotte. The Golden Knights have two games under their belts, while this will be Vermont's opener. Advantage Clarkson. Clarkson 3-1
Maine at Quinnipiac (Friday, Saturday)
Nate: Maine swept Alaska Anchorage at home last weekend, but was pummeled 7-0 by Providence in its season opener. Quinnipiac is closer to Providence than Alaska Anchorage in terms of talent, so the Bobcats should be able to get the home sweep to move to 4-0 this season. Friday: Quinnipiac 5-1; Saturday: Quinnipiac 6-3
Mark: Maine rebounded from its season-opening debacle in Providence by sweeping Alaska. Quinnipiac is coming off a pair of one-goal wins over AIC. Feels like a split. Friday: Quinnipiac 3-1; Saturday: Maine 4-2
UConn at Rensselaer
Nate: These teams played last weekend in Hartford, with RPI beating UConn for the second time in as many trips to the XL Center.  The Engineers seem to have the Huskies number of late, so I'm sticking with the hot hand in this matchup. Rensselaer 4-2
Mark: The Engineers beat the Huskies in Hartford last weekend. UConn returns the favor in RPI's home opener. UConn 4-2
Providence at St. Lawrence (at SUNY Canton)
Nate: The Saints will likely see a familiar face in the Providence goal with Harvard transfer Michael Lackey having started the first two games of the season for the Friars.  He's posted a .946 save percentage in a 1-1 start for Providence, who still has a lot of talent despite some notable losses in the offseason. Providence 3-2
Mark: After a bumpy weekend last week, the Friars pull one out on the road. Providence 3-1
Union at Massachusetts (Friday, Saturday)
Nate: It's been a tough start for Union. The Dutchmen have given up twice as many goals as they've scored and have taken 24 penalties in four games.  That's not a good combination for success against last year's national runner up.  Friday: Massachusetts 5-2; Saturday: Massachusetts 4-2
Mark: Not much has gone right so far for the Dutchmen, but they manage a split in Amherst. Friday: Massachusetts 6-2: Saturday: Union 3-2
Colgate at Massachusetts Lowell (7:15 p.m. Friday, 6 p.m.  Saturday)
Nate: Goalie Mitch Benson and the Colgate defense should keep the Raiders in each of these games, but I'm not sure if Colgate can generate enough offense to come home with a win. Friday: Massachusetts Lowell 3-2; Saturday: Massachusetts Lowell 4-1
Mark: The Raiders have scored two goals in three games while giving up nine. Their struggles continue against the stingy Riverhawks. Friday: Massachusetts Lowell 5-1; Saturday: Massachusetts Lowell 4-1
Saturday, Oct. 19
Canisius at Rensselaer 
Nate: It's been a rough start for the Golden Griffins, who were outscored a combined 13-1 last weekend at North Dakota.  The Engineers aren't as a formidable opponent, but this is a winnable home game for RPI given Canisius' start to the season. Rensselaer 4-1 
Mark: The Golden Griffins were routed at North Dakota last weekend. While the Engineers are not the Fighting Hawks, expect Canisius' road woes to continue. Rensselaer 4-0
Vermont at St. Lawrence (at SUNY Canton)                        
Nate: St. Lawrence rebounded to split its opening series last weekend at Mercyhurst, and I think it will do that again this weekend against a Vermont team that struggled to score last season. St. Lawrence 2-1
Mark: This is a good night for the Catamounts to pick up their first "W" of the season. Vermont 3-2
Providence at Clarkson, 7:30 p.m.           
Nate: These teams are pretty evenly matched. Both play a physical style, yet both also have a lot of skill in their respective lineups. I'll give the edge to the home team. Clarkson 3-2
Mark: At this point in the season, the experienced Golden Knights are too much for the young Friars. Clarkson 4-2