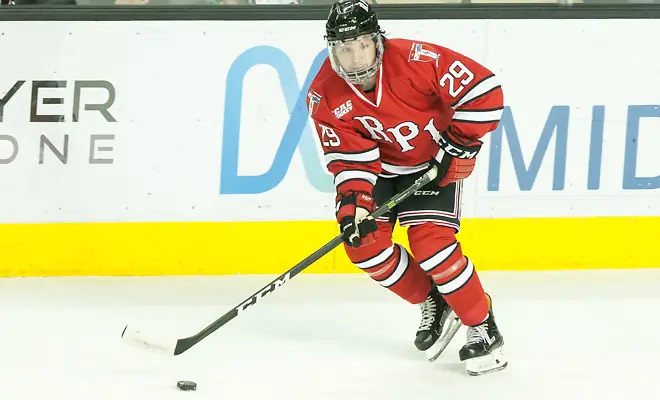 For the last several seasons, Union and Rensselaer have begun conference play in ECAC Hockey with a home-and-home series between the two travel partners.
Traditionally, Union has been perceived as the favorite in those matchups, although that wasn't the case this year.
The Dutchmen entered the weekend winless in their first six games, and that streak extended to seven before a desperate Union team broke through with a 2-1 win over the Engineers Saturday.
"I was talking last night [Friday] about how it was one of the hardest losses since I've been at Union, and it's funny, 24 hours later, it's one of our best wins," Dutchmen goalie Darion Hanson told the Schenectady Daily Gazette.
While RPI couldn't come away with the sweep, it's been a solid start to the season for the Engineers, who are on pace to surpass last year's win total.
However, coach Dave Smith said RPI is still working on the "little things necessary to win."
"To me, what our group is learning what it takes to win every shift, every minute. And that's a really hard lesson to teach," Smith said.
While it's easy for a team to come in with an edge after a loss, Smith said good teams know how to bring get up for a game after a win.
"The teams that win consistently find that edge after a win," he said. "It's not hard to bring the effort; we know how to play. What we're learning is how difficult that is and what it takes. To me, that's the most important item that we're trying to solve with our leadership group, who have been terrific, is that you if you want to win it starts the moment last night ended.
"It needs to burn and burn, so that now all of a sudden, you bring it."
Ivies getting underway
The first major milestone of the college hockey season takes place this weekend, when the six Ivy League schools will become the final teams in Division 1 to play a game this season.
The late start is due to Ivy League rules defining the starting dates and practice dates for all sports. As a result, that means some Ivy teams will be starting their season against teams that have already been playing for several weeks.
One of those teams is Princeton, which travels to St. Cloud State for a two-game series this weekend. The Huskies, last year's top-seeded team in the NCAA tournament, have already played four games this season.
"It's going to be a fast game," Tigers coach Ron Fogarty said of facing St. Cloud. "They've obviously going to have a chip on their shoulder after an early exit from the [NCAA] tournament. We like that challenge to set us up for a tough ECAC conference."
The late start is just one of several challenges facing Ivy League schools, which also have higher academic expectations and no athletic scholarships. However, those hurdles haven't stopped several schools, notably Cornell, Yale, and Harvard, from becoming national contenders.
"There are challenges for any school out there, and with us at Princeton, we know what it is and we find solutions for those issues," Fogarty said. "We believe every incoming freshman group can help us. The biggest part is that we may not be able to get the best players, but we believe we get the right players that fit our culture."
While the Ivy League starts play this weekend, several of the league's former players have already made their NHL debuts this year.
Defensemen Adam Fox and John Marino were stalwarts for Harvard's NCAA tournament team last season, and each has started the year in the NHL for the Rangers and Penguins, respectively.
Marino is joined on the Penguins by former Brown forward Sam Lafferty. The 2018 Bears graduate grew up less than two hours from Pittsburgh and made his NHL debut on Oct. 8.
Also making his NHL debut is former Cornell forward Cole Bardreau, who has appeared in four games for the Islanders so far. It's a good story for the 2015 graduate, who suffered a severe neck injury as a sophomore, but returned to the ice and finished his career as a solid two-way contributor for the Big Red.
Clarkson splits
A split with a top-10 team on the road is never a bad outcome, but Clarkson nearly came away with more last weekend at then-No. 6 Wisconsin.
The Golden Knights shut down the Badgers' high-powered offense in a 4-0 win on Friday, and then rallied to turn a 3-0 deficit into a 3-3 game Saturday before Wisconsin scored in the closing seconds to come away with a split.
"It was a really tough loss but it's even tougher when you start with the faceoff in the offensive zone and win it," Clarkson coach Casey Jones said. "I don't know what the percentages are that with 15 seconds left that it ends up in the back of your net."
While the last second loss was disappointing, it was still a positive series for Clarkson.
"I thought we started to play our style this weekend. It was a good stepping stone for us," Jones said.
Goaltending strong for St. Lawrence
Not a lot went right for St. Lawrence last season, but the Saints' inability to possess the puck led to a lot of extra stress on the teams' goalies. St. Lawrence's goalies faced 1,450 shots last season and the team was outshot by nearly 16 shots per game.
It's been better this year, as the Saints are only getting outshot by a little less than three shots a game, and that's translated to better goaltending numbers in the first month of the season. Senior Daniel Mannella has a .938 save percentage, while the Saints have a .923 mark as a team.
Mannella was named the league's goalie of the week after stopping 55 of 57 shots against Holy Cross and Bentley last weekend. He'll face off this weekend against one of the league's other top goalies in the early going in Clarkson's Frank Marotte, who has a .945 save percentage in six games.
The Saints and Golden Knights will play both games of their series at Clarkson's Cheel Arena due to ongoing renovations at St. Lawrence's Appleton Arena.