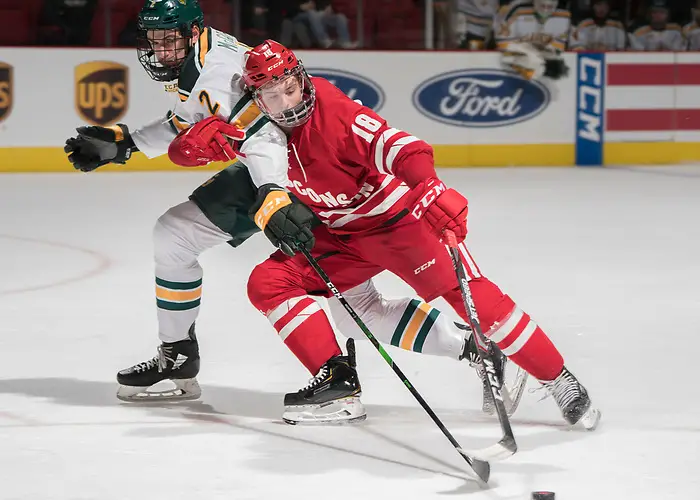 Wisconsin heads to Penn State for a spooktacular Halloween-night bout in Happy Valley tonight. Some hockey to have on in the background while passing out candy is never a bad thing. First, let's go back to last week where I (not so humble brag) went undefeated! I even picked TWO splits the correct way, what a time to be alive. There's no way this lasts…
Last week
Drew: 13-0-0 (1.000)
Paula: 10-3-0 (.769)
This season
Drew: 26-9-2 (.730)
Paula: 22-13-2 (.622)
This week
Conference play begins with the Badgers and Nittany Lions, Michigan and Ohio State and Notre Dame and Minnesota facing off. Michigan State also has a tough test at home, welcoming Cornell to Munn Ice Arena.
All times are local.
No. 7 Wisconsin at No. 12 Penn State
Thursday at 7 p.m., Friday at 6 p.m.
Both of these teams have experienced some highs and lows during the opening-month of the season. I think it's fair to point out that Wisconsin has played a tougher schedule, but both offenses have been productive. The Badgers are averaging 4.50 goals per contest and the Nittany Lions are right on their heels with 4.40. So, the only safe prediction in this series is that the goal lights at Pegula Ice Arena will probably get a workout.
Drew: Wisconsin 5-4, Penn State 6-4
Paula: Wisconsin 4-3, Penn State 4-3
No. 5 Notre Dame at Minnesota
Friday at 7:30 p.m., Saturday at 4:00 p.m.
Just like everyone predicted, Notre Dame is leading the country in scoring. The Irish are averaging 5.25 goals across their four games this season and welcomed back netminder Cale Morris last weekend. Morris did give up four goals against Lake Superior State in his season debut, but chances are that's a mirage and not a trend-starter. Minnesota will look to put last weekend's home-and-home sweep at the hands of Minnesota Duluth in the past. Even at home, this is a tall order for the Gophers
Drew: Notre Dame 3-1, Minnesota 3-2
Paula: Notre Dame 3-2, 3-2
Michigan at No. 13 Ohio State
Friday at 7:00 p.m., Saturday at 5:00 p.m.
Even with a 4-1-1 record, the Buckeyes have flown under the radar in October. Something tells me that Steve Rohlik doesn't mind that. Things ratchet up in November with this series against the Wolverines and road trips to Notre Dame and Penn State. Michigan is coming off an in-state split with Western Michigan last weekend. As Rohlik pointed out this week, it isn't just a football rivalry between these two schools.
Drew: Ohio State 3-2, 3-1
Paula: Ohio State 4-2, 3-2
No. 4 Cornell at Michigan State
Friday and Saturday at 7:00 p.m.
Andy Bernard's Cornell finally gets a chance to prove that it deserves the No. 4 ranking, as this is the first time the Big Red will be in action this season. Michigan State is coming off a trip to Colorado Springs where they were dropped by Colorado College 3-1 on Friday before rebounding and winning Saturday's contest 5-1.
Drew: Cornell 4-1, Michigan State 3-2
Paula: Michigan State 3-2, Cornell 4-3
The Tweet Machine
Follow Paula (@paulacweston) and yours truly (@drewclaussen) on Twitter. Tweet us your favorite Halloween candy.
Enjoy the games, everybody!