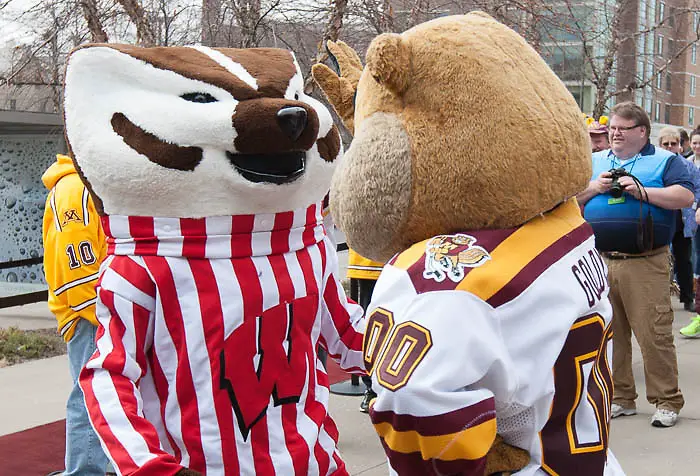 (1) Wisconsin at (2) Minnesota
Wisconsin may have a slight edge here, but I don't think that matters when these two teams play. It's a rematch of last year's national title game, which the Badgers won. In fact, Wisconsin has won nine of the last 12 meetings between the two teams. Wisconsin is unbeaten so far this season and is coming off a sweep of Bemidji State while Minnesota split a pair of games against Ohio State last weekend. I think goaltending and special teams will be the difference in these games. I expect a split.
Quinnipiac at (3) Cornell
The Big Red looked really good out of the gate last weekend and I don't think that changes here. The Bobcats are a good defensive team, but I think Cornell are too deep on offense to slow down. I expect Cornell to take this one.
(6) Princeton at (3) Cornell
Despite the Border Battle, this might be the most interesting game happening this weekend. Last year these two tied, then Princeton won in early January. Cornell took down the Tigers in double overtime in the ECAC tournament. They know each other well. They both have potent offenses. Last year the ECAC was decided on the final weekend. Princeton went in as the top team and ended up fourth. Literally every point and head-to-head meeting will matter, so these two will be going all out. This is a toss-up, so I'll take higher-ranked Cornell.
(4) Northeastern vs (9) Boston University
The Huskies took two wins last season and the teams also had two ties. Both teams have strong goaltending, but Northeastern has the offensive advantage. They're playing a home and home series and I'm guessing each team will win the game on home ice.
(5) Clarkson at Union
The Golden Knights have a weekend against teams they swept last season to try and get back on track. They swept Syracuse the opening weekend of the season, but have suffered a tie or loss in each of their series since. They should open ECAC play with a pair of win.
(5) Clarkson at RPI
Clarkson should sweep their weekend and start conference play 2-0.
(6) Princeton at Colgate
The Tigers have a difficult start to conference play this weekend. There's no easing into it and not a lot of room for error. Princeton has the more potent offense and I expect them to win this one.
New Hampshire at (7) Boston College
The Wildcats are a tough matchup and Hockey East teams that overlook them will be surprised. The Eagles control the puck and have the zone for a large part of the game, which doesn't give opponents many opportunities to score. I think BC takes this one.
Providence at (7) Boston College
I'm not sure even Providence knows exactly who they are yet. They upset Northeastern and beat Quinnipiac, but struggled against New Hampshire and Penn State. That makes it difficult to understand how they'll play against BC. I think the Eagles will get another win, but if Providence plays to their potential, they clearly have the ability to grab another upset.
(8) Ohio State at Bemidji State
Bemidji State took three of four games against Ohio State last season and the Buckeyes have been susceptible to losses against teams they probably should beat. The Beavers are coming off a sweep at Wisconsin, while Ohio State split a pair of games with Minnesota. I wouldn't be surprised if either team swept here. BSU already took two from Minnesota Duluth. I think the Buckeyes will get up for these games, so I expect a split.
St. Cloud State at (10) Minnesota Duluth
The Bulldogs have wins over Clarkson and Colgate, but were swept by Bemidji State. They're coming off a tournament win at the Icebreaker in Buffalo and are likely to sweep the weekend, but I wouldn't be surprised if St. Cloud takes one of these games.