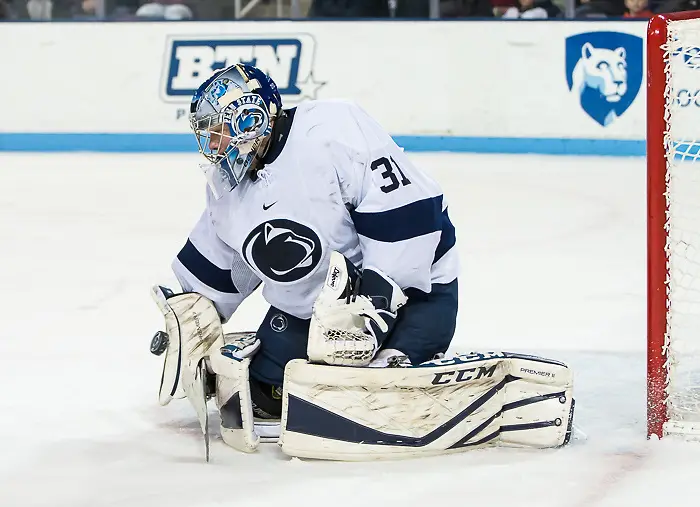 Last week, Drew and I were both rewarded for picking the Buckeyes to sweep the Wolverines – very risky, given the fierceness of that rivalry. I managed to edge him out for the week but I'm still playing catchup after his Halloween weekend picks perfection.
Last week
Drew: 5-3-0 (.625)
Paula: 6-2-0 (750)
This season
Drew: 31-12-2 (.711)
Paula: 28-15-2 (.644)
This week
There's a full slate of hockey this weekend, with three B1G matches and one intriguing nonconference series that pairs Wisconsin and Omaha, ranked teams that sparred in the WCHA for three seasons. All times are local.
Michigan State at No. 6 Penn State
Friday at 7:00 p.m., Saturday at 6:00 p.m.
Last weekend, the Spartans dropped two at home to Cornell while the Nittany Lions swept visiting Wisconsin. All four of Michigan State's goals against the Big Red came on the power play, which is clicking along nicely at 29.2 percent. Penn State outscored Wisconsin 10-3 in the series. Both of these squads have combined special teams that can factor into a game. Penn State is 13-9-4 all-time against Michigan State, but the teams were 2-2-0 last season with each team winning one on the road and one at home. If the Nittany Lions have regained their offensive confidence, they'll be very hard to beat this weekend – especially because senior goaltender Peyton Jones (1.67 GAA, .947 SV%) is having a career season.
Drew: Penn State 5-3, 6-4
Paula Penn State 5-2, 5-2
Minnesota at Michigan
Friday at 6:30 p.m., Saturday at 5:00 p.m.
In the greater context of college hockey, it's so unusual to see these two teams meet as unranked opponents. Minnesota picked up two points against visiting Notre Dame last weekend, with a tie and three-on-three extra point Friday and 5-3 loss with an empty-net goal Saturday. The Wolverines dropped two one-goal games to archrival Ohio State in Columbus. The Gophers are looking to break a four-game winless streak and the Wolverines a three-game losing streak. The frustration must be palpable for each squad and that may translate into a lively series in Ann Arbor. The programs differ in their reckoning of how many times they've met, but according to Minnesota, Friday will be the 293rd contest with the Gophers holding a 149-128-16 record against the Wolverines. There's traveling hardware, the Mariucci-Renfrew Trophy, on the line every season when these teams meet. Last year, the Minnesota was 4-1-1 against Michigan, including a 2-1-1 regular-season record to capture that prize.
Drew: Minnesota 6-4, Michigan 4-2
Paula Michigan 3-2, Minnesota 3-2
No. 9 Ohio State at No. 5 Notre Dame
Friday at 8:00 p.m., Saturday at 7:00 p.m.
The Buckeyes swept the Wolverines at home last weekend while the Fighting Irish took four road points away from the Golden Gophers. Notre Dame is undefeated (5-0-1); Ohio State is 6-1-1 but perfect (2-0-0) so far on the road. Notre Dame has one of the top offenses in the country; Ohio State has one of the top defenses in the country. OSU leads this all-time series 39-37-10, and the Buckeyes were 3-1-0 against the Irish last season.
Drew: Ohio State 3-2, Notre Dame 3-2
Paula Ohio State 3-2, Notre Dame 3-2
No. 7 Wisconsin at No. 20 Nebraska-Omaha
Friday and Saturday at 7:07 p.m.
The Badgers dropped two road games to Penn State last weekend and have one win in their last four, but they're an exciting young team and this series – this entire season – should be a fun one to follow. The Mavericks defeated and tied Alaska Anchorage on the road last weekend and with just one loss on the season – on the road to Ohio State – it surprises me that Omaha is ranked so low. I suspect that will change soon enough. The Badgers lead this all-time series 8-4-1. The teams last met Dec. 2-3, 2016, a tie and a win for the Mavericks.
Drew: Wisconsin 5-3, 4-2
Paula Omaha 3-2, Wisconsin 4-2
Tweet us!
Follow Drew (@drewclaussen) and me (@paulacweston) on Twitter. Bonus: I post cat pictures.