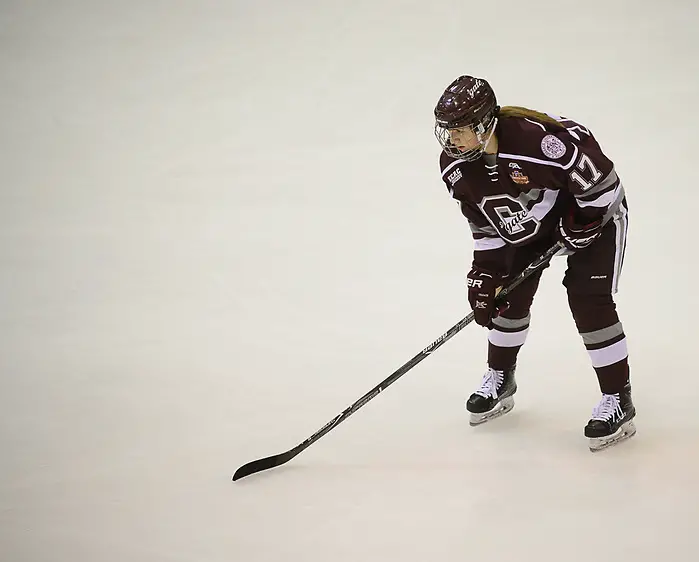 (3) Cornell at St. Lawrence

The difficulty for St. Lawrence will be putting the puck in the net. Cornell has allowed just one goal in their first four games. The Big Red might be the scariest team in the country right now. They haven't allowed a power play goal. They're scoring more than three goals per game. They don't seem to have any weak spots, though this weekend they will be without Kristin O'Neill and Micah Zandee-Hart, who are with Hockey Canada for the Rivalry Series this weekend. Even still, I think Cornell has the depth to cover for them and will win this game.
(3) Cornell at (6) Clarkson

Like Princeton vs. Cornell last week, this is a game that could have repercussions to how the conference could shake out three months from now. These two should be fairly evenly matched, though Clarkson will also be without their best defender in Ella Shelton, who'll join O'Neill and Zandee-Hart with Team Canada. Clarkson has dealt with some injuries early on, so their success may hinge on who's available for this game. I also worry about how the Golden Knights' two goalies will fare against Cornell's offense. I think the Big Red win this one, but it's certainly up for grabs.
Holy Cross at (4) Northeastern

Holy Cross' only win last year was an upset victory over Northeastern. You can bet the Huskies will be doing the best they can to ensure that won't happen again, but clearly the Crusaders know how to exploit their weaknesses. Northeastern should be able to win this one, but history shows you never know what could happen.
(5) Boston College at Connecticut

The Eagles won five games over the Huskies last year, but BC was also susceptible to losses against inferior opponents. Boston College also has games against BU and Northeastern on the docket, so they need to stay focused on this weekend and not get caught looking ahead. The Eagles should win this one.
(5) Boston College at Harvard

The Crimson have had a number of down years recently, but this is one of those rivalries where the relative talent of either team in any given year doesn't have too much bearing on the outcome. Last year, Harvard beat BC in the opening round of the Beanpot. The Crimson have netted 16 goals over their first three games. Boston College has the reigning WHCA Rookie of the Month in Hannah Bilka and seem to be scoring at will. This is one of those games that will either feature a dozen goals or one goal – I don't see it falling somewhere in between. I give BC the edge, but think this is essentially a toss up.
Colgate at (6) Clarkson

Colgate edged Clarkson twice during the regular season before falling to the Golden Knights in the ECAC semi-finals last year. The Raiders have 26 goals in their six wins, but have just two goals in their four losses. In each of their wins over the Golden Knights last season, they scored four goals. Finding the back of the net has to be a priority for Colgate if they're going to win this game. For Clarkson, strong goaltending is obviously key. Shelton dishes a lot of their goals and is second on the team in shots. The 5'8" center is their best defender, so they'll need someone to step up and take on some of her role if they're going to make it through the weekend with any points. I'm giving Clarkson the advantage at home, but this one is likely to be very close.
Harvard at (7) Princeton

Princeton sent Sarah Fillier and Claire Thompson to Hockey Canada for the weekend Rivalry series. Fillier is their most dynamic forward and despite being young, is a team leader. It'll be a good learning experience for Princeton to play without her, but it does leave a big hole in their lineup. I expect Harvard to be focused on BC and despite missing some players, I think Princeton just has too many weapons for the Crimson to neutralize.
Dartmouth at (7) Princeton

The Tigers have top-tier scoring and great goaltending. Their defense is solid and Dartmouth simply won't be much of a match for the talent Princeton puts on the ice. The Tigers should win this game without much problem.
(10) Boston University at Providence

I have no idea what to make of Providence this season. They're 4-4-2 and haven't been able to complete a weekend sweep yet. They shut down Northeastern's offense, but took one point from a weekend against Penn State. BU is still struggling to find their identity without Jesse Compher to lead their offense, which makes their presence in the rankings even more impressive, in my opinion. I think the Terriers will win this one.
Yale at (10) Boston University

Yale is playing three games in five days. They are likely to come away from the weekend with two wins, but I don't think they can carry that over against the Terriers, who are simply playing at a higher level than they are right now.