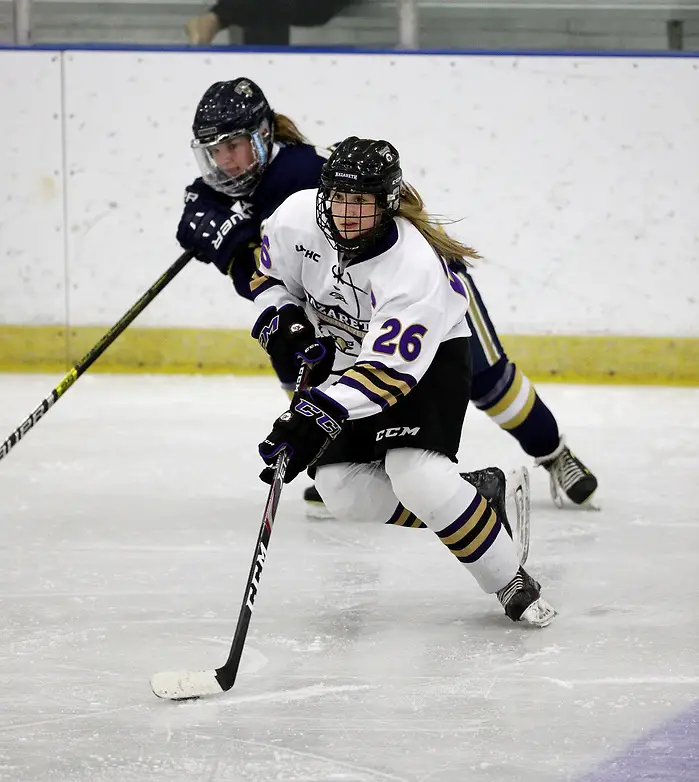 In their first year as a varsity program, the Nazareth women's hockey team snuck up on a few teams, getting out to hot start and riding that to a semifinal appearance in the UCHC tournament before falling to William Smith, 2-0. As one of the conference favorites this year, the Golden Flyers don't have that same luxury, but it hasn't mattered, as they are off to a 6-1 start.
"You hope that habits that lead to success carry over," said coach Chris Baudo. "It is a different year, and as a staff, we think you have to approach it that way. New faces in the locker room, new dynamic, but you hope that the values of your culture really sustain themselves year to year. There was a lot to build on last year. We want to take the habits that lead to success from that, but then also understand that it is a different group and it's a different season and a different journey. Honestly, that's what makes the job fun, and that's what makes playing the game fun is that the journey is a little bit different every year and you have to sort through what works for each group that you have in the locker room together."
Last weekend, Nazareth defeated Wilkes and King's, 7-0 and 10-0 respectively. Nazareth has a lot of players that can score. Sophomores Keeley Rose and Hailey Redders are near the top of the country in scoring, while freshmen Makenna Wiljanen and Celena Rea are scoring in bunches. Wiljanen has the highest points per game average on the team with nine points in five games.
"Both have adjusted pretty quickly, which is great; now, they'll work to try to sustain that," said Baudo. "Makenna combines a hard-nosed approach with a really good skill set and a good IQ for the game. She can really shoot, but at the core, she plays with a lot of fire and a lot of urgency to her game. I think when players play like that and play that style, it makes the transition from the U-19 level to college a little bit smoother, because hard work travels. Celena came to us from Minnesota. She just really skates well, is really good around the net, sees the ice well. She's been very good for us special teams and even strength as well. Both of them have had good starts on paper. Now, as for any young kid, it's the ability to sustain it day in and day out, and that's what we'll be working together on."
One thing that has helped Nazareth with its start is special teams play. The Golden Flyers are clicking at over 30 percent on the power play, and their penalty kill is perfect so far, killing off all 22 penalties they've faced.
"I think that especially on power play, teams can be streaky, meaning if it starts to go early, they start to believe in it," said Baudo. "They start to get confidence in it and good things continue to happen. They're excited to jump over the boards and get excited about the opportunities in front of them. We got a little streaky early, which is great, and we look to continue that. I think that with the PK, we just have a really hard-working group that buys into the penalty kill. We have a few kids who that's kind of their sole responsibility. They don't necessarily see power-play time, but every time there's a penalty, they'll jump over the boards, and they know that. They really value their role.
"To give you more of a 10,000-foot answer to that, we really try to make sure that to the best of our ability, we are giving as many players on our team a specific role that they can embrace and buy into. By doing that, they are able to feel that much more a part of the game. We try not to rely on the same six forwards, the same four defenseman. We try to rely on our depth and really work to put the kids in positions where their skills will give them the best chance to be successful."
This weekend, Nazareth faces a stern test when they face No. 3 Elmira, which is a perennial power in the UCHC, and William Smith, the team that eliminated them from the playoffs last season.
"I think when you play in these games, there has to be an understanding that it's likely going to be a little bit like a boxing fight, meaning you're not going to control the game," said Baudo. "There's going to be ebb and flow. There's going to be back and forth. You have to be able to sustain those moments where you are on your heels a little bit, and then you have to be willing and able to push back and maintain your confidence and your composure and your focus. We played some really tight games last year, and we hope that what we learned in those games carries over, and we can keep that approach and that mindset that it's not going to be perfect. When it isn't, we work to sustain it. When it is going well, we look to, stack on those shifts and ride that momentum. We believe in ourselves. We think we give ourselves a chance at success, and then we'll see where it goes from there."