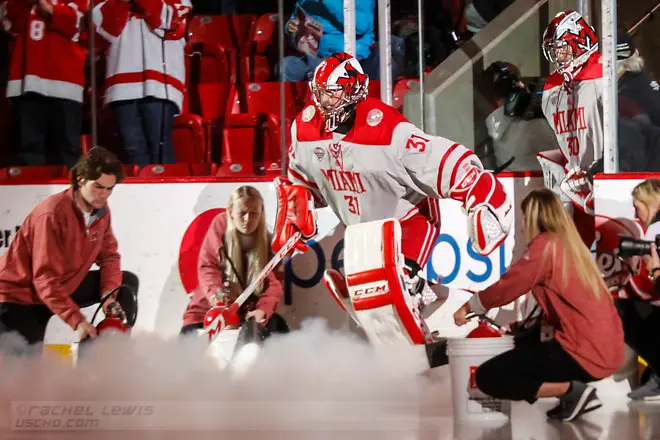 First-year Miami coach Chris Bergeron's initial season behind the bench at his alma mater didn't start as he would've wanted, but things seem to be turning around in Oxford, Ohio.
Sure, Miami conceded 13 goals in its first two games, including a 7-4 season-opening loss Oct. 6 against Bowling Green, a school three hours up the road that Bergeron called home for the last nine years. And yes, the RedHawks began this season 2-5-2, and they dropped their first two conference games two weeks ago at North Dakota.
Miami bounced back at home last weekend, though, upsetting No. 6 Minnesota Duluth 3-1 on Friday and coming up short in a 3-2 defeat Saturday.
Three different Miami players scored in Friday's win, but Derek Daschke and Monte Graham scored the go-ahead and insurance goals, respectively, 3:29 apart late in the third period.
Senior MU goaltender Ryan Larkin played a big role, too, making 35 saves in a game where the RedHawks were outshot 36-17. He played well again Saturday with 32 saves, but Miami fell in a game where both teams scored two power-play goals.
Bergeron was asked Monday during his weekly press conference what his message to his team was ahead of a trip this week to Omaha. The 18th-ranked Mavericks are looking up, too, having won last time out to secure a split at Western Michigan.
"We need to control getting better today," Bergeron said. "The weekend's over with. I look at it from 30,000 feet and I think it was a good weekend, and by no means was it bad and it wasn't great.
"I think Minnesota Duluth is a really good team. They look the way we want to look. They're big, they skate, they defend, they fight you for every inch of the ice and I thought, over six periods, our guys hung in there. I stick by what I said on Saturday: there were too many passengers on Saturday. There wasn't enough guys involved and we need to have everybody.
"Our goaltending was good and Ryan was as good as he's been on back-to-back nights all year long, which was great and gave us a chance," Bergeron continued. "The special teams, we won the special teams (battle) on Saturday for sure and lost the game, that doesn't happen very often, so there's lots of positives to come from the weekend."
Miami was buoyed in part last weekend by the return of junior defenseman Alec Mahalak. He played in all 38 of Miami's games last season and was the RedHawks' third-leading defensemen in terms of points with 12 assists, but he missed MU's first nine games this time around.
"I don't know what it was when he got hurt, but it was training camp and it was all happening really fast for me, just in terms of evaluating and so far, but he brings a presence back there in terms of calming," Bergeron said of Mahalak.
"He's not the biggest guy (at 5-foot-9 and 170 pounds), so it's not necessarily a physical presence, but he's really calm with the puck and I think he does the right thing most of the time, and I thought he fit right in for someone who's been out as long as he has.
"My conversation with him was, 'How did you feel?' and I think the quad started to burn a little bit late in the shift and as the weekend went on, but all in all I think it was a positive step forward for Alec, and now with nine guys back there, and we're looking to dress seven, it's going to have to bring out the best in people."
Coming into this season, outside expectations were low for a Miami that finished each of the last four seasons under .500. It's also worth noting that one strong weekend doesn't make a season. Bergeron is feeling positive right now, though, and he should be ahead of a long trip to face a 6-3-1 Omaha team that has started better than many thought the Mavericks would.
"They're coming off a really big win," Bergeron said. "Any time you go into Lawson and win, it's a big win and they did that Saturday night in Kalamazoo, and I think they'll be confident.
"This early in the week, we don't know a whole lot about them just yet, and the coaching staff is going to know is what we're going to see on tape. We'll study, and we know that this is a confident bunch, and (there is) the travel, so we've got to get there, get ourselves right and get ready to work."
UND's Scheel earns NCAA honor
North Dakota sophomore goaltender Adam Scheel played a key role in the Fighting Hawks' success last weekend at second-ranked Denver, and he earned national honors because of it.
Scheel allowed just two goals all weekend as UND grabbed a win and a tie to take the Hawks' first series win at Denver since 2003. Scheel made a season-high 30 saves Friday in a 1-1 tie, and he stopped 27 shots Saturday in UND's 4-1 win.
Scoring two goals on the weekend added up to Denver's lowest figures for a home series since 2012.
Speaking of goalies…
Colorado College freshman goaltender Matt Vernon helped the Tigers to a weekend sweep over St. Cloud State, CC's first against the Huskies since Dec. 2010.
Vernon, son of former NHL goalie Mike Vernon, made 20 saves in Friday's 4-2 win. On Saturday, he made 27 saves — including 10 while CC was short-handed — as the Tigers won 5-2.
Having started five games so far in his collegiate career, Vernon now has a .904 save percentage on the season and saw his GAA drop to 3.04.