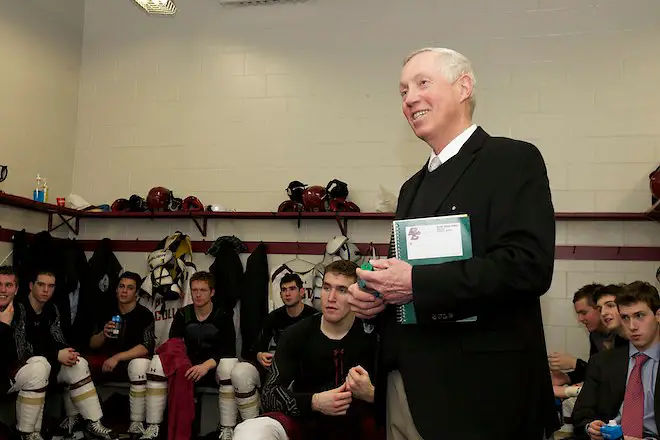 On Monday, the rest of the hockey world acknowledged what college hockey has known for a long time.
Namely, that Boston College coach Jerry York is truly exceptional.
York became only the fifth NCAA hockey coach to be inducted into the Hockey Hall of Fame. Those who preceded him — Lou Lamoriello, Herb Brooks, Bob Johnson and John Mariucci — all could include ties to the National Hockey League or the U.S. Olympic team to enhance their resume.
Only York got in the Hall exclusively on his college hockey credentials. Those include 1,074 wins–more than any other coach in history–five national championships, and 41 NCAA tournament victories.
"The college pool of coaches has never been held in the respect that it is now," York says. "Fifteen or 20 years ago, Bob Johnson had to win the Stanley Cup. Herb Brooks had to win the Olympic gold and then went on to the [New York] Rangers. Lou Lamoriello had to become a general manager for the [New Jersey] Devils and win Stanley Cups.
"But now we're held in a higher esteem. There's more influence from the college ranks. That's probably why I was considered and accepted into the Hall of Fame."
Of course, the 1,074 wins and five national championships had a bit to do with it as well.
York's decision to remain with his team this past weekend while it played Vermont, bypassing the first few days of the induction celebration, did ruffle a few feathers, including a Toronto columnist who shall go nameless.
"It really wasn't a difficult decision," York says. "If I bypassed a Hockey East game to accept an award, that's sending the wrong signal to my players. I think they really appreciated that. If you're going to talk the talk, you have to walk the walk.
"The Hall of Fame people I dealt with were upset at first. They said, 'You can't do this, Jerry. Friday night, they introduce you and give you your jacket at the Bruins-Leafs game on national TV. The next day, we have a panel that draws a tremendous amount of people.'
"But I looked upon it that I'd be there Monday night for the ceremony. That's the real nuts and bolts of it. I couldn't sacrifice my team for the rest of it."
The Monday night ceremonies proved to be as awe-inspiring as expected. York gave his speech, which included the quintessential line, "We're not coaching pucks, we're coaching people." Then he and the other inductees signed the special book signed by every member of the Hall of Fame.
"You flip the page and your name's there in calligraphy–Jerry York–and they give you a keepsake pen to sign with, and that puts you in the Hall of Fame," York says. "My hand was shaking I was so nervous. Then Lanny McDonald says, 'Officially, this puts you in the Hall of Fame.'
"It's a wave of emotions, something that's so hard to explain. But the emotional impact of signing that name and seeing the other names scrawled there, whether it's Rocket Richard or Wayne Gretzky, is a pretty special moment.
"It's just etched in your mind. Hall of Fame."
When asked to reflect on what the highlight of his career to this point might be, York gave an answer surprising to those who don't know him, but characteristically Jerry York to those that do. It wasn't the Hall of Fame induction or the 1,074 wins, or the national championships.
"[The highlight would be] watching a lot of young kids come in and mature and develop," York says. "Not necessarily to play for the Calgary Flames or the Boston Bruins. That's the aspiration and dream of our players, but it's only a very elite group of people that can actually play in the National Hockey League, and they only average about two and a half years in the league.
"So I try to tell them that's not the be-all and end-all of everything. Just to watch them mature and develop into good people. That's the most important thing, I think."
Believing in the process
Coaches will often talk about focusing on the process, not wins and losses. If the team sticks to the process, the wins and losses will take care of themselves.
But sometimes you wonder. When a tough loss smacks you in the face, trusting the process may not be easy.
Massachusetts coach Greg Carvel was put to that test on Friday night when the Minutemen fell behind Boston University, 4-0, and fell short in their comeback attempt, 4-3, despite a 52-22 shot disparity. After a convincing 4-1 win one night later, Carvel praised his team's play in both games. No yeah-buts.
"I'm very happy with our team's performance this weekend," Carvel said. "As a team we took a big step forward, playing a skilled BU team in two games and dominantly outshooting them.
"[Saturday], for the first time, we were the team that got a lot more power plays than the other team, which is a good sign. In the third period, again, just like [Friday] night, we were really strong, had the puck in the offensive zone and created and prevented defensively pretty well.
"The only thing I think we really need to work on is getting the power play going, and think we'll have Marc Del Gaizo back next week so hopefully that will help that situation."
Still in first, sort of
UMass Lowell remains atop Hockey East with 11 points based on a 4-1-3 league record, but BC lurks only a point behind with a game in hand. The River Hawks' weekend series with Connecticut was yet another reminder of the parity within the league. Lowell entered the weekend with a seven-game unbeaten streak and a 4-0-2 mark in league play compared to a three-game losing streak and a 1-3-0 league record for UConn.
But after a 3-3 tie at UConn, the Huskies sprung a road upset, 2-1.
"Overall, it's a tough feeling," Lowell coach Norm Bazin said. "We haven't had this for a while. It's been three and a half weeks without a loss.
"We lacked in our finishing and execution, and that lack of finishing came back to bite us. They played a good game, they were hungry this weekend and overall they deserved to win."