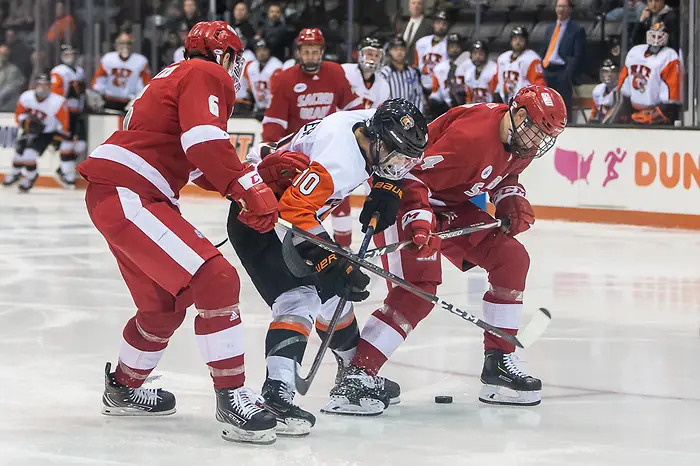 Each week during the season, we look at the big events and big games around Division I men's college hockey in Tuesday Morning Quarterback.
Paula: Jimmy, one of the things that strikes me now as we are into November is the leveling effect that conference play is having on some teams – and how improved some programs seem to be.
You had Sacred Heart sweeping RIT in Atlantic Hockey. Notre Dame registering its first loss against a tough Wisconsin team. Clarkson lost to Cornell. UMass-Lowell tied and lost to Connecticut. North Dakota nearly sweeping Denver but losing a point in a tie with a shootout "win." Northern Michigan splitting with a resurgent Alaska. In every conference, a team at or near the top last weekend found itself losing points to a conference opponent. I don't know if that's an indication of things to come this season or if it's a one-off kind of thing to start conference play.
Then there are teams like Alaska, who may surprise a few people this season, and Boston College with its five-game win streak to improve its fate, and Robert Morris with a sweep of Bentley for a 7-1-0 record in Atlantic Hockey.
What do you think? Is what we're seeing an indication that conference play is going to be especially fierce toward the top of the regular-season league standings?
Jim: I think the point you make is a good one. Certainly, how you perform within yourself league defines your season strictly based on the sheer number of league games you play.
Additionally, playing league opponents means playing teams whose coaches know your tendencies. There are considerably fewer secrets in conference play.
That said, I always say that the best teams make hay in their non-league slate. Win 75 percent or more of your non-conference games and simply be an above average conference team, you will be just fine for NCAA tournament qualification.
What I think we have seen in recent weeks is the lack of consistency by some teams. Denver stands out in my mind as they looked dominant through the first eight games but struggled with both Minnesota Duluth and North Dakota. That, though, is a sign of just how difficult playing league teams is in the NCHC. There are so many great, competitive teams in that league right now.
Paula: The NCHC is shaping up to be a dominant league on the national level this year, I think. Tied with the Big Ten for the current top win percentage (.634) in interleague play, the NCHC looks deeper to me. Six of the eight NCHC teams have overall win percentages above .500; only three B1G teams do.
I look at a series from last weekend like Omaha at Western Michigan in which the Broncos gutted out a win Friday and the Mavericks scored two in each period to win 6-3 Saturday. Western Michigan has been consistently competitive for several years and Omaha ended last season at the bottom of the NCHC standings. While the Broncos continue to be steady, now Omaha joins the mix of NCHC teams that look very good, tied with Notre Dame for the seventh-best offense nationally and with a power play among the top 10 as well.
Then there's an improved Colorado College. With a sweep of St. Cloud, wins over improved Michigan State and Minnesota teams and a tie against Western, the Tigers – a team that was third-from-last in the NCHC last year – have a solid start to the season.
Remember a few weeks ago when we talked about how it wasn't yet time for Minnesota Duluth fans to panic following a rocky start? The defending champs are 4-1-1 in their last six games, proving us right. Denver's recent shaky play has come against Duluth and North Dakota, two top 10 teams. I don't think it's time for Denver to panic yet, either, but I do see that as another sign of strength for the NCHC.
Jim: I agree here. The NCHC regular season is just a continuous battle. I honestly believe that, right now, seven of the eight NCHC teams deserve recognition in the national poll (currently five teams are ranked and a sixth received votes).
As for Denver, I don't think there are any worries there. The Pioneers have all of the tools to be one of the tips teams, not just in the NCHC, but the nation come March.
If there is a team that I am most concerned about it is Minnesota. You see that league – the Big Ten, that is – the most. What are the reasons for Minnesota's struggles right now?
Paula: With one win in their last eight games, the Golden Gophers are a bit of an enigma – although not, perhaps, to the B1G coaches who voted them to finish fifth in their preseason poll. It's to easy to say that offense is an issue when the Gophers are averaging 2.42 goals per game, but Minnesota doesn't lack offensive talent. (Depth is another story.)
Minnesota is a team that appears to be rebuilding defensively. Three newcomers are vying for time in the Gophers' net: freshmen Jared Moe and Justin Close plus junior transfer Jack LaFontaine. Moe has the best numbers so far but he's 3-3-1.
The Gophers also have three freshmen on the blue line who have played every game and eight rookies total who have played 10 or more games each. I am eager to see how this team will play in its second half.
One team adjusting well to a newcomer in goal and two rookie defensemen is Boston College, a team that perplexed me last year and gave me pause in the second half of October. Now, though, the Eagles are riding a five-game win streak into their single game against Yale Tuesday night. Four of those five wins were road games, the most recent a two-game sweep of Vermont.
Of course, it's difficult to keep a team like BC down with Jerry York at the helm. Now in his 26th season at Boston College and his 48th overall – impossible to imagine, really – York is one of college hockey's legendary coaches and all-around nice guys. A big congratulations to Coach York on his induction into the Hockey Hall of Fame yesterday. I can think of no one more deserving.
York did not attend the official ring ceremony Friday, Nov. 15, nor did he attend the Hall of Fame Game between the Boston Bruins and the Toronto Maple Leafs. He was otherwise occupied coaching the Eagles – which led to some of the worst sports commentary I've ever seen. Ever.
Jim: Well, we certainly were reminded over the weekend that the curmudgeon, old school, out-of-touch media in the greater Toronto area still – and maybe never will before they are in the grave – do not respect U.S. college hockey.
What an idiotic decision by Jerry York to pass on the day's festivities at the Hockey Hall of Fame so he could coach yet another US college game. That's my view. You can disagree.

— steve simmons (@simmonssteve) November 16, 2019
Leading the charge was Steve Simmons from the Toronto Sun, who called Jerry York an idiot for prioritizing coaching Friday's Vermont-Boston College hockey game ahead of attending a ring ceremony associated with a ridiculously-long four-day Hockey Hall of Fame induction process. As many media have pointed out, one thing that makes Jerry York so special to so many people is that he always puts his team ahead of himself. So there is nothing idiotic about coaching that team you love instead of sitting through useless ceremonies knowing that more are to come over the days that followed.
But to Simmons and many other in the media, that is part of a disconnect. None of them likely have ever attended a collegiate game in the U.S., let alone, say, a Frozen Four. They believe the game of hockey begins in Canada and ends at the U.S. border.
And, truly, that's sad.
Think about how little so many of the media north of the border understand about U.S. college hockey. They are the ones missing out. There is undoubtedly a provincialism that sadly exists in hockey. And I can't help but think that is part of the reason that the Stanley Cup has resided in the United States for nearly quarter of a century (ironic with so many U.S. college hockey player's names now inscribed on said Cup).
All this said, this is quite a moment for Jerry York and college hockey. It is a testament to what makes the college game in the U.S. so special. And it is recognition of what one man's dedication to the game has meant to the game's growth.
The inability to recognize that, well, that's idiotic.