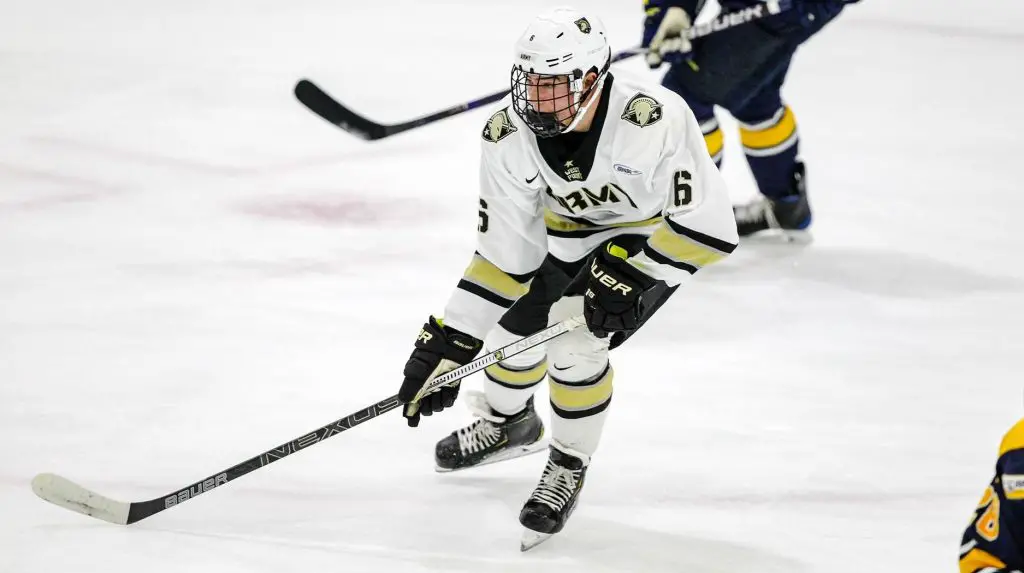 The United States Military Academy is one of the most unique places in the country.
It blends history into the modern youth of the nation, a museum and national landmark built into an active military installation. Cadets are trained to become tomorrow's leaders on the backdrop of more than two centuries' worth of traditions.
That history-and-modern blend helps shape its cadets, and last week, 1,089 cadets, including nine members of the Army West Point hockey program, received a glimpse into their future during the academy's annual Branch Night. The ceremony presented each with their branch assignment inside the United States Army, officially locking them into a professional path for graduation into the Long Gray Line.
"There are a lot of things that you check off on a list (at West Point)," said Black Knights goalie Matt Penta. "Branch night is one of them. Since your first year, you see the seniors get their branch, and you always wonder about what you're going to do. It's the biggest question you're asked whenever you're away from (campus), about what you're going to do after you graduate. You always think that you want to do something, but it's cool to wear branch insignia on your uniform."
It's a process designed to measure a cadet's personal preference against individual performance. Every cadet ranks their personal desire, but they are assigned based upon a combination of factors. Their performance in school, along with military drill and merit, are weighted against a simulation and feedback to determine their appropriate path. This year, 88% of the entire class received assignment to the top preference, an 11 percent increase over last year.
"Most things at the academy are based off of class rank and order of merit," said Penta, who received Field Artillery. "You work pretty hard towards (goals). As a hockey player, we're missing classes and don't have much downtime, but we're still holding our class rank and getting the jobs that we want. It's pretty special. We pride ourselves as hard-working guys on the ice, and since I've been here, it earns us the things that we really want. That's a really special attribute (of the hockey program)."
The Branch Night tradition is a unique experience for cadets, but it's something altogether different for athletes. Army played at Holy Cross last weekend, so the hockey team members experienced the tradition on campus. That doesn't always line up perfectly, and there have been years where a modified ceremony happens on the bus before or after a game. In those situations, the team goes to great lengths to respect the tradition as part of the greater cadet accomplishments.
"It's one of the special things to experience here for the players," Black Knights coach Brian Riley said. "Through each year, there are different peg points that they have to hit. That's when it really hits that it's their last year, and they've grown up in front of your eyes. It never gets old. As a coach, you take a lot of pride in it because these are your guys. You see them hit those peg points, and you're so proud of them that they've gotten to this point. As they go through, the class becomes really close. We all met on Wednesday outside of the auditorium. They were hugging and smiling. As a coach, watching that from the side is pretty awesome."
"At first, you're anxious (sitting in the auditorium)," Penta added. "You want to get it over with, but then you settle in. Our speaker was a former lacrosse player, and he talked about how the lessons we learn at West Point lead into the next chapter of our lives. He spoke to our whole class, but his experiences as an athlete helped him, and it made me feel good (to be a student-athlete at Army)."
In the end, though, it's part of a larger tradition of maturation among West Point cadets. The Black Knights swept Holy Cross over the weekend and earned six points, but the players in the locker room are bound by something greater. Those who received branch assignments now walk with insignias on their uniforms, one step closer to joining their teammates in The Long Gray Line. For the younger players, it was an opportunity to internally think and dream about what they want as they continue their own preparation to join, as Riley calls it, "the ultimate team."
"These younger guys will learn from their older teammates," Riley said. "The younger guys listened to this group as they've navigated through the process of choosing which branch they wanted. Then they go through their own summer training and get an idea of military training to determine what's best for them. It helps them learn through experience."
"Then a colonel is telling you to hold up your envelope, just to build that anxiety," he continued. "Everyone is hooting and hollering. Then when you see that brass insignia, it becomes real. I'm joining the guys that I played with before, and it makes me really appreciate the guys and the officers and everything they've said."
Holy Cross honoring a hero this week
The city of Worcester, Massachusetts endured an unspeakable tragedy when one of its firefighters, Lt. Jason Menard, passed away while battling a four-alarm blaze last week.
Menard was part of a firehouse housing Engine 15 and Ladder 5 for the fire department, a station located on McKeon Road, just down the hill and over the tree line from the Hart Center at Holy Cross. More notably, it's the station responsible for the college itself, a unique link between the city and the school.
The story itself can rock anyone's spirit and core. Lt. Menard died while aiding fellow firefighters trapped in the building after they went looking for a mother and a baby that reportedly could not get out. The layer of sadness compounded itself with the realization that the 39-year old was due to go on vacation with his wife and children that day.
Holy Cross football coach Bob Chesney tweeted a photo of himself with hockey head coach David Berard at the station, remarking that the two of them met the firefighters in the station less than a week before the events occurred. He specifically mentioned the station's pride and honor "to protect our young men and women at Holy Cross."
This week, Crusader fans can purchase a special $10 ticket to any Holy Cross home event, and $5 will be donated to the Menard Children's Fund. This includes the men's hockey game on Friday night against Sacred Heart at 7:30 p.m.
Full details, including a list of all athletics events in the promotion, can be found on the Holy Cross athletics website.
Records shattered
Everyone around the game knows there are nights where everything goes wrong. There's no reasonable method for predicting them, but they're always noteworthy when they show up. On Friday night, Mercyhurst hosted American International. It was the first game of a two-game series at in Erie, and it quickly became, for lack of a better term, a bad night.
AIC scored five goals in the first period, then added four in the second and three in the third in a record-shattering 12-0 victory. It marked the first time the Yellow Jackets scored 10 goals in a game as a Division I program, breaking a record set twice, first in 1999. It broke a record set in 2013 for largest goal differential in a game and set a new standard for goal differential in a shutout victory.
Individually, Eliijah Barriga notched a hat trick, and both Tobias Fladeby and Austin Albrecht posted four-point nights. Blake Christensen had two assists, tying him for the program's Division I record for career assists (he broke it the next night). And goaltender Zackarias Skog won for the 30th time in his career, tying Ben Meisner's career wins record, while pulling him within one game of a shutout record, also held by Meisner.
These things happen, and I know neither side particularly wants to have an ugly night at the arena. A team scoring 12 goals knows it can be scored upon the same way, but there's also a delicate balance between the two. It doesn't happen often, so a game like this needs to be taken with a grain of salt.
The grain of salt comes from the overarching message that a loss is a loss. It doesn't matter if Mercyhurst lost this game by one goal, two goals, three goals or 12 goals if it sends three points back the other direction. The most important thing is what happens the next night.
Sure enough, as expected, the next night went to the Lakers in a back-and-forth instant classic. Steven Ipri scored twice for Mercyhurst, including the game-winner in overtime after he drew a roughing call for an exchange with Hugo Reinhardt. So after all of that, the teams split the weekend anyways.
Still defending the wall
I know it's way too early to talk about Pairwise Rankings, but an eighth-place Atlantic Hockey team always forces my hand when Thanksgiving is approaching. That's why I took umbrage with the national poll last week when RIT didn't make the rankings despite a 7-1-2 overall record.
Welcome back, #RubinJinx.
The Tigers got swept by Sacred Heart on the road and fell 22 places in the Pairwise Rankings after absorbing their first two conference defeats. It knocked RIT to third in the league standings, and it enabled Army West Point to pass it in the PWR.
Four Atlantic Hockey teams are now positioned between 26-33 in those PWR, with RIT sitting one spot ahead of Robert Morris and three places ahead of the Pioneers. Perhaps unironically, all four teams are the only over-.500 teams overall in the league and occupy, in some capacity, the top four spots in the standings.
I know RIT's losses will give everyone ammunition to fire away at my "Atlantic Hockey deserves respect" argument, but I stand by what I said. Army West Point and RIT still have the 10th-best winning percentage in the nation, tied with Northern Michigan and Maine, two teams who receive deserved respect in the polls. Robert Morris is tied with Boston College and Bowling Green for 17th.
Let's now look in between the numbers on that winning percentage. RIT holds two wins over non-conference teams, including Bowling Green, and only lost by two to Ohio State, a team also in that same range of winning percentage. Northern Michigan split with Michigan State, took a win and tie from Boston University and tied St. Cloud State; Michigan State is the only .500 team in that lot. Army West Point, having split with Robert Morris, a team that narrowly lost to Penn State and still isn't receiving as much discussion as it should, is also in that discussion.
I know it's a quick-shot study here, and I'll admit that I dropped Atlantic Hockey from my poll this week. From a winning percentage standpoint, I have the WCHA teams ahead by a step over the Atlantic Hockey teams with the same-ish record.
But I stand by my comments from last week that a team from this league with a better winning percentage receives less respect than its peers. Yes, I know there's a struggle to win non-conference games all around, but if an AHA team has a substantially better winning percentage (by that I mean multiple games), I believe it deserves more credit.
Ever True vs. Bentley Blue
Hockey is one of those sports that runs through my family's blood. Nobody actually played the game, but the sport always seems to have its seat and role at our dinner table.
I used to go to BC-BU games at Walter Brown Arena as a kid, but I really got into college hockey when I went to Brown University games as a teenager. Over time, my brother, Mike, became the team's manager and eventually started broadcasting most of the Bears' sports teams. I eventually joined him in calling games, going into what I deemed the "family business," and that's really where my college hockey journey began. I eventually found my way to Bentley, but I'll still call some games at Brown with him when the schedule allows an opening – including that triple-overtime playoff win over Princeton that promptly gave me the flu.
Two years ago, I called the Bentley game at Brown with him, and next week, I'll get to return the favor by hosting him up at the Coach DeFelice Ice Rink when the Falcons host the Bears.
I'm in my 30s now, but this is still little brother hosting big brother. It's a huge thrill for me on the personal rankings, and I'd go so far as to put it next to working a Frozen Four or at Fenway Park. Having been around Atlantic Hockey for 11 years, it's a much different feel than the time he called a game with me at the JAR, but I think it hits the right chord around Thanksgiving time.
Hockey is an amazing, values-based sport, and I know I'm incredibly lucky to be a part of it. The coaches, the players and the staff all make it something special. In the days before Thanksgiving, I think this is something we can all be thankful for, and for me, having my actual family on air with me for a game is pretty cool, especially since the guy's my mentor and all.
That said, I'm still picking Bentley. Sorry, Bruno.
Other games to aatch
I mentioned the Holy Cross-Sacred Heart game on Friday night, and I'll throw it out there again because it's a really great cause. Other than that, there are two series that I'm keeping an eye on:
Robert Morris puts its first place, 7-1 record on the line against an Air Force team coming off of a bye. The Falcons won three in a row before enjoying a week off, so this series is one to keep an eye on in the early season Atlantic Hockey race.
Speaking of early-season race, Army West Point hosts RIT. The Tigers are a perfect 4-0 away from the Polisseni Center this year, while the Black Knights are 3-1 at Tate Rink. The two teams are separated by two points at the top of the standings, which means this series is going to create a big downstream impact by Sunday.