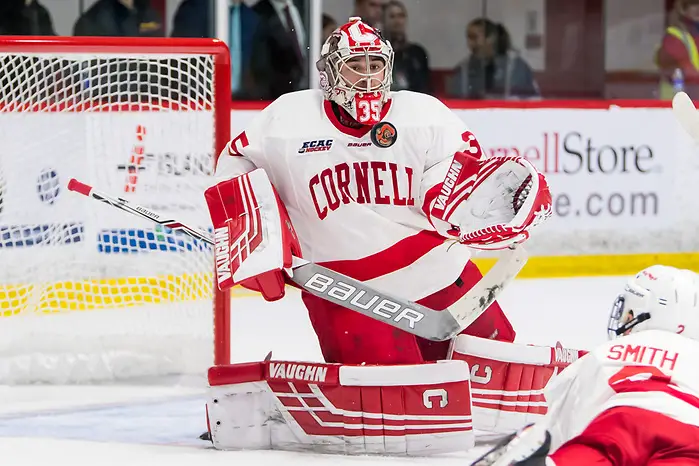 Conceived as a novelty, Red Hot Hockey has become an institution at Madison Square Garden.
No. 2 Cornell (8-0) and Boston University (4-5-5) will face off in the seventh biennial edition of the series Saturday night.
Its roots can be traced back to 1983, when disagreements between the ECAC's six Ivy League members and some of its other schools over schedule length versus academics led to Boston College, Boston University, Maine, New Hampshire, Northeastern and Providence leaving to form what became Hockey East, which began play in the 1984-85 season.
The Terriers and the Big Red first met outdoors, on Cornell's Beebe Lake, in 1925 and 1926, the visitors winning both times. After a 40-year hiatus, they played 31 times between 1966 and 1984, the competition intensifying with a pair of matches for the NCAA men's championship. Cornell, led by Hall of Fame goalie Ken Dryden, won in 1967 and BU prevailed in 1972.
After the ECAC-Hockey East split, however, the two powers met just eight times in the next 22 years.
Cornell coach Mike Schafer and then-BU coach Jack Parker then decided to rekindle the rivalry and agreed upon a three-game series, starting with the inaugural Red Hot Hockey game in 2007. There also were to be two games split between Boston's Agganis Arena and Ithaca's Lynah Rink, but the initial match sold out MSG and was such an overwhelming success that the teams and Garden management agreed to keep it going every other year.
The Thanksgiving weekend scheduling is popular with both universities' alumni and student fan bases, and the series has inspired other college hockey events at MSG such as the Frozen Apple, Rivalry On Ice and the College Hockey Showdown.
The six Red Hot Hockey games have reflected the rivalry's intensity. Three have gone to overtime, three have been decided by a single goal, and there have been two ties.
Here is a recap:
2007-BU 6, Cornell 3: The Terriers jumped out to a big lead in the first period with three goals in a span of 3:16. Pete MacArthur, Joe Pereira and Brandon Yip each had a goal and an assist as six different players scored for BU. Cornell's final goal was scored by current assistant coach Topher Scott. Ben Scrivens had 36 saves for the Big Red and Brett Bennett stopped 25 shots to earn the victory as the Terriers claimed the initial Kelley-Harkness Cup.
2009-BU 3, Cornell 3 (OT): Cornell scored twice in the opening six minutes and led by two at the second intermission, but Chris Connolly's power-play goal tied the score with 51 seconds remaining in regulation to cap BU's rally from a 3-1 third period deficit.
2011-BU 2, Cornell 1 (OT): Ross Gaudet scored his first goal of the season off a deflection in overtime for the game-winner. Adan Clendening had a five-on-three goal to give the Terriers the lead in the first period before Locke Jillson tied it for the Big Red at 11:06 of the third.
2013-BU 3, Cornell 2: BU took a 3-0 lead early in the third period before thwarting a late Cornell rally. Mike Moran, Robbie Baillargeon and Nick Roberto scored for the Terriers and Christian Hilbrich and Cole Bardreau had the Big Red goals. BU killed off all seven Cornell power plays, and Matt O'Connor made 37 saves as Cornell outshot BU, 39-11.
2015-BU 3, Cornell 3 (OT): Anthony Angello and Trevor Yates had goals in the first period to give the Big Red a 2-0 lead, but Bobo Carpenter and AJ Greer scored for the Terriers in a three-minute span of the third period to tie the score. Cornell's Holden Anderson and BU's Jordan Greenway then traded goals for the tie. Mitch Gillam made 40 saves for the Big Red and Connor LaCouvee stopped 22 shots for the Terriers, who retained the Kelley-Harkness Cup by winning a shootout, 3-2.
2017-Cornell 4, BU 3: Goals by Beau Starrett, Trevor Yates, and Alec McCrea gave Cornell a 3-0 lead at the second intermission, Yates becoming the first Big Red player with three career goals at MSG. Dante Fabbro got BU on the scoreboard early in the third period before Tristan Mullin scored to make it 4-1, and two late goals left the Terriers one short as the Big Red took home the Kelley-Harkness Cup for the first time. Matthew Galajda had a career-high 35 saves to earn the victory.
BU's Albie O'Connell will be coaching his first Red Hot Hockey game, while Mike Schafer has been behind the Cornell bench for the entire series.
"Cornell is the brass of their league and they're having a great year this year," O'Connell said. "They have a great tradition, and this has been a big rivalry in the past. We are lucky to have the opportunity to play at MSG, especially against Cornell with its storied program. We're pretty excited about it."
Schafer wants his players to enjoy the experience at MSG, but also learn from it.
"Playing there is great preparation for the league championships and the NCAAs," he said. "It's a big-time arena, a big-time crowd in a jacked-up environment. And BU is a really good team, especially on offense. We need to ignore the noise and play our kind of hockey."
This will be the 48th game between the schools, with Cornell holding a 24-20-3 edge. They last faced off in the 2018 NCAA Northeast Regional, a 2-1 first-round win for BU.