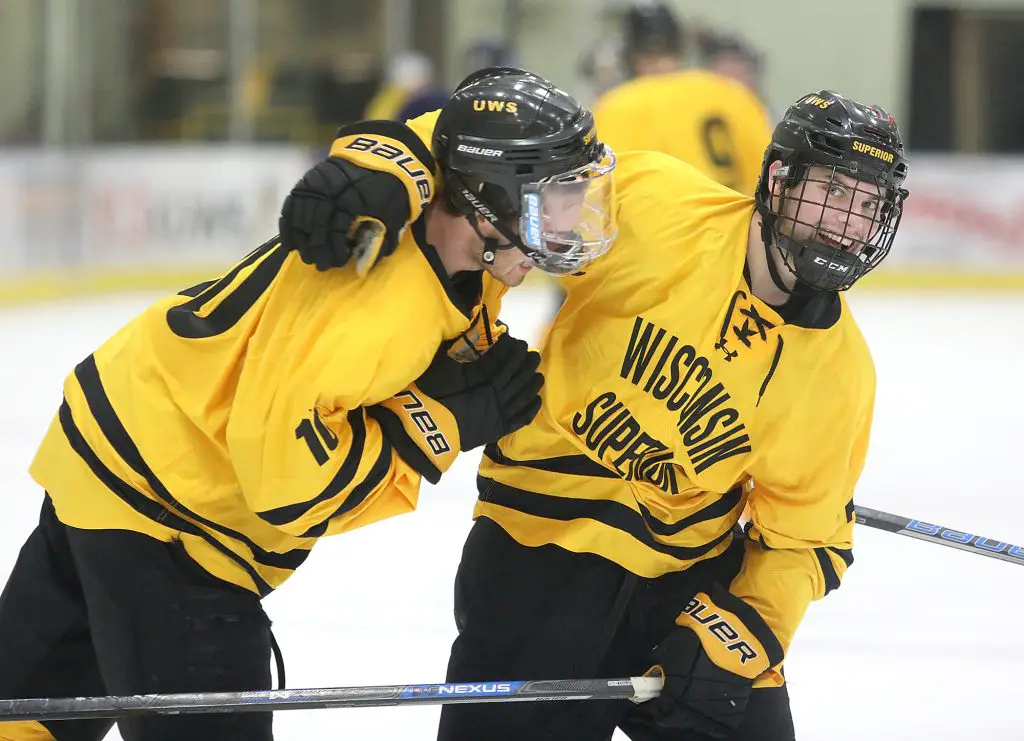 Troy York couldn't wait to get back on the ice.
Out the entire offseason as well as the first three games of the regular season while recovering from an ACL injury, the Wisconsin-Superior standout finally got his chance last weekend.
"I had surgery in May and worked hard over the summer to get back to playing again," York said. "Anytime you can come back from a surgery like that and play again, it's going to feel great."
As if getting to play again wasn't enough, York scored a goal and dished out an assist in the Yellowjackets' 4-2 upset of reigning national champion Wisconsin-Stevens Point last Saturday.
"We prepared really hard that week as a team and I was able to help out our team and contribute. It felt really good to be a part of it."
Though the win was an impressive one, it's not the time to become complacent.
"It's awesome because we haven't beaten those guys since 2012," York said. "But we have to continue to improve so that we can keep winning games like that. We want to be in the top half of the WIAC."
For York, it means everything to him to know he gets to be a part of the team again and and help it contend in the conference.
He has an added appreciation for the game, especially after dealing with the challenge of not getting to be on the ice. His determination to play again helped fuel him during rehab.
"I'd say the wait time was the hardest thing," York said. "It was hard not rushing to get on the ice and not rushing to get a workout in. I wanted to get back as soon as I could. It was hard staying away from the rink."
But those days are over and York is looking back to returning to the form that helped make him the Yellowjackets' leading scorer a season ago.He finished last season with 13 goals and 10 assists. He is confident he can play at that level again.
"I think so. It just takes time," York said. "I didn't skate or do anything last summer. It takes time to get my lungs and legs back. I have one game down but it's a long road ahead."
The junior forward began his career at RPI before coming over to Wis.-Superior last season and earning first-team All-WIAC honors.
It's no surprise, though, that York has always thrived as an offensive player.
"I shoot the puck really well. That's something I've always been told I do really well," York said. "I also feel like I have good hockey sense. I read plays well and help make others around me better. It's something I try to do day in and day out."
A year older, York has also stepped into more of a leadership role.
"I like helping out the younger players and I want to help us put UWS on the radar. I want us to be that team other teams don't want to play. It's important for us to be a winning team."
So far, it's working well. The Yellowjackets had won three of their first four games going into Thanksgiving weekend and are on their way to besting last year's 10-win mark.
"Our culture is better and we got a little taste of winning last year and understand what it takes to win," York said. "We have a good tight-knit group. We are on a roll and want to keep building off it."
York said the key to that is hard work and doing the little things right.
"We have to keep playing fast and simple, outwork teams down low and continue to play as a team," York said. "We don't want to get on a slide. We want to progres every day and be a pro every day, and just do what it takes to be a winner."
York is thankful he gets to help the Yellowjackets in that quest.
"It feels great to play and I just want to have fun," York said.
Around the West Region
Jackson Bond of Hamline is having a stellar year. He leads the MIAC in points (12) and is tied for the league-lead in goals with Austin Martinsen. Both players have five goals apiece.Bond is also tied for the MIAC lead in assists, tallying seven. Jack Stang of Saint Mary's also has seven assists.
Luke McElhenie of Wisconsin-Stevens Point is the points leader in the WIAC. He has seven goals and nine assists. Two of his goals have been game winners. Ryan Cusin is the only other player with seven goals already on the year. He is second in points in the WIAC with 14. 
Larry Jungwirth and Riley Doyon have been a dynamic duo for Aurora. Both have 12 points, tied for the most in the NCHA. Doyon has come through with seven goals, tied for the most in the NCHA and Jungwirth is atop the leader board in assists (7).
Five teams from the region are ranked in the top 10 this week, including three in the top 10. Wisconsin-Eau Claire checks in at third and Wisconsin-Stevens Point is sixth. Adrian is also in the top 10, sitting at No. 8 this week. Milwaukee School of Engineering is 13th in the nation.