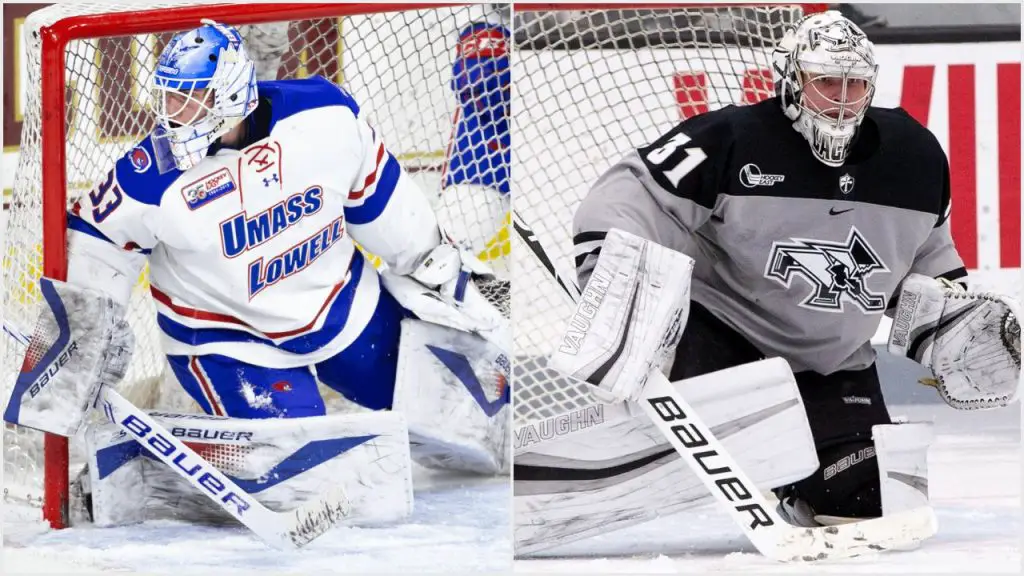 With both teams in the thick of the battle for the top spot in the Hockey East standings, this weekend's series between UMass Lowell and Providence is a tale of two goalies.
Aside from their skill in stopping pucks, Tyler Wall of the River Hawks and Michael Lackey of the Friars are among the most academically accomplished netminders in college hockey.
The two teams meet this weekend in a home-and-home Hockey East series, starting Friday night in Providence and wrapping Saturday night in Lowell.
Drafted by the New York Rangers in the sixth round in 2016, Wall is finishing what he started, returning for his senior season, completing his degree in mechanical engineering and aiming to lead Lowell onward and upward in Hockey East.
Lowell coach Norm Bazin calls him "one of the elite students in college hockey.''
Lackey is no slouch, either.
He already has an undergrad degree in economics in his back pocket – from Harvard, no less. Now he's working toward a graduate degree and providing stability in net for the young Friars.
For both Lowell under Bazin and PC under Nate Leaman, the names and faces change from year to year, but the teams remain difficult to play against and hard to beat.
"Both teams are a little different but the same. We both have the same model, run our hockey clubs the same way,'' said Bazin.
It starts with solid goaltending.
PC's Lackey took over for Hayden Hawkey, who graduated after setting the school record for wins with 72. The starter in all 15 games so far, Lackey has a .915 save percentage, a 2.50 GAA and an 8-4-3 record.
"Everyone has one or two (goals) you want back here or there, but at the end of the day, Michael gives us a chance to win every game. Particularly in those first five to seven games, he did a great job of steadying the ship for us,'' said Leaman.
Lowell has produced NHL netminders such as Bazin's former teammate Dwayne Roloson, Carter Hutton and Connor Hellebuyck. Wall could be headed that way, too, but not before earning his diploma.
"There's something to be said about coming back for your fourth year. He had the transcript to go to the Ivy League. He chose to come here to play hockey and go to school at a great institution with a great engineering program and he came back to graduate, so I'm very proud of him for that. More importantly, it's nice to see somebody come back and dominate their level before they go on to the next,'' said Bazin.
"It's nice to see a kid want to graduate, and with a valuable degree. That degree might be worth more than a hockey career in the end.''
Wall has indeed been dominant this season. His .947 save percentage is fourth in the country. He's started 15 of Lowell's 16 games and has a record of 9-2-4 with a 1.62 GAA.
"He's a terrific goalie. He's got some poise. He's got some size. He's resilient. This is the first year I've given him this many games. We've always had two starting goalies,'' said Bazin.
Of the three goalies on Lowell's roster, Wall "is by far the most seasoned and I've given him the lead here to carry the team on his shoulders and he's done that," according to Bazin.
The River Hawks have given up 30 or more shots 10 times this season and are seventh in the country in shots allowed, but Bazin said that's not really a concern. The Riverhawks are young on defense and have been fighting injuries. They were without Detroit third rounder Seth Barton last weekend. Up front, sophomore forward Reid Stefanson is recovering from an injury and hasn't played yet this season.
"You figure out your team as you go along. We've been hit by the injury bug pretty hard. We don't have a single senior on defense,'' Bazin said. "Guys have stepped up. That's what I was most proud of in our (Turkey Leg) championship tournament win (over Penn State) last weekend."
Freshman winger Matt Brown leads the point parade for the River Hawks with 17. Nationally, only Montreal first rounder Cole Caufield of Wisconsin with 18 has more among freshmen.
"He's capable of generating offense, that's why we got him. He's done that his whole life,'' Bazin said of Brown, noting that linemates Carl Berglund and Zach Kaiser have played a big part in Brown's fast start. "As a freshman unit, they've been very impactful. It doesn't surprise me that they've had some success.''
Assessing his team, Leaman says he's seen a lot of growth in the first half.
"Considering that we came into the season with such a young team, I like the position we've put ourselves in,'' he said.
PC has had a well-earned reputation as a defense-first team since Leaman arrived. Goals are coming easier this season.
"The one thing that I would say is a pleasant surprise is putting the puck in the net. We feel like this team can score. Now it's a matter of us continuing to develop all the areas around that, cause when it gets to the second half of the season, it's lockdown for most games,'' Leaman said.
The first line of Greg Printz, Parker Ford and Jack Dugan has been dynamic, combining for 61 points in 15 games, 38.4 percent of PC's points. Dugan is leading the country in scoring with 31 points in 15 games. He has more assists, 25, than any other player has points.
Dugan sat out the third period of Saturday's win over Brown with an apparent shoulder injury. He practiced this week wearing a red no-contact shirt. Leaman says he is probable for Friday night.
Bazin expects his team to have its hands full with Dugan.
"We were talking about it in the coaches' room the other day. I told the guys this kid is probably one of the most impactful forwards Hockey East has seen since (Jack) Eichel,'' Bazin said. "Very few guys of that size and that weight have that type of skill. You hope to contain those guys. I don't know if you ever stop them.''
PC's second line of Matt Koopman, Jason O'Neill and Tyce Thompson has been very good, too. Thompson is second to Dugan in scoring in the country with 12 goals and 24 points.
"Jason O'Neill has stepped into our second line center slot and played terrific. Now he's going to be out (with an upper-body injury) for the weekend, but he's allowed us to keep Tyce on the wing, where he's much more dynamic than in the middle. Us being able to make that change four to five games into the season has helped the team,'' said Leaman.
The first time PC and Lowell met this season was six weeks ago. It was a good one as Wall stopped 40 shots and the Riverhawks left Schneider Arena with a 3-2 win when Berglund scored with 40 seconds left in overtime.
After this weekend, the next time they could meet is in the postseason. And while that's a long way off, a PC-Lowell matchup at the TD Garden in March wouldn't be a big surprise.