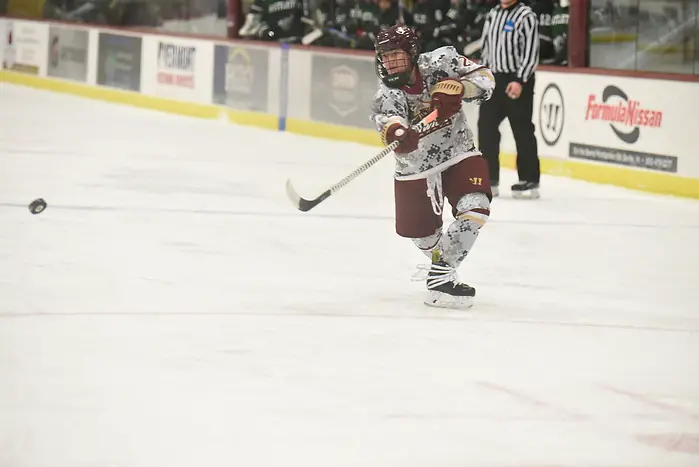 Heading into the break, Norwich, behind rookie head coach Sophie Leclerc, is on a roll, going 10-1 through the first half and recording shutouts in their last six games. In fact, since losing to Plattsburgh on Nov. 6 in their season opener, Norwich has only given up four goals in 10 games.
"Honestly, being a first-year head coach, you kind of never know what's really going to happen," said Leclerc. "My perspective through all of this, and having nothing to compare it to, was just take it one game at a time. That's our philosophy through this, is focusing really on us and no one else. It's kind of transformed itself right from the start to focus on our back end defensively. Being really strong defensively will translate in any game. Every game, the focus has been on how we can be good in our own end, and that will allow us to play in the offensive zone, the fun zone, where everybody wants to be, where our players' skill takes over."
Leclerc, a 2010 graduate of Norwich, is happy to be back home. Her coach was Mark Bolding, who was the only coach in program history. Bolding left for Yale in the off season. LeClerc had been an assistant under Bolding for two seasons, 2013-14 and 2014-15, and spent four years after that as an assistant at Colgate, where she helped the Raiders to a runner-up finish in the 2017-18 season.
"It's been absolutely incredible," said Leclerc of her rookie season. "You have kind of a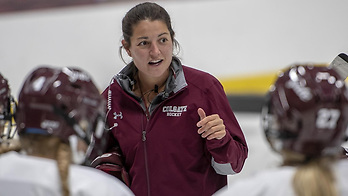 general idea of what it's like based on your experience here as a player. I was here for a couple of years as an assistant coach as well. I think stepping away from it for four years made it that much sweeter to be back home. It's a familiar setting in an unfamiliar role, but because it is so familiar and the values hold true to me throughout, it's made it an easy transition as far as how I believe this team can play. Having been in their shoes before, I'm able to really challenge them in a number of ways."
As a player, Leclerc ranks second all-time in scoring behind Julie Fortier, who graduated in 2012. Leclerc finished with 163 points in her career, while Fortier had 175. An interesting storyline has cropped up in Leclerc's rookie coaching season, as Amanda Conway just broke Fortier's program goal-scoring record in the final game of the first half. Conway is now third in career points at Norwich, trailing Leclerc by 16 points and Fortier by 28. With 14 games in the second half, plus playoffs, and Conway averaging 1.63 points per game, it is likely that Leclerc will see Conway surpass her in the records, and possibly also surpass Fortier.
"We talked about this as a group after Amanda hit the milestone.," said Leclerc. "This is a testament to the growth of this program. She was the first after to say, hey, this is this isn't just me, it's everybody, and she means it. I think from my perspective, having been here on the inaugural team back in 2007, to see somebody surpass a record means that this program is growing, as it should be. I'm just grateful to have been a part of it and to help her succeed. That's been my goal right from the minute I met her. Knowing the incredible talent that she is, I want to do everything I can for her to set her up for the biggest success and, ultimately, our team's success."
One contributor to Norwich's success has been the play of its trio of goaltenders. Leclerc has rotated all three so far. Sophomore Alexa Berg has played give games, while junior Emily Lambert and sophomore Kate Winstanley have each played three. Their save percentages are incredible, with Berg posting a .951, Lambert a .986, and Winstanley a .971.
"They have made it amazingly difficult, and I tell each one of them that all the time," said Leclerc of the goalies. "We couldn't be more fortunate to have three goaltenders that I have absolute faith in no matter what the game is in the second half. Right now, there's no doubt in my mind that all three of them give us an amazing opportunity to win. I give them all the credit in the world. They're talented and they work well together, and it's not an easy thing to do. It's funny, because they ask what they can do to get better, and I tell them I don't know, just keep going. It's been insane; it really adds to my growth in my first year, I can tell you that much."
Ironically, Norwich will open its second half with another game against Plattsburgh in the first game of the East/West Classic, where the Cadets will hope to flip the script from their season opener. They could face No. 8 Elmira on back-to-back weekends, depending on if Elmira beats No. 6 Adrian. They also have a game against No. 2 Middlebury on the docket in February.
"Whether it's been Plattsburgh or Elmira or Middlebury, there's been a team that's been a thorn in our side," said Leclerc. "Plattsburg has been consistent there. I said it when I was in front of the team in the first game, those are the games you want to play for. The rivalry that the two teams have created just makes it so much fun. You work so hard day in and day out, harping on our defensive zone play and seeing success in other games within our conference, here's an opportunity to do it against one of the best teams in the country. That's the way I frame it, and the outcome is the outcome. I think it's all part of 60 minutes and the buzz surrounding it before we get to play, and then you ultimately learn from it either way when you're done. You hope to tilt the scale a little bit more this time, but we'll see."