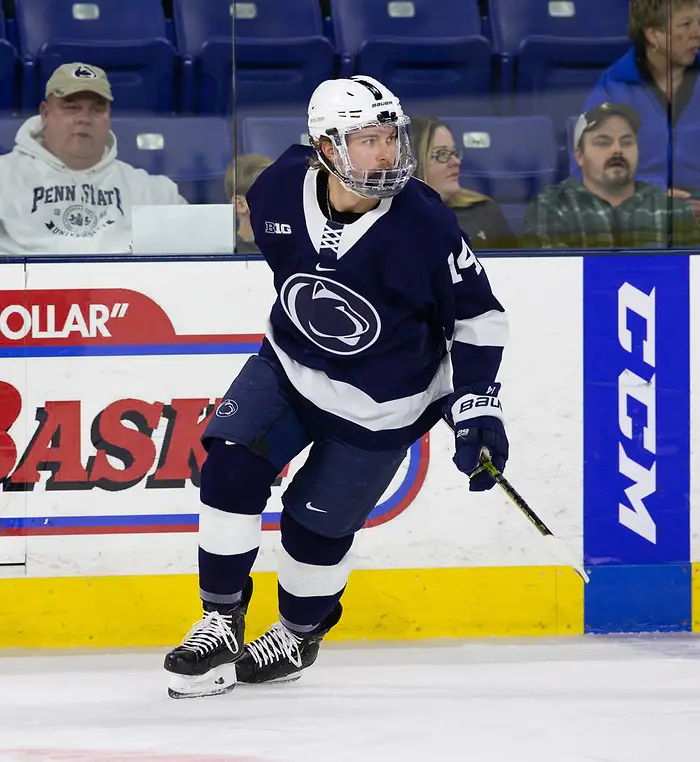 As January flies by, we have three Big Ten conference series this weekend while Minnesota plays the Under-18 Team in exhibition. Last week, Drew Claussen and I were each bitten by the wrong-way split bug, but I was bitten by it twice. Ouch.
Last week
Drew: 3-4-0 (.429)
Paula: 2-5-0 (.286)
This season
Drew: 65-37-7 (.628)
Paula: 56-46-7 (.549)
This week
A sweep by any team in the conference this weekend would change the standings significantly. Only six points separate Penn State in first place from Notre Dame in fourth, and last-place Wisconsin is 13 points out of first. Will we be in for a photo finish in March or will someone make a move to pull away now? All games are single-site series and times listed here are local.
Michigan at No. 6 Penn State
Friday at 7:00 p.m., Saturday at 6:00 p.m.
Last weekend, Michigan swept Notre Dame on the road, doubling the number of the Wolverines' Big Ten conference wins this season. Penn State, meanwhile, rediscovered its offensive groove in a 6-2 win over Robert Morris, a game in which senior Nate Sucese became the program's all-time leading scorer with his 129th career point. Michigan is 16-13-0 against Penn State all time, and the teams split a pair of good games in Ann Arbor in December. This is a great match between Michigan's defense — fifth nationally in D-I — and Penn State's top-three offense. I think if Michigan takes a game this weekend it will be Friday night, but I'm not calling it.
Drew: Penn State 4-3, 4-2
Paula: Penn State 3-2, 5-2
No. 20 Michigan State at Wisconsin
Friday at 8:00 p.m., Saturday at 7:00 p.m.
There isn't much that separates these two teams, in spite of where they are in the standings. One big advantage the Spartans have is senior goaltender John Lethemon, who has allowed two or fewer goals in four of his last five games. Each of these teams split at home last weekend, the Spartans with Minnesota and the Badgers with the Buckeyes. Michigan State swept Wisconsin at home in December.
Drew: Michigan State 3-2, Wisconsin 5-1
Paula: Michigan State 3-2, 3-2
No. 18 Notre Dame at No. 9 Ohio State
Friday at 6:00 p.m., Saturday at 5:00 p.m.
The Buckeyes are 8-1-1 at home this season, making Notre Dame's task that much harder as the Fighting Irish try to redeem their season. Last weekend, the Irish were swept at home by Michigan and the Buckeyes split on the road against Wisconsin. I'm not sure if Ohio State's starting goaltender, Tommy Nappier, is still out with an injury; he didn't play in the loss in Madison. Notre Dame swept Ohio State in South Bend earlier this season.
Drew: Notre Dame 3-2, Ohio State 3-1
Paula: Ohio State 3-2, 3-2
Twitter
Follow Drew (@drewclaussen) and me (@paulacweston) on Twitter.