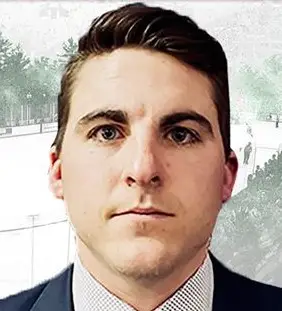 Dartmouth has announced the addition of Troy Thibodeau as an assistant coach for the 2021-22 men's hockey season.
Thibodeau spent the last three seasons as a member of the coaching staff of the USHL's Tri-City Storm. Prior to his move to Nebraska and behind the bench, Thibodeau served as the director of hockey operations for UMass Lowell for two seasons with prior stops at Merrimack (video coach) and Wentworth (assistant).
"I would like to welcome Troy and his fiancée Bridget to Dartmouth College and the Upper Valley," said Dartmouth head coach Reid Cashman in a statement. "Troy comes to us with a reputation of being a man of integrity, a tireless worker and tremendous developer of talent. Troy has honed his craft working for three great head coaches in Mark Dennehy, Norm Bazin and Anthony Noreen. He brings with him a history of winning, both in college and in the USHL. Every year at Tri-City, Troy developed multiple forwards into NHL draft picks. This knowledge of winning and developing will strengthen our staff as we continue to build Dartmouth into a championship-caliber program."
Prior to making the move to coaching, Thibodeau played three years of college hockey at Southern Maine, serving as an alternate captain his junior season and graduating in 2014 with a degree in exercise science.