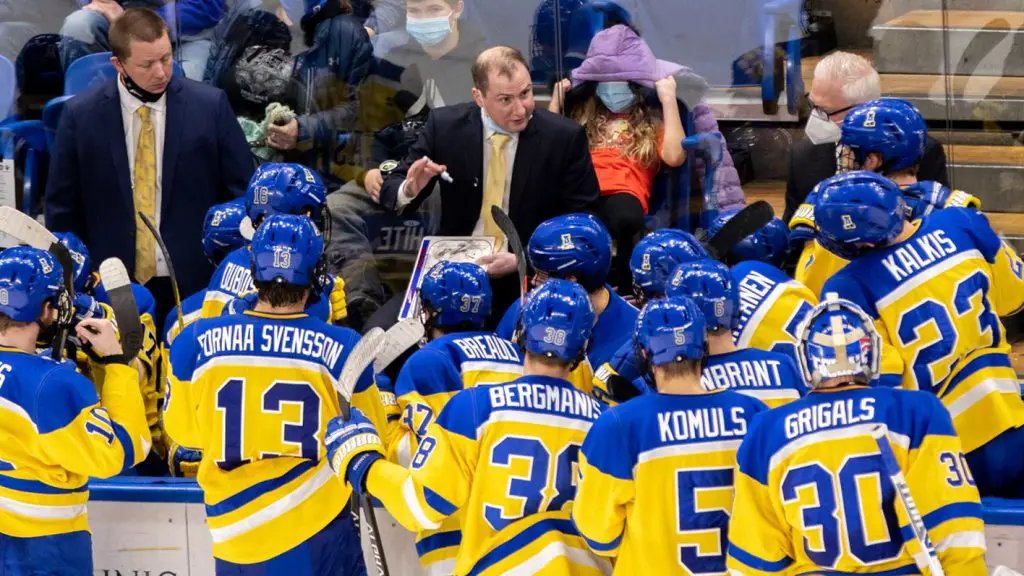 Alaska head coach Erik Largen has agreed to a four-year contract extension that will keep him behind the Nanooks' bench through the 2025-26 season.
"I would like to thank Dr. Brock Anundson and Dr. Dan White (UAF chancellor) for their continued support of our hockey program," Largen said in a statement. "We still have things we want to accomplish as a program and I'm excited to continue working towards them with our great staff and student-athletes. It has been an honor to lead this program and I look forward to building on the great traditions of Nanooks hockey both on and off the ice."
"Today is a great day for the University of Alaska Fairbanks and Nanooks hockey as we announce the extension of Coach Largen's contract," added Anundson. "Erik is an excellent coach and a proven leader for our program and student-athletes. Under Largen's guidance, the program continues to compete with the top-ranked teams in the country. I know with Erik at the helm, we will continue to solidify the championship culture we have established here in Fairbanks. In addition, he is a great teammate to everyone in our department, university, and State. I look forward to our continued partnership."
Largen completed his fourth year as the bench boss of Alaska in 2021-22. He led the Nanooks into their first fully independent season since 1993-94 and posted a 14-18-2 record, including a 10-5-2 record in the 2022 half of the schedule behind a 4-4 OT tie at then-No. 8 Denver, a 3-2 win at then-No. 8 Minnesota and a 3-0-1 record against independent rival Arizona State.
Under Largen, the Nanooks have succeeded on the ice, however, their academics have not gone unnoticed. Over his four-year career as the head coach, the Nanooks hold a 3.5 GPA average, including a 3.58 during the 2020-21 year and a 3.56 GPA in the 2021-22 season.