"At Colgate this year we are going to find out what life is like after Andy McDonald," head coach Don Vaughan said. "You just don't replace a guy like that."
You certainly don't replace a guy like McDonald. An All-American, Hobey Baker finalist and ECAC Player of the Year, McDonald captained last season's Colgate squad to one of the most successful finishes in Red Raider history. But as with any collegiate program, student-athletes graduate: such was the case for McDonald and six other Red Raiders. That would make a lot of coaches nervous, but not Vaughan.
"We graduated six very good players, yet we still have nine seniors on this year's team," he said. "So we are top heavy with older guys. However a lot of these guys haven't had the opportunity to play in the big roles on your team and be the go-to guys. We'll see how some of them face that challenge this year."
A team laden with seniors with playoff experience is a team to envy in this day and age, but the coaches in the ECAC seem to have a little bit of a different view, picking the Red Raiders to finish sixth in the preseason poll. The Red Raiders did pick up three first-place votes in the preseason media poll.
"The media gave us three first-place votes and I don't think we're quite there yet," said Vaughan. "It's a catch-22. It's tough to be the frontrunner, and it always seems easier to come from the middle of the pack. We can't get caught up looking at polls and [at] last year."
But nonetheless, a team with seniors can't be overlooked, especially on the forward side, where the Red Raiders have seven seniors and two juniors. Leading the charge is Sean Nolan (19-18–37).
"You expect guys to step up and that's the nature of the game," said Vaughan of Nolan. "He played basically on one leg last season and he's somebody we'll turn to time and time again this season offensively and in the locker room."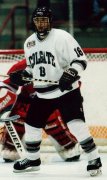 Another returning 30-point scorer is Kevin Johns. Add to that mix 22-point scorer Chad MacDonald and junior Etienne Morin and the Red Raiders look to continue an offensive style despite possible change on the power play, where last season's unit was first in the ECAC and third in the nation in effectiveness.
"Losing three guys off of our top power-play unit (McDonald, Daryl Campbell and defenseman Mike Marostega) will, hurt but there are some others who have been waiting in the shadows for their chance. Now, they are going to have that opportunity," said Vaughan. "We will have to see how things come around. So much of any power play's success is execution, and we are going to have to work guys in and out until we find the right chemistry."
Indeed, chemistry is a key for the Red Raiders.
"The success that we had last year, [we had] for a lot of reasons, but one was the focus on the team," said Vaughan. "Last year, the team had the best chemistry of any that I have ever coached and that's the way it has to be with us.
"The challenge will be to be consistent and play every night like it was your last. Whether you lose one guy or six, the chemistry is going to change. How is this team going to come together and where is the adversity going to come from? We'll certainly face that this season.
"We'll continue to play our up-tempo style and hopefully keep the pucks out of our net."
In that net, the Red Raiders return junior Jason LeFevre. LeFevre had a 3.50 GAA and a .872 save percentage last season and with the graduation of Shep Harder will presumably get the full-time nod from Vaughan despite having a freshman backup to push him.
"Jason was one of the top prospects in the East and there is nothing that says he can't be," he said. "He is a quality goalie who played behind a goalie that came into his own last year. [Freshman] Dave Cann comes in highly touted, so there will be some good competition in the goal."
On defense, the Red Raiders' leader, Cory Murphy, could be in the Player of the Year hunt. The senior defenseman tallied 29 points last season (10-19–29).
"We'll continue to play our up-tempo style and hopefully keep the pucks out of our net."
— Colgate head coach Don Vaughan
Behind Murphy are Bryan Long, Ben Bryce and Steve Silversides and three freshmen in Rob Brown, Matt Nicholson and Tucker Veenis.
"Cory will be our quarterback back there and we have some great returning players," said Vaughan of his defense. "We have three first year [players] that will see time immediately and they're thrown right into the fire at Michigan.
"We will have a lot of speed and strength on defense this season and we will look to play up and in our opponent's end. The message for our team this season is that we will have to play team defense and work as a unit, and take pride in that area."
That pride starts at the IceBreaker Cup at Michigan, the team that knocked the Red Raiders out of the NCAA tournament last season in overtime after Colgate had an apparent game-winning goal waved off.
"That whole thing was an unfortunate situation, but the NCAA Rule Committee have taken the steps to ensure that that never happens again," said Vaughan. "It's a thing our guys will have to live with a long, long time."
And despite what Vaughan and others may say, a team that returns 17 players and nine seniors has to have that last game of 1999-2000 on its mind to start the season.
"It's so exciting for us to compete in the IceBreaker with such great company, and our team will certainly be competitive," said Vaughan, who then alluded to the controversial tourney game from last season. "There is some other motivation for some of our returning players, but we're focusing on this year."