So many questions in Troy, and some wonder if head coach Dan Fridgen has the answers. Item 1: just two of the top seven scorers on the Engineer squad return. Item 2: a four-year goaltending duo graduates, leaving as incumbent a junior who played six minutes last season.
So many questions.
In nets, the Engineers graduated Scott Prekaski and Joel Laing. Laing got the lion's share of the work last season and was named an All-American and Hobey Baker finalist, but the two combined to give the Engineers 84 wins over the last four seasons, including three 20-win campaigns.
In to replace Prekaski and Laing will be Nathan Marsters and Kevin Kurk, two goaltenders who can fill the net. Sometimes, they say, lightning strikes twice.
"It would certainly be a blessing if the [two-man] formula worked again," said Fridgen on his goaltending situation. "As far as Rensselaer is concerned it's a position where we have had a lot of success from guys like Neil Little, Mike Tamburro and Joel and Scott. When you have two freshmen coming in you have competition, and the main thing is that they are capable and these two guys are capable of it.
"You're going to see some size there (Marsters is 6-5 and Kurk is 6-4). We're going to be okay there."
Heavy losses also are counted among the Engineer forwards. Leading scorer Brad Tapper left early for the Atlanta organization and Pete Gardiner, Doug Shepherd and Steve Caley graduated. That leaves Matt Murley (9-29–38), Marc Cavosie (12-18–30) and Andrew McPherson (10-6–16) as the leading scorers returning for the Engineers.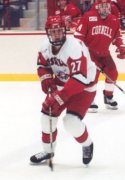 "(Murley's) come back over the summer and worked hard, and he's ready to elevate his role," said Fridgen. "He's a guy we're going to be looking to, and other guys as well like McPherson and some of the sophomores like Marc Cavosie. Not to put a lot of pressure on them, because they still have to go out and do what they are capable of.
"Up front we'll have to find a way to score some goals."
Hence, one focus — besides goaltending — in the recruiting efforts was at forward. The Engineers bring in five new ones in Mikael Hammarstrom, Ben Barr, Ryan Shields, Josh Budish and Conrad Barnes.
"I think there is a good mix in freshman forwards. It will be a couple of weeks, if not months, to see what we have," said Fridgen. "We're really looking to continue to improve as the season progresses — it's all a process, and it may come with a few lumps, but if we understand that we have to have a good work ethic and a good attitude we'll be okay."
The Engineers lost a second-team All-ECAC defender in Brian Pothier and their second-leading scoring defenseman, Jared Reigstad, but six other defensemen, including the senior Glenn Coupal, captain Steve Munn, Jim Vickers, Danny Eberly, Francois Senez and Hamish Cunning, return to this team, along with freshmen Scott Basiuk and Steve Collova.
"That will be our strongest position," said Fridgen of his blue line. "We're certainly capable of playing some good defense this year, but I am also looking for some of our creative forwards to continue to produce offensively. Winning games 2-1 that doesn't bother me."
Any way you slice it, the Engineer squad will certainly be a different mix of players this year.
"It's important that you have a good mix," stated Fridgen. "We have some small forwards, but we also have some guys with size. We have different types of teams in our league, some that skate and some that play physically."
"We lose at every position…but we've got a good incoming class and it will be important for them to make the transition as early as possible."
— Rensselaer head coach Dan Fridgen
With a squad of nine freshmen and only one senior, the intangible of leadership comes into play for the Engineers.
"We've got some real good leadership this year," said Fridgen. "Glenn Coupal is the only senior and he's coming back and he will lead by example. But you have Steve Munn. He's a real hard worker and does a good job in practice setting an example, and Andrew McPherson is the first one on the ice and the last one off the ice. Then Matt Murley has done a good job this summer getting himself prepared and he's looking for a big year, and then Danny Eberly who was a little hampered by injuries last year. That's a real good core by players that lead by example, and personalities that are strong and can pave the way.
"Leadership will be important to us, not only on the ice but in the locker room. Bringing in nine new faces, it will be important for the upperclassmen to show leadership because the sooner that these young men can make a contribution will make for our success."
"We'll tell early as far as where we stand, because (season opener) Boston University is an excellent measuring stick. The last couple of years we've been able to get a victory, [but] this year it will be a tough one," said Fridgen. "It's going to be important that we learn quickly in order to stay competitive in our league.
"I think it's a team that has a good nucleus coming back, and we have some guys that can carry the ball. We lose at every position…but we've got a good incoming class and it will be important for them to make the transition as early as possible."
In the end this team could go either way; it's just a matter of waiting for the answers.
"We just have to look at it from the standpoint that there is a lot of opportunity there, but there are also a lot of question marks. But I really love our team," said Fridgen. "Everyone came back and worked hard and showed that they are ready to get after it.
"We're capable of stepping up, and if we do our job as a coaching staff we can bring them along."