After years of hearing about how young but promising Dartmouth's teams are, could this finally be the year when all the premonitions come true? Head coach Bob Gaudet has been meticulously crafting this Big Green team for years. Two years ago, he brought in an offensively loaded freshman class that included such names as Frank Nardella, Jamie Herrington, Mike Maturo and Ryan Sinclair. After losing 17 games during the 1998-99 season, Gaudet turned his attention to defense and snagged promising blueliners Trevor Byrne and Peter Summerfelt as well as goaltender Nick Boucher.
A Dartmouth grad himself, Gaudet has treated this team like his baby. He knew that it would be near impossible to turn the Big Green's fortunes around in a year, so he preached patience.
"I like the group we have," said Gaudet, who has added five newcomers to the squad this year. "Our team is interesting because we have a junior- and sophomore-based team. We've been very young and that's not an excuse this year."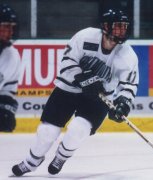 The forward crew is the most experienced across the board and they will need to rebound from a disappointing last half of the 1999-2000 season. Juniors Herrington and Maturo had phenomenal freshman campaigns, but stumbled a bit last year. Maturo was named second-team All-Ivy, but posted only 16 points on the year while Herrington finished with four goals and nine assists. Classmate Chris Baldwin was another player whose potential was not reached last year as his numbers plummeted from 23 points in 1998-99 to only seven this past season.
While those three players struggled through a sophomore slump, classmates Nardella and Sinclair registered career-best seasons. Nardella led the team in scoring with 20 points, including five goals and 10 assists in league play, and Sinclair (5-10–15) boasted career highs in every offensive category.
Gaudet is also looking to his sophomore class — particularly Kent Gillings — to step up their level of play and take some of the pressure off the junior class of forwards. Perhaps the addition of freshmen Jason Costa and Mike Wheelihan, both of who are expected to receive significant playing time, will help the cause and provide some depth to the Big Green attack.
"Last year we were disappointed with the finish, but it was a nice step and a step we had to take," said Gaudet, whose team dropped eight of its last 10 games, including two straight to RPI in the ECAC quarterfinals. "Going into that last weekend we were tied for third and wound up eighth. Then we played RPI and we coughed up a game we felt that we should have had, but again it was a step we had to take."
"Our team is interesting because we have a junior- and sophomore-based team. We've been very young and that's not an excuse this year."
— Dartmouth head coach Bob Gaudet
In the first quarterfinal contest, Dartmouth surrendered seven goals to the Engineers. When all was said and done, the Big Green had allowed RPI to rifle 74 shots at Boucher over the course of the two-game series. This year, Gaudet is looking for a more consistent performance from his defensive core, which will no doubt be anchored by Byrne (3-9–12) who made some noise throughout the season. Partnered with Sommerfelt for the majority of the season, Byrne utilized his 6-3, 215-pound frame to become a stalwart defensively and was named to the ECAC All-Rookie team. Sommerfelt, meanwhile, added an offensive element to the tandem as he led all defensemen in scoring with 16 points.
The graduation of Ryan Burkhart and Ryan Poulton will certainly hurt the Big Green blueliners early on, but the six returnees should provide some stability. Sensing the loss of the two Ryans, Gaudet has brought in two promising newcomers in Brian Van Able and Mike Turner.
"We have a very solid defensive corps," said Gaudet. "I liked the response of the team after last year. They were very upset about their season and they really want to make amends this season."
While the defense works out the kinks early on, one player who will not be able to avoid the spotlight will be Boucher, who quickly won the starting position last year and finished with a 2.87 goals against average and .907 save percentage.
Boucher entered the season touted as a strong player, but no one expected the rush of attention that he received, especially down the stretch. With the loss of such league talent as Derek Gustafson, Joel Laing, Shep Harder and J.R. Prestifilippo, Boucher has to be looked upon as one of the best returning goaltenders in the league. Boucher's counterpart, Robert Delwo, has left the team to play professionally in the East Coast Hockey League, leaving freshman Darren Gastrock as the only backup.
The elements are there, but can Gaudet bring them together in the end? Many think that the time may finally be here for the Big Green.
"I like our team," said Gaudet. "I'm not a big guy for the polls, but I want to thank my mother or whoever voted for us in first place in the media poll. But, I like our team. I'm very lucky."