As one of the oldest men's ice hockey programs in the country, the United States Military Academy, known better in hockey circles as Army, will watch tradition meet youth in its first season as a member of the MAAC.
About to enter its 98th season of men's ice hockey, Army is not really a stranger to the MAAC. For years Army has faced off against MAAC members like Holy Cross and Connecticut. And recently, schools like Fairfield, Sacred Heart and Quinnipiac have become visitors to West Point, N.Y.
"The NCAA Tournament becomes realistic now."
— Army head coach Rob Riley
Army comes to the MAAC after a season in College Hockey America, a six-team scheduling alliance-turned league into which Army just did not seem to fit. Geographically, West Point was a plane ride from any other league opponent, and competitively, the CHA seemed a bit above the Black Knights, who went winless over the league portion of last year.
The MAAC seems to be a much better fit for Army. Besides the obvious geographic benefits of a New England-New York based league, Army has also proved more competitive against MAAC teams. Last season, Army posted an 8-3-1 record against MAAC teams, and overall holds a lopsided 113-25-5 mark against the other ten opponents.
Now geographic fit and competitiveness are great reasons to move to the MAAC, but easily the two most important reasons point to the postseason. Army's home facility, Tate Rink, with a capacity of 2,746, will be the largest facility in the league and a probable target to host the MAAC Championships in the near future. More important than that, this year's tournament champion will walk into the NCAA tournament, uncharted ground for the Knights. This is something that head coach Rob Riley makes clear changes his team's focus.
"Before every season starts, every teams asks itself, 'where do we want to be at the end?'" said Riley. "The NCAA Tournament becomes realistic now. You have to position yourself for the playoffs, then you are three wins away from you goal."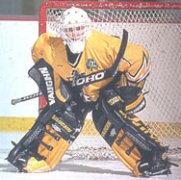 As far as the talent that Riley will depend on to get the team to the postseason, look no further than senior forward Mike Fairman. The senior captain has enjoy success against MAAC team, with his top point games coming against Fairfield and Bentley. Fairman led the team in scoring last season with 29 points, one better than junior forward Tim Fisher. This sparkplug is small in size at 5'9″, but big in production. In 32 games last year, he notched 14 goals and matched that with 14 assists.
The defensive question for the Knights might lie in goaltending. Junior netminder Scott Hamilton will have the chance to shine this season. After splitting the duties with graduate Corey Winer last year, Hamilton will have the opportunity to keep the number-one job to himself. In two years with Army, Hamilton has posted a 13-11-2 record with a 2.76 goals against average.
Army, like many other schools in the league, will attempt to maintain a tough non-league schedule. The Knights will face Union, RPI, UMass-Lowell, and rival Air Force on the non-MAAC slate.
Regardless of who is on the opposite bench, look for Army to do everything in its power to take charge throughout the season in the MAAC. After 97 years without an NCAA bid, you have to think that the players, coaches and staff smell the MAAC autobid like a hungry lion does a steak.
Watch out, MAAC, the Army is here!