Fairfield coach Jim Hunt has two challenges in front of him. The first is obvious: take a program that has amassed just four wins in the last two seasons and make it respectable.
The second challenge, though, may be the tougher – to survive at Fairfield University. With Hunt its fourth coach in five years, the number-one objective of the University has to be the retain a coach for an extended period of time to develop consistency in a program.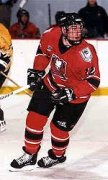 Granted, the last two seasons have seen coaches change jobs for bigger and better things, as Mike Doneghey departed two years ago for alma mater Merrimack and Mark Dennehy headed to UMass this season to work with legendary coach "Toot" Cahoon.
So where does this leave Hunt? Some may think, 'In a tough position,' but not if you ask the coach himself.
"Optimistic" is the easiest way to describe the man, who arrives at Fairfield after a stay with the U.S. National Development Program. But perhaps the word "energized" sums this coach up best.
That energy will translate into changes.
Severe changes.
"I think the first thing I have to do is to change the mentality — change the culture — of this team a little bit," said Hunt. "That's what needs to be done to address the returning players, and then you can instill what you want to instill into the younger kids."
With 25 underclassmen (12 freshmen, 13 sophomores), the ability to shape players and the way they think indeed exists.
"Having such a young team lends itself very well to being able to come in and mold the freshmen and sophomore classes," Hunt said. "The guys that have been there for a while, they're tired of getting hammered. They're looking for something to try and jumpstart the operation."
"I think the first thing I have to do is to change the mentality — change the culture — of this team a little bit."
— Fairfield first-year head coach Jim Hunt
Hunt will have a different slate of players than his last two counterparts. Doneghey brought Fairfield into the MAAC without the caliber of player to win. His recruiting set up Dennehy to find a freshman class that was one of the best in the league last year.
Now Hunt receives these players as sophomores and will see 12 more talented freshmen that hope to impact the young program.
Specifically, Rae Metz, last season's team MVP and a member of the MAAC All-rookie team, will be counted on for more than just his presence on the ice. Metz was named team captain for the coming season and will be depended upon to lead by example.
"Metz is a great player; he's got great hands and great vision. He can set guys up and he can finish," Hunt said. "But he's going to be part of a blue-collar team."
Blue-collar referring to hard-working, bumping and grinding, and most importantly, balanced.
"We're going to have to get contributions from everybody," said Hunt. "We'll need offensive contributions from our defensemen, and simply to get our defensemen more involved in our game. We need to attack as a five-man unit, not a three-man unit."
"Attacking" will be the name of the game for Fairfield, as the Stags must keep pressure away from their young goaltenders, whose play may decide exactly how well Fairfield can do this year.
A new face with a new outlook — Stag partisans hope that's enough to propel Fairfield from the MAAC cellar into the playoffs.