For the second consecutive year, Rand Pecknold and Quinnipiac University will sit on the bench each night not dressed in their typical purple, white and gold uniforms, but rather wearing the biggest bullseye money can buy.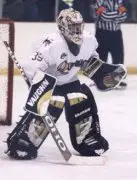 Without a doubt, Quinnipiac is the MAAC's preseason favorite — possibly the biggest favorite in all of college hockey. Their closest competitor from last season, Mercyhurst, will stand as a threat, but key losses may keep them from the top.
Though we're not suggesting you hand over the regular-season title right away, let's just say that the engraver might want to start practicing his Qs sometime around mid-December.
Does all of this concern Pecknold, entering his seventh season behind the Braves' bench? No way.
"Just like last season, we can't worry about the preseason poll," Pecknold said. "Every team in this league has just taken recruiting by leaps and bounds. We're all getting access to better kids, so you don't know who has a good class or not until you get out on the ice."
Though it can't hurt knowing that the talent level within your own program has led to two consecutive regular-season titles. That luxury alone gives Quinnipiac the confidence to tackle plans some MAAC teams cannot, such as aggressive non-league scheduling.
For the second consecutive year, Quinnipiac will face top schools outside of the MAAC, including St. Lawrence, Clarkson, RPI, Union, Minnesota and Cornell.
"We wanted an aggressive non-league schedule," said Pecknold. "Last year, the experience of playing teams like Niagara and taking them to overtime, and having a lead with 10 minutes to play against Maine was phenomenal. We want to play as many of those games that we can.
"We wanted an aggressive non-league schedule."
— Quinnipiac head coach Rand Pecknold on playing five USCHO.com Preseason Top 20 Teams
"All of those non-league games will be on the road, so going into those hostile buildings will allow my kids to step up to the plate and perform."
And performance is something that Quinnipiac has been proud of for its duration in the MAAC — except in the postseason.
Last year, for the second consecutive season, Quinnipiac bowed out of the MAAC playoff tournament in the semifinals in a major upset. This season, with the automatic bid to the NCAA championships at stake, a postseason loss will have heavy consequences.
"That's the tough thing about a one-and-done playoff in hockey. It really doesn't benefit the top seed," Pecknold said. "But we've basically got the same team back, and have a lot of upperclassmen. There's always the saying that you win with juniors and seniors. I've never had that, so this year we'll see if that holds true."
When asked about pressure, Pecknold, truthful to the bone, could not deny its presence.
"I feel there's a ton of pressure on us and in terms of that, I think my guys put pressure on themselves," Pecknold said. "But there was pressure there last year, so you just have to learn and play through it."
And Pecknold will hope the lessons learned are the lessons that teach themselves over and over again, especially in the month of March.