"We brought in nine freshmen this year, so there's going to be a lot of competition for jobs. Our goal is to be an honest, hard-working club."
This reality was defined by:
a) Rick Comley b) Bob Daniels c) Guy Gadowsky d) John Markell e) Buddy Powers?
If you chose "e," you are one sharp CCHA fan. If, however, you said, "Geez, any one of these guys could have said that," then you may move to the head of the class.
As the Central Collegiate Hockey Association celebrates its 30th anniversary this season, 95 of the 300 players on the league's 12 rosters are newcomers–in other words, five shy of one-third.
"Like it or not, the CCHA schedule is so intense and so in depth…that there has to be some sort of looking at the other games as a tiny bit of a breather from the CCHA schedule, and I think that can cost you."
— Notre Dame head coach Dave Poulin
Alaska-Fairbanks (13), Ohio State (11), and Northern Michigan (10) lead the league in rookies. Bowling Green, Ferris State, and Miami each have eight; Michigan State, Nebraska-Omaha and Notre Dame have seven freshmen apiece. Lake Superior State and Western Michigan welcome six new players, while Michigan has the fewest with just four.
What, exactly, does this mean for a league coming off a season that can only be described as unspectacular?
A lot of competition for jobs. A lot of hard work.
Last year, the CCHA–a league that prides itself on the strength of its intraconference play, on its ability to match up well in nonconference competition–lacked representation in the Frozen Four for the first time since 1991. And while the rest of Division I men's college hockey saw that as an appropriate indictment of a league fond of parroting parity, the CCHA coaches see their conference as anything but the weak sister.
"I think the teams in our league have been very competitive from year to year with nonconference opponents," offers the always-understated Red Berenson.
Sure, Berenson's Wolverines had a pretty good record against nonconference opponents and were distinguished by becoming the sole CCHA team to advance beyond one game in the NCAA tourney. But how did the league do as a whole?
Excluding games against Wayne State, Mercyhurst, Bemidji State, and Alabama-Huntsville (and we could exclude Michigan Tech, too, if the Huskies hadn't earned two wins against a neighbor from the Yoop), the league went 33-38-3 out of conference last season.
This is Dave Poulin's spin situation.
"Like it or not, the CCHA schedule is so intense and so in depth, and you know so much about everybody and their teams, that there has to be some sort of looking at the other games as a tiny bit of a breather from the CCHA schedule, and I think that can cost you.
"You know [nonconference games] are in the national picture, and yet there's no way…you prepare for those teams the way you do league opponents."
Ron Mason says it's the number of teams in the CCHA that undermines the way individual programs measure up in that national picture.
"If you look how our teams perform in the tournaments with other teams we do very well. I think the RPI will never be a true rating of our league because our lower division teams–whoever they might be–don't have a chance to play enough games outside the league to become .500, and say Hockey East in comparison, their lower division teams don't play as many league games so they're able to play enough games outside the league to get up to .500, which really improves their RPI.
"In our league, because there are 12 teams, it's going to be very difficult, with the exception of maybe a team or two, to have a really high RPI. That's a credit in certain respects to our league being so strong, and yet the outside games don't affect us nearly as much as our league games because we play so many."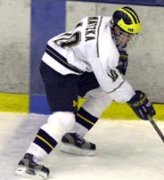 And so many with specific opponents. This year, the league's cluster system pits Lake Superior, Michigan, Michigan State, and Northern Michigan against each other four times. Playing any of those teams four times in one season might be enough to hurt any team's PWR, in any league.
Alaska Fairbanks, Bowling Green, Ferris State, and Nebraska Omaha make up another cluster, while Miami, Notre Dame, Ohio State, and Western Michigan form the third.
Rookies, parity, clusters…it's enough to make a girl want to pick team names from a hat to determine who will finish where. Fortunately, though, the league itself has a mechanism in place to help sort out this mess.
Capitalizing on the current "reality-based" craze in television programming, the league has created "Who Wants to Be a Big Real World Survivor?" A spin-off of the conference's most recent NCAA tournament play, the season-long drama stars a compelling cast of characters dedicated to reversing the CCHA's postseason fortunes. Individual teams will compete from October through March for the chance to win a trip to The Joe, where further competition will determine who earns the league's sole NCAA tournament automatic bid.
Here is a listing of each team's individually subtitled, six-month-long episode, in expected order of finish. Wackiness ensues.
1. The University of Michigan Wolverines star in "Michigan Wins It All Even Though Mike Comrie Left."
A team loaded for bear hardly blinks when its top scorer leaves for another kind of show, while banding together to protect its starting goalie from treacherous nuts. Gutsy performances by some of the league's biggest stars, including the underrated Scott Matzka, king of shorthanded goals.
2. The Michigan State University Spartans star in "The Contenders."
A stingy defense and a pedigreed goalie make opponents miserable as the squad looks to recapture glory not seen in East Lansing since 1986. The team also searches for The One to succeed Shawn Horcoff, who succeeded Mike York, who succeeded…
3. The Lake Superior State University Lakers star in "The Jayme Platt Show."
Jayme Platt stands on his head in net, while his defensemen spend a season becoming better acquainted with the puck. The two Ryans–Vince and Knox–are Platt's season-long special guest stars.
4. The Northern Michigan University Wildcats star in "The Hardest-Working Team in College Hockey."
Led by a single-minded coach who gave up the glamorous life of an athletic director to spend more time on ice, this young squad will set out to prove that they still forecheck like nobody's business.
5. The University of Nebraska Omaha Mavericks star in "It Ain't No Bull!"
Another young team sets out to prove that success during its first full year of league play was anything but a fluke. Featuring Josh Lampman, last of the Flames.
6. The Miami University RedHawks star in "Staying Alive."
A mix of veterans and young talent tries to avoid injury for the duration of the season. Jason Deskins and Gregor Krajnc return to the cast.
7. The Ferris State University Bulldogs star in "Defenders of the Realm."
These princes valiant look to reconjure last year's nonconference magic while attempting to put a spell on opponents within the borders of their own land. They'll also search for half the conference goals lost to graduation.
8. The Ohio State University Buckeyes star in "Right Out of the Gate."
Plagued by an ongoing inability to find the net early in the season, this rookie-heavy squad seeks goals, goaltending, and more than four wins in October and November.
9. The Bowling Green State University Falcons star in "Desperately Seeking Consistency."
In the post-Edinger era, a group of hard-working players struggles to put behind them the previous year's roller-coaster performance while trying to adhere to their coach's mantra: "Points every weekend."
10. The University of Notre Dame Fighting Irish star in "And Now Arriving…"
Buoyed by a trip to Detroit last spring, hockey players in the hometown of Touchdown Jesus work to prove that their program is on the verge of arriving–again.
11. The University of Alaska Fairbanks Nanooks star in "Have Puck, Will Travel."
A young team searches for a way to overcome the curse of one-goal losses while battling the elements, bad connections, and jet lag in our 49th state. Featuring genuine good guy Ryan Reinheller.
12. The Western Michigan University Broncos star in "Hey! Remember Us?"
Last alphabetically and defensively and dismissed in both the coaches and media polls, a team that scores nearly as many goals as it allows fights for respectability.