Bob Daniels is a nice guy. The Ferris State Bulldogs are a nice team.
Nice guys don't always have to finish last–or even close to last.
"Going into this year and probably every year, I'm always optimistic, maybe a little bit more so this year than in the past," says Daniels. "Two players that we do lose that will hurt our team this season are Gary Ricciardi–probably our best defensive player and our captain last year– and Brian McCullough, who scored 25 goals for us last year. It's been a while since we've had those kind of numbers from a player, and we'll have a tough time replacing him."
If he's losing his top defender and leading scorer, why is Daniels so optimistic? Because he returns one of the most sneakily talented teams in the league in front of a really good goaltender, Phil Osaer (2.21 GAA, .909 SV% CCHA).
You should see Osaer's picture in the CCHA Media Guide. That boy is smiling. At the end of the season, perhaps every Bulldog will be wearing the same grin.
Starring…
What Osaer and the rest of the Bulldogs know that you and the rest of the league may not is that Ferris State knows how to win games. Just ask Frozen Four participant St. Lawrence, or Clarkson, or Colgate, or BU.
Last year, Ferris State beat them all.
Osaer is definitely part of the reason for that, but the team in front of him deserves a lot of credit. While -7 in overall play, the Bulldogs finished positively in conference play at +16. And Ferris State was 4th in the league in offense, both in conference and overall play.
Kevin Swider is the Bulldogs' top returning scorer. With 14 goals and 13 assists, he tied for 9th in league scoring last season, keeping company with Adam Edinger and J.F. Dufour, two players with greater name recognition.
Also returning up front for Ferris State is Rob Collins (8-14–22), whose offensive production had him tied for 22nd in conference play. Just 22nd, you scoff? Well, Collins was keeping company with Josh Langfeld and Greg Zanon, two guys who got much more ink.
"Over the last three or four years, we've really changed the dynamics of our team," says Daniels. "We're really a skating team…and I think we've got a number of good offensive players on our roster returning that will help ease the impact of the loss of Brian McCullough."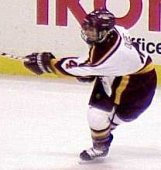 One more guy that will help ease that pain is Chris Kunitz, who tallied 20 goals and 9 assists in overall play last year. "We expect big things from him in the coming year," says Daniels.
Defending the Tribe–and the Realm!
"On defense, we return five of our top six defensemen. We feel really comfortable in that area," says Daniels. "We have a number of players on defense who can contribute offensively. We're going to be led there by our captain Jim Dube."
Dube (4-16–20, +3), a two-time Academic All-American, had five multi-point games and four game-winning assists.
He'll be joined in the blue line's valiant efforts by Scott Lewis (4-8–12, +5), Christian Schroeder (3-6–9, +13), and Chad McIver (1-5–6, +5).
A Lifeline? How About a Few More League Wins?
While the Bulldog coaching staff did a great job of impressing upon the Ferris State players how important it is to win nonconference games, Daniels said more than once last season he would've liked to have dazzled a few more league opponents.
Finishing at an even .500 in league play doesn't win a whole lot of respect around the home rinks, but that may work to Ferris State's advantage. There is no reason at all that–given the nature of this rookie-heavy league and providing that Osaer holds up in net–the Bulldogs shouldn't contend for home ice.
"Over the last three or four years, we've really changed the dynamics of our team. We're really a skating team."
— Ferris State head coach Bob Daniels
Last year, Ferris State was 4th in league offense, 6th in league defense, 4th on the power play, 7th on the PK, and averaged just 19.21 penalty minutes per game. All stats were better in overall play, when the Bulldogs beat up on lightweights like St. Lawrence.
Is That Your Final Answer?
The one area that Bob Daniels thinks can be improved this season is, believe it or not, in net. Osaer finished 6th in the league in conference stats–behind Ryan Miller, Joe Blackburn, Dan Ragusett, Josh Blackburn, and Jayme Platt–but Daniels says, "I do feel that last year our goaltending didn't play up to its capabilities."
Lest you think he's being less than optimistic, Daniels adds, "I have a ton of confidence in both of these kids." The other kid in net is Vince Owen (2.95 GAA, .883 SV%).
"We have two very talented goalies…and I think they did play well last year. But one of the problems in the CCHA is that there are so many great goaltenders on so many teams that there's a lot of pressure on that position.
"We feel very comfortable there, but we'd like to see some improvement over a year ago."
If Osaer puts up better numbers than he did a year ago, nice guys will finish far, far away from last.