Lakers head coach Scott Borek may be one of the wittiest guys around. "At Lake Superior, I'm happy to say, this summer was the first quiet one we've had in a while. I don't know if that will lead to a quiet winter or not, but we hope so."
After beginning the 2000-01 season with suspended players, after beginning the CCHA playoffs without a contract extension, Borek would love to settle into a low-key season.
Well, not too low key.
"We return a group of hungry players who have actually tasted a bit of success against some of the teams that we hadn't had success prior to last season against.. We had some modest success at certain points of the season last year, but at the most important part of the season we did not."
The Lakers beat the Wolverines in back-to-back games in Yost last November, and defeated the Spartans in Joe Louis Arena in February. Of course, Lake State also lost twice to Michigan Tech, and suffered a mind-numbing end to a great season: two straight losses at home to Bowling Green in the first round of the CCHA playoffs.
Fortunately for the Lakers, nearly every key component to last year's squad returns to make a legitimate run for the league title.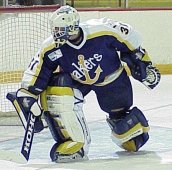 Starring…
Jayme Platt (2.16 GAA, .934 SV% CCHA) stole the show last season–and stole the thunder from several league opponents.
"The strength of our team as everyone knows is going to be our defense, our goaltender, Jayme Platt, and our team defense more than anything else. We want to make sure that Jayme faces as few weak-side shots…as possible. If we're successful in doing that, we'll be successful as a team."
Weak-side shots? How about all shots? Platt led the league in saves, in both conference play (840) and overall stats (1020). Team defense may be more positive than negative for the Lakers, but a team that finishes +57 in conference play (compared with Michigan's +166 or Northern Michigan's +175) hasn't earned bragging rights–yet.
The two Ryans–Vince and Knox–return as Lake Superior's top scorers. Ryan Vince (6- 17–23) led forwards in points, while Ryan Knox (4-17–21) led defenders.
The top returning goal-scorer for the Lakers is Jeremy Bachusz (10-9–19). In fact, other than Bachusz, only the now-graduated Ben Keup (13-5–18) totaled 10 or more goals for Lake last season.
Defending the Tribe
As with scoring, the Lakers are a team that defend by committee. Other than Knox and Platt, there are no real standouts on the Laker defense. Matt Frick (1-1–2, +1) missed 16 games with iritis but is expected to help Knox lead the experienced defensive corps.
Tyson Turgeon (1-7–8, -6), Klemen Kelgar (0-1–1, +1), and Will Magnuson (0-2–2, -4) are among committee members who hope to become better acquainted with the puck in their own zone this season.
Who Needs a Lifeline?
"We did lose a senior class that I think will have a large impact on our club…most definitely Ben Keup who was our captain for two years, who was a very strong power forward for us but who was also a very strong person," says Borek.
"Ben's strength was measured strictly by the fact that he was able during his career to be on a club that was dead-last about a year and a half ago to a team that finished in third place, and he was a major reason for that–not necessarily for his goals but surely for his leadership."
"Obviously, this cluster we're in is very, very challenging. This cluster is really an opportunity, because…if we have success within that cluster then obviously we'll have a tremendous season."
— Lake State head coach Scott Borek on the 'Supercluster' of LSSU, NMU, Michigan and MSU
Borek says he feels "very good" about Lake's senior class, and why not? The class includes Platt, Vince, and Knox, and the whole team has obviously kept its collective head together during some very stormy times in the college hockey fishbowl known as The Soo.
With a largely veteran team that posted a 10-4-2 record in the second half of regular-season play last year, the Lakers have proven that, while they may not be flashy, they know what it takes to band together to win.
And good goaltending, a couple of goal-scorers, and team unity may be all anyone needs in this league this season to finish as high as second place.
Is That Your Final Answer?
Much has been made about the "supercluster" of Michigan, Michigan State, Northern Michigan, and Lake Superior. In this grouping, there's no doubt that Lake can hold its own, having finished 6-3-0 last season against the Wolverines, Spartans, and Wildcats.
"Obviously, this cluster we're in is very, very challenging. This cluster is really an opportunity, because…if we have success within that cluster then obviously we'll have a tremendous season.
"Last year, our goaltender kept us in a lot of games and gave us a chance in every game and that meant for us having a successful finish."
Well, knock wood and protect Jayme Platt, and look for tremendous things to happen.