Last year, the Irish advanced to The Joe for the first time since head coach Dave Poulin was a senior (1981-82).
After struggling early on, Notre Dame finished up strong-ish, going 7-5-5 after the mid-season break and beating Ferris State in three games in South Bend to advance to the CCHA Semifinals. Poulin thinks that the team that's been on the verge of arriving for years has finally, well, arrived.
"There are always stumbling blocks, but I think we are now one of the elite programs in the country. For the past two years, we've been one of the top four teams in the CCHA."
Poulin is fond of saying that success is a series of small steps, and this season will certainly provide a challenge for a Notre Dame squad that lost a chunk of the heart and soul that started that pointed the team in the direction of "elite."
Star Search
There are five NHL draft picks on the Notre Dame squad. Five. Count 'em.
Ryan Clark (NY Islanders, 9th round, 1997), Jay Kopischke (Los Angeles Kings, 8th round, 1997), Brett Henning (NY Islanders, 9th round, 1999), David Inman (NY Rangers, 2nd round, 1999), and Evan Nielsen (Atlanta Thrashers, 8th round, 2000) are the five much-publicized drafted Irish players.
It's no surprise that the highest pick, Inman (13-7–20) is one of Notre Dame's top returning scorers, and one of just five players last season who ended the year on the good side of plus/minus (+5).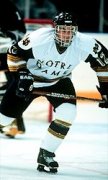 Dan Carlson (17-18–35, +2) is Notre Dame's top returning scorer, followed by Ryan Dolder (10-14–24), and then Inman.
The next-highest scoring draftee is Nielsen, who had a good rookie season with four goals, 10 assists, and a plus/minus of +4.
"Up front, it's really going come down to four guys, the bulk of it," says Poulin. That's the most depth we've had–sophomore Connor Dunlop, junior David Inman, and seniors Dan Carlson and Ryan Dolder." Dunlop (3-13–16) is the fourth returning scorer.
Perhaps this less a team of stars than of talent waiting to maximize its potential.
Defending the Tribe
"Defense is going to be the key for us early," says Poulin. "We had four senior starters last year all of whom are playing pro hockey right now and so we're going to have to address the defensive situation right out of the gate."
Those four players were Nathan Borega, Tyson Fraser, Sean Molina, and Sean Seyferth, the very rock upon which Notre Dame's current success was built. No, these guys weren't household names, necessarily, nor did they light the lamp repeatedly, but these four persevered through down years, disappointments, and injuries. Not only will be they missed on the blueline, but you can bet real American dollars that the Irish will feel the loss of their leadership.
"We'll have three freshmen who will see a lot of time immediately–Neil Komadoski, Brett Lebda from the National Development program, and Tommy Galvin from the USHL," says Poulin, who reminds us that Evan Nielsen, "a sophomore drafted by the Atlanta Thrashers, will have to be a horse back there for us on all special teams."
Tony Zasowski (2.30 GAA, .909 SV% CCHA) returns to start for Notre Dame after a solid rookies season.
"We had four senior starters last year all of whom are playing pro hockey right now and so we're going to have to address the defensive situation right out of the gate."
— Notre Dame head coach Dave Poulin
"From a coaching standpoint, you had what you wanted to happen last year, and that's the goalies decided it," says Poulin. "Zasowski came in and basically took over the position, and that was very, very pleasing from our standpoint. I can tell you that Jeremiah Kimento, who was probably the incumbent coming in, has come back in the best shape of his career and wants to challenge right back."
Kimento played seven league games, posting a .867 save percentage and 3.83 goals against average last season.
Team defense can only get better for the Irish, who ended the season 65 in the hole in league play, -91 overall.
I'll Take That Lifeline Near the Goal Line, Please
If the Irish are going to emerge as one of the truly elite programs in college hockey, they've got to score some goals.
Period. End of discussion.
Last year, Notre Dame finished next-to-last in conference offense, tied with Alaska Fairbanks with a goal production of 2.32 per game; the Irish power play, oddly enough, was 6th in the league (.172).
Only three returning Irish players had goals totaling 10 or more last season–Carlson, Dolder, and Inman. Nine of Carlson's goals came on the power play.
Is That Your Final Answer?
The Irish are the most polite boys on the ice, averaging just 17.00 minutes in the box per game– which is neither here nor there, really.
This team remains enigmatic, a bundle of raw talent with a coach to whom players are fiercely loyal, yet unable to really crack the big time. For all their talent, they were just one game above .500 in league play last year–which, sadly, was enough for 5th place out of 12 teams.