Miami head coach Enrico Blasi is a man of few words.
"We return 19 letterwinners from a year ago, including offensively our leading scorer Pat Leahy, and two gentlemen who missed the bulk of the season due to injury, Jason Deskins and Gregor Krajnc.
"Defensively we return six starters. We add three freshmen to that list and hopefully they can compete for ice time.
"In the net we return David Burleigh, who as a freshman played 25 games for us, had a real good first half and tailed off toward the end. We're looking for him to…do a good job for us in the net."
That's nearly all he has to say about the upcoming season.
Perhaps the second-year head coach is just being cautious. After all, in addition to losing Deskins and Krajnc for the season last year, a slew of other players sustained injuries that either took them out of the lineup or impaired their play, including Evan Cheverie, Matt Medvecz, and Jake Ortmeyer.
"As much as we don't want to use excuses, we didn't have enough guys to finish the season, really," says Blasi. "We were practicing 15, 16 guys some days."
Blasi is actually not one to make excuses, but the injuries–and Burleigh's mediocre second half–do explain how the RedHawks went 5-11-0 in the second half of the regular season, losing their last two games to Ohio State, a team that didn't make the playoffs.
How does the way in which the season ended affect this year's Miami squad?
"If anything,"says Blasi, "it motivates us."
"Obviously, time will tell. I don't think [last season is] indicative of our team."
— Miami head coach Enrico Blasi
Starring…
Obviously, the RedHawks are excited to have Deskins and Krajnc back in the lineup, but Blasi cautions against expecting too much from Deskins, who two years ago made a run at the league scoring title.
Top returning scorer is Pat Leahy (16-22–38), who was also by far and away the team leader in penalty minutes with 89. Nick Jardine (12-10–22) had an impressive rookie season. Cheverie (8-12–20) and Ernie Hartlieb (3-15–18) round out the 'Hawks veteran offensive threats.
Defending the Tribe
Burleigh (3.13 GAA, .870 SV% CCHA) and seniors Ian Olsen and Andy Marsch combined for an overall team GAA of 3.34, and save percentage of .872. Burleigh's overall save percentage was just .864; he saw just over 19 shots per game while allowing 3.33 goals in overall play.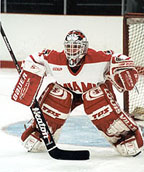 Challenging Burleigh will be David Bowen, who was redshirted his first year in Miami and took last season off to play for the Sioux Falls Stampede of the USHL, and Nick Petraglia, who joins the RedHawks from Shattuck St. Mary's Preparatory in Faribault, Minn. Bowen finished third among USHL goalies last year, while Petraglia posted a .921 save percentage.
The Miami blueline is experienced, returning six of seven players from last year's team. Leading the RedHawk defense will be the newly healthy Medvecz (3-5–8, -1).
Throw a Lifeline, Now…and Some Bandages…and a Splint…and…
With the many injuries that plagued the RedHawks last season, it's difficult to get a read on how the team will perform this year–providing it's a healthy season.
"Obviously, time will tell," says Blasi. "I don't think [last season is] indicative of our team."
Is That Your Final Answer?
Apparently so.