You'll pardon Mike Kemp if he seems effusive.
In their first year of league play, the Mavericks–then a program just three years old–defeated or tied every team in the CCHA at least once, and finished second to Michigan State in the tourney's Championship game.
"Our experience at this point in time in the CCHA has been overwhelming for our fans, for our program, our players, staff," says Kemp. "We feel it's been a tremendous move for our team and our school. We benefited greatly from our membership in this conference and are really very, very appreciative of all the members in this conference who saw to it that we could be added."
If Northern coach Rick Comley weren't such a stand-up guy, maybe he'd be rethinking his welcome of the Mavs into the league.
To get to The Joe, Nebraska Omaha beat Northern Michigan in three games in Marquette. The Mavericks then further stunned the college hockey world when they eliminated the Wolverines from the CCHA Semifinals–by a score of 7-4.
"Last year was a very special year for our program, getting into the league and having our first taste of nightly conference competition," says Kemp. "It was quite an experience for our guys and one that we learned from…and benefited from.
"We look at this year as an extension of that learning experience. We still haven't been to every building in the league yet…and as this season goes it will be one of great experience for us, increasing our learning curve."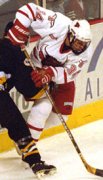 Of course, a little knowledge can be a dangerous thing. While the Mavs haven't yet been to every rink in the league, they've played every team–and they'll no longer have the element of surprise on their side.
Starring…
Goaltender Dan Ellis is a star, without having played a game in a UNO sweater.
The rookie from the Omaha Lancers notched 11 shutouts en route to posting a 2.25 goals against average and .925 save percentage. Ellis–one of the highest-rated players in college hockey's 2000-01 rookie class–was named the USHL's Player of the Year last season.
"In goal, it will be an interesting transition," says Kemp. "Rodney McLeod played some last year…but played sparingly down the stretch will hopefully be stepping in and filling the void left by graduating senior Kendall Sidoruk, but he'll be heavily challenged by incoming freshman Dan Ellis…and also redshirt freshman Brian Haaland.
"Hopefully, there will be good competition in goal, and look for that to be a strength of our team."
Heavily challenged? Hopefully? Move over, Red Berenson; there's another master of understatement in the league.
McLeod (3.34 GAA, .898 SV% CCHA) won't see much action if Ellis is as good as his hype. Neither will Haaland.
Although the Mavericks are led by a large senior class, it's youngsters who star on this squad. Sophomore David Brisson (17-15–32) is the top returning scorer, followed by senior Allan Carr (11-20–31), and sophomore defenseman Greg Zanon (3-26–29). Junior Jeff Hoggan (16-9–25) was second on the team in goal production last season.
Defending the Tribe
UNO returns most of its defense. "We have a good solid nucleus," says Kemp, "although I don't know that we'll be spectacular."
"Last year was a very special year for our program, getting into the league and having our first taste of nightly conference competition. It was quite an experience for our guys and one that we learned from…and benefited from."
— UNO head coach Mike Kemp
Aside from the CCHA All-Rookie Zanon, several seniors will contribute from the Maverick blueline. Ed Cassin, Josh Lampman, John Rosso, and Joe Yureko will be counted on to improve in front of the rookie Ellis.
Ten of Cassin's 11 points came in league play. Lampman–appropriately named for being the last of the former UIC Flames in the league–returns to action after sitting out last season with an injury. Rosso (1-2–3, -1) was plus or even in 27 of 38 games he played last season, and the Mavs consider Yurecko (0-2–2, 0) last year's most improved player.
A Lifeline, Please
"We have our largest senior class since the program started, and quite honestly our seniors this year [were] our first freshmen class," says Kemp, "so we've yet to have an entire cycle run through in our program."
Upstarts.
As charmed as was Nebraska Omaha's inaugural CCHA season, it wasn't perfect. Team defense (-35 overall, -9 in league play) obviously is an area where the Mavs need real improvement, especially if they're going to spend upwards of 20 minutes per game in the box. In conference play, UNO averaged 23.07 penalty minutes per game, while killing those off at the unimpressive rate of 80.1%, 9th in the league.
Additionally, the Maverick power play clicked along at just 15.7% in league matches.
So, all is not perfect on the prairie.
Is That Your Final Answer?
One compelling side story to this year's Maverick squad–aside from the fairy-tale season last year, the potentially incredible rookie goalie, the bard of a coach, and the fact that most people forget they finished below .500 in 1999-2000–is the change of guard in the position of captain.
"Up front, our captain Jason Cupp will be a senior. He looks forward to giving us great leadership," says Kemp. "It's going to be an interesting goal for him in the sense that in the three years that our program has been in existence, we've been led by the same captain for all three years, Jeff Edwards who graduated at the end of last season. So it will be a team in transition with a new style of leadership."
Perhaps the transition won't be limited to a new style of leadership. No one will be caught napping when the Mavs come to town this season.