You battle down the stretch, you go to the championship game and come away with a second-place tournament finish. You return your top ten scorers and the majority of your team. What happens?
You get picked third in the ECAC coaches' poll with three first-place votes, but you get voted sixth in the media poll. Such is the case of the 2001-2002 Cornell Big Red.
"The sixth-place voting in the media poll is a slap in the face to our program based on the fact that we have the majority of our players in the championship game back," said Big Red head coach Mike Schafer. "Our players are determined to prove a lot of people wrong. It's one of those things where sometimes polls can hurt you, but this year, it helps.
"There's no question that if you ask a guy to a man that we feel that we're not a sixth-place team. Despite the lack of offense we had last year we were going head to head for first place last year towards the end of the season and we return with the majority of our hockey team."
The Big Red are our pick to win the ECAC this season; if you look at all the factors, it is a sensible pick. The Big Red return their top ten scorers, led by captain Stephen Baby, and have a solid defense and solid goaltending.
"Last season we knew that the talk would be about producing offense to win. All the preseason talk was about offense, and that's something our team can't worry about," said Schafer. "Last year we struggled early offensively — our guys found a different way to win and we continued to put pressure on teams as the season went on.
"There's a lot of guys that need to step forward and score goals. Last year our offense was with our younger classes, and the team learned that everyone was concerned about scoring, but it's more important to learn how to win games. I don't care if we win 6-5 or 2-1; the bottom line is that we need to produce enough goals to win."
Despite returning the top ten scorers, offense is a concern.
"Our senior class the previous year went down in scoring," said Schafer. "Their production dropped and one of the things this year is that we're looking for big years from Denis Ladouceur and David Kozier. Some guys have suffered injuries and we're looking to get them back.
"The biggest pressure is going to be on our returning players to step up and produce."
If that happens, the goaltending is certainly there to support the issue. Matt Underhill returns in net after a 13-8-3 season, a 1.88 GAA and a .928 save percentage.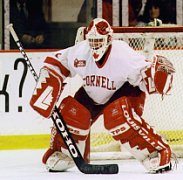 "Matt Underhill is one of the best goaltenders in the country returning," said Schafer. "I haven't had anyone pay as much attention to detail as he has, and he'll be better than he was last year. He wants to produce the kind of numbers that Ryan Miller produced last year. He's going to be very solid in goal."
The defense will be led by Mark McRae and Doug Murray, two of the top scorers on the team. Schafer feels that the addition of newcomers will help produce more offense from the blue line.
"A couple of the new guys will continue to help us in the area," he said. "Charlie Cook, Jeremy Downs, and Jan Pajerski can get up and down the ice."
Along with those three, the Big Red add Paul Varteressian, Michael Iggulden and Michael Knoepfli up front.
"The pressure is on the young guys," said Schafer. "Without them you're not going to have the same kind of quality team. Those guys have to produce and produce well."
Not only that, but special teams will also play a factor this year.
"I know we're going to have good special teams," said Schafer. "I think that our power play was basically 1-for-25 to start the season and we ended up being third or fourth in the country, so the offense on special teams will be there.
"The media is all concerned about our offense, but the coaches know what we've got coming back."
Indeed, the Big Red have the attack and look for them to finish up top this season.
"Our expectations every year are ones where we want to carry on the tradition of Cornell hockey, and that's winning championships," said Schafer. "Our thought process is to have a better regular season and to finish it off when we get to Lake Placid."