It's not often that a team that finishes just a hair above .500 one year is picked as the team supreme the next. But that's how far the fair Crimson has come since dreary days in the late 1990's. The Mark Mazzoleni regime, in only its second year of operation, has already captured the attention of the ECAC coaches.
"Surprised," said Mazzoleni on his reaction to the Crimson's number-one ranking in the coaches' poll. "You strive to reach that point where people recognize that you are making progressive steps. We are still a work in progress, but we are on the right course. We're coming off our first winning season in seven years and we were 16-15-2. That didn't exactly set the world on fire. The guys have realized that they have everything to prove.
The Crimson indeed has a lot to prove this year. Over the past decade, Harvard hockey has visited the highs and lows of collegiate athletics and just about everything in between. After a magical ride to a national title in 1989 under then-head coach Billy Cleary, the Crimson has endured sub-.500 seasons, early playoff dismissals and the exit of an entire coaching staff. How ironic that Harvard is ranked number one the year after the retirement of athletic director Cleary — the last remnant of that national championship team?
The key to any Harvard success will start from the back. After all, it's hard to ignore the fact that the Crimson has no returning goalie of note and is strapped with an unproven defensive corps.
The loss of Oliver Jonas — the three-year backup who came out of nowhere during his senior campaign to capture the Dryden Award as the ECAC's top goaltender — is a huge eyesore for the Crimson. Sophomore Will Crothers, the team's top returning netminder, saw action in only two games last year and finished with a 4.50 GAA. The team is hoping that a freshman named Dov Grumet-Morris, a 6-2, 200-pounder out of the Danville Wings program, will compete for the starting spot right out of the blocks.
"We took a major step forward in terms of record due to Oli and that's gone now," said Mazzoleni. "We were really blessed in that area. I think that it's a given that the guys know that. I am sure that they are curious to see what happens, but they are confident in Will and confident in our ability to bring in a good goaltender and to work and develop him."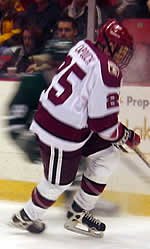 Unfortunately for Mazzoleni, questions arise over the blueliners ready to take the ice in front of the shaky Harvard net. Although invaluable leadership and experience will come from captain Peter Capouch, the Crimson is still in the process of building up its defense.
The emergence of strong freshmen such as Dave McCulloch, Kenny Smith and Blair Barlow proved to be a compliment to veterans such as Capouch and Graham Morrell — the only two senior defensemen. However, the lack of depth was too much as the season wore on. Defensive pairings changed seemingly overnight as the walking injured began to multiply. Morrell, fresh off surgery the previous summer, was the hardest hit as he missed the entire second half of last season after re-injuring his shoulder.
"I think that when you look at our team, you have to build from the goal out," said Mazzoleni. "We are going to have to have one or two people emerge to have some defensemen [with] Peter and Graham. And Graham hasn't really had an opportunity to play for us."
Realizing that patience is a virtue in retooling a defense, the coaching staff has once again brought in three freshmen who have the potential to add value from the start. This impressive freshman class — Noah Welch, Jesse Lane and Ryan Lannon — average out to just over 6-3 and 207 pounds. The strength and size of the freshmen and sophomores also gives the coaching staff much more flexibility and diversity when it comes to defensive pairings.
The top of the Crimson pyramid will cause many sleepless nights for opposing teams. Bolstered by one of the best returning groups of forwards in the league and one of the premier players in the country, the Harvard offense is as strong as it's ever been.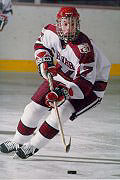 Dominic Moore, a second team All-ECAC selection and the squad's leading scorer with 43 points last season, will be the focal point as he plays his first season without a brother on the ice (Steve Moore graduated last year). The potential of Moore is boundless, just like the expectations set by his coach.
"Dom will be the premier forward in the ECAC and in the East," said Mazzoleni. "He will be a strong candidate for All-American consideration and maybe even a finalist for Hobey. I look at him in that light."
Moore will get considerable support from the sophomore class. Tim Pettit captured All-ECAC rookie team honors, while Tyler Kolarik turned many heads during the Crimson's playoff journey to Lake Placid. This class is brimming with talent — some of which is yet to be tapped.
While everyone knows about Kolarik and Pettit, players such as Rob Fried and Dennis Packard have remained under the radar. Those two sophomores carry bigger, more powerful frames, but had quiet seasons playing behind their flashier classmates. An intense off-season training regimen and a year of experience, however, may turn them from role players into superstars.
"Rob is going to develop into an excellent two-way player," praises Mazzoleni. "He has a tireless work ethic. He is very focused and being a year into college, he knows what to expect and I know that he has prepared himself for that this year. We have high expectations for him. You have to understand that he is a much different player than a Pettit and Kolarik. He is a power forward who relies on his skating ability and strength."
Another darkhorse is junior Brett Nowak — a player itching to have a breakout season. Off-season surgery and a break midway through the season to play with the World Junior Team slowed him down as he finished with seven goals and nine assists. For the first time in his Harvard career, Nowak enters the season refreshed and healthy.
Pure talent goes a long way, but Harvard proved that it has something else going for it — coaching. While the team struggled through the inevitable growing pains last year, the special teams direction of Ron Rolston and fellow assistant Nate Leaman not only kept them in games, it also gave the team confidence and a feeling of success game in and game out. When they arrived, the three coaches preached the new Harvard system. Two years later, the league is starting to see what they mean. And as evidenced by the coaches' poll, they're taking notice.