After last season, Princeton head coach Len Quesnelle must have felt as if he had seen it all. In his first year as head coach after taking over for Don "Toot" Cahoon, Quesnelle experienced a rocky road en route to finishing seventh in the league and nearly pulling off an upset victory over Cornell in the ECAC quarterfinals.
One week into December, things were going well. The team had finally begun to gel offensively and was in the middle of the ECAC hunt with a respectable 4-3-2 record, which included a key win over Dartmouth and two road ties against Clarkson and St. Lawrence. Just when things were going well — that's when the spokes, the wheels and the entire frame fell off the cart. The team that had been averaging more than three goals per game fell into a funk and dropped eight straight games heading into exam break.
"We came out of exams at the end of January after that eight-game skid," recalls Quesnelle. "We went through some team exercises, if you want to call them that, and we really refocused on what was most important. We had 10 games in front of us and that gave us a chance to focus on what we needed to accomplish."
The team did rebound and collect five victories down the stretch, including ECAC victories over St. Lawrence, Cornell and Vermont.
"The mindset going in the last 10 games of last year was a good learning experience for the returning players," said Quesnelle. "We were 5-3-2 in the final regular-season games. A big reason for that was team defense. Heading into this year, I think that the team realizes how important team defense really is."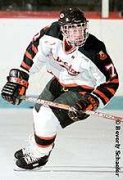 Although Quesnelle welcomes back 11 lettermen, the pundits aren't expecting much from this Princeton squad. If you had to put your finger on the key, it would fall jointly on the names of Brad Parsons and Dave Stathos.
Parsons ended his junior season as arguably the most talented offensive player on the team. He may not possess the experience of a Kirk Lamb, but Parsons proved that he can produce on a nightly basis as he finished with 24 goals last year, including a team-high three game-winning goals. More important than his statistics, however, is the senior's ability to create through neutral ice and in front of the net. The loss of Lamb, Chris Corrinet, Shane Campbell and Ethan Doyle represents 66 percent of the team's offense. Quesnelle will be hard pressed to replace those bodies, and a guy like Parsons will need support from returning players such as junior George Parros and senior Josh Roberts.
"Brad can be a real offensive catalyst for us this year," said Quesnelle. "He has a good sense and savvy around the net. We have a group that has a little bit of everything."
Freshman forwards such as James Fitzpatrick, Mike Patton and Neil Stevenson-Moore will have to make an immediate impact for Princeton to be competitive. The days of Princeton freshmen developing slowly by playing on the third and fourth lines behind guys like Jeff Halpern and Syl Apps are long gone. Quesnelle will need the newcomers to step in and take on second- or even first-line roles.
"If we're shy of anything, it's size," said Quesnelle. "We have some speed and we're real happy with the incoming freshmen group. They have high-end skill level, strength and most important great character and personality. You always want the freshmen to come in and play right away. You don't want them to stand around. You do that by setting up protocol on how you practice. The team culture also helps to develop those guys."
The team seems to have more answers defensively, beginning with Stathos, who returns for his final season. Stathos represents stability for the Tigers as he played in 26 games for the team last year, collecting a respectable 3.06 goals against average and a .901 save percentage. He also bailed the team out of more than a few games along the way, especially during the latter part of the season when he averaged nearly 30 saves a game. In the biggest series of the year, against Cornell during the ECAC quarterfinals, Stathos came up with 103 saves in three games.
"He is a great starting point," said Quesnelle. "Dave was the backbone of the success we had towards the end of the season, so clearly he is the number-one guy in terms of experience for us. It's a very good situation to be in."
Another player who came alive last year and who will be looked upon as an anchor is sophomore Matt Maglione. The 6-1, 180-pounder, who played on the U.S. National Under-18 Team before joining Princeton, has the potential to become one of the best defensemen in the league. Reminiscent of Steve Shirreffs, Maglione uses his big frame to muscle opposing forwards in the defensive end and capitalizes on his penetrating slapshot to create in the offensive zone. He will be joined along the blue line by the likes of upperclassmen Trevor Beaney, Dave Bennett and David Schneider.
"We're not going to ask these guys to take on a different role, just maybe to take more of a share. They have been encouraged to do all along," said Quesnelle, whose team was picked by the ECAC coaches to finish 11th. "I don't pay attention to where we are placed. I'm more curious to see where the other teams are."