What can you say? Another ECAC season is upon us and the Saints of St. Lawrence are the two-time defending ECAC Tournament champions. Can the Saints make it three in a row, which would make them the first team since Boston University to do that since the 1970's? Can Clarkson repeat as regular-season champions? The Golden Knights captured their fourth regular-season title in the last ten years last season and look to repeat as well.
As usual, its a tight race in the ECAC.

"It's really a difficult field to handicap this year," said Yale head coach Tim Taylor. "You just don't know what is going to happen."
"I look at what was graduated from the league, and the league returned a great number of premier players," said Harvard head coach Mark Mazzoleni. "The margin between the so-called low-end to top-end teams is hardly anything. That's proven when Vermont goes in and knocks off top-seeded Clarkson. I like the recruiting that was done this year. Things go in cycles, and that will be proven this year.
"When you look at college hockey, there is tremendous parity. Few teams that are head and shoulders over the others; you have to play hard every night."
But other issues surround the ECAC. What is important for the ECAC season? What are the underlying questions that surround the league and its future? What is the state of the ECAC?
The latter question, on the state of the ECAC, is an important issue for all of those involved with the conference. From its teams, its schools, its administrators, fans and community, that is a major question.
The ECAC is changing its playoff format and looking to expand the number of games its members can play during the regular season. How do some of the coaches see the state of the ECAC?
"We're a league that has some real quality teams. As I look around, I know that each team is well coached and we as a league are struggling to prove our identity amongst some of the better-known leagues in college hockey," said Clarkson head coach Mark Morris. "We're striving to push to 34 games [a proposal approved by the league's policy committee] and looking at ways to market our league and improve our image as a hockey power.
"We do a darn good job at educating our kids at schools that are well known on the academic side of things, and we want to re-establish ourselves as a power so we can bang heads with the elite schools and leagues. We have a good league here and its up to us to prove it."
"I think our league has a lot of personality," said Cornell head coach Mike Schafer. "We don't have any major media markets that promote our league, [but] our league has a lot of personality in that we're not driven by one or two teams. You don't know which team is going to step up and that kind of uncertainty will hurt you in national media attention, but there's a lot of good coaches; there's not a kid that comes in that isn't ready and then they blossom into good players.
"You just don't know which team is going to blossom. You look at St. Lawrence two years ago going to the Frozen Four. If you asked people if they would get there before the season and people would have laughed, but Joe Marsh was very confident. We're not just a one- or two-horse league, and all the other teams follow suit. We have many teams that can step up."
"There probably are those [blossoming] players in the league, but we just haven't realized who they are yet," said Colgate head coach Don Vaughan. "What you're seeing, across the board anyway, is a league that is very balanced. I'm not going to use the 'P' word, but this year more than any other it's a league that doesn't have a marquee player in it.
"But I think if you give it a little time, those guys will rise to the top."
In other league news, the playoff format has been expanded, starting in the 2002-2003 season, and coaches are already looking ahead.
"I like the 12-team format that gives a bye," said Morris. "What that particular format gives more purpose to finish in the top four and it also gives life to some of the teams that may have struggled during the course of the season. When we've had strong regular season, you're always fearful that someone may be out to take someone out because there isn't much to play for."
"It does a lot of things," said Vaughan. "It gives teams that might not [otherwise] have a home-ice opportunity to get a series in their building. It gives your top four seeds a nice rest. It draws attention to our league and then it cleans up Lake Placid and the logistical nightmare that goes along with it."
Changes loom for 2002-2003, but 2001-2002 is right around the corner. Expect it to be tight, well-played and down to the wire — as usual in the ECAC.
---
We've inspected the teams up and down, looked at the rosters, talked to the coaches, listened to the fans. This is how we think the league will shape up this season. Now, before we begin our rundown, we, the Iron Columnists, will give you a chance to take us on as a group.
We'll take all predictions emailed to us by October 10, form a composite, and that composite will take us on. We'll publish the composite on October 11 in our first column of the season.
Just one rule you must follow — no ties allowed.
We don't think you can take us.
And yes, line up. The Iron Columnists are ready to take all of you on once again this season.
---
Without further ado:
1. Cornell Big Red
One of us forgot to send in our media poll, or else Cornell would have gotten a first-place vote. That person convinced the other that it was the right pick. The Big Red's experience will have them hoisting the Billy Cleary Award at the end of the season (Irony, eh?).
---
2. Dartmouth Big Green
With playoff experience under their belts, the Big Green return a strong team. Expect them to be in it from start to finish.
---
3. Harvard Crimson
The Crimson have a great group of middleclassmen and a great incoming class. They're working on getting to the top — will their defense and goaltending be there?
---
4. Clarkson Golden Knights
You can't count Clarkson out, as evidenced last season. The Golden Knights return with a strong nucleus and you can count on them battling all season long.
---
5. St. Lawrence Saints
The Saints lose a lot, but still have enough to get them into this position. Who will play in goal and who will score?
---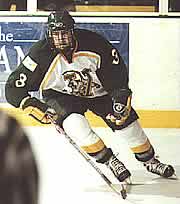 6. Vermont Catamounts
The Cats pulled the upset of the playoffs last season and they'll be ready to go again.
---
7. Rensselaer Engineers
The Engineers return all but five players from last year. But remember, they finished sixth last year. Nate Marsters will be a rock in goal, but can they move up?
---
8. Union Skating Dutchmen
The Dutchmen have been climbing the standings, and there's no reason to believe they won't continue.
---
9. Colgate Raiders
A very young team that hopes to improve, the Raiders will be able to do so this season.
---
10. Yale Bulldogs
The Bulldogs lose Jeff Hamilton, meaning it comes down to who provides the offense.
---
11. Princeton Tigers
The Tigers are looking to replace some offense and a young team will have to find a way.
---
12. Brown Bears
The Bears are hoping that the youngsters coming in will provide a move up in the standings. On paper, though, Brown is 12th.