It's less than an hour before faceoff. Tim Turner is not pacing the maroon carpet of the UMass locker room, barking encouragement to his teammates.
He's lacing up, preparing.
Just seconds before the Minutemen take to the 200×95 Mullins Center ice surface, Turner is not standing at the entrance, uttering motivational catch phrases. He is in line with his teammates, eyes fixed on the task. Make no mistake, Tim Turner is a leader. But he leads in the corners, on the boards and in the slot, not in the locker room.
"I went to Timmy at the beginning of the year and told him to lead by example," says UMass coach Don "Toot" Cahoon. "He's not a 'rah-rah' guy and we don't need him to be that type of guy."
"I went to Timmy at the beginning of the year and told him to lead by example … He's not a 'rah-rah' guy and we don't need him to be that type of guy."
— Don Cahoon, on Tim Turner
On a team notable for its youthful talent, Turner is the glue. He doesn't wear a letter as a captain or assistant captain, but the badge of honor he brings into each practice, and every physical and mental challenge he faces is enough to garner the respect of seven rookies who skate alongside him up front.
"There is no question [the freshmen] respect the effort he puts in on a daily basis," Cahoon explains. "They see how he competes and how he earns his ice time."
Turner's determination and will have rubbed off on a particular pair of talented newcomers.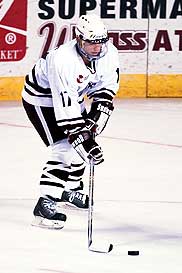 Six games into the season talent-laden rookie Greg Mauldin was struggling to find the net, despite his firm place on one of the top two scoring units.
Instant cure: Cahoon drops Mauldin on a line with Turner and the junior ends up assisting on his understudy's first collegiate goal in a 4-2 win over Northeastern.
"[Tim] has been a good example for us," says Craig MacDonald, who completes the line with Mauldin and Turner. "He has really relaxed me and Greg. We know we can feed him the puck and he'll get it back to us. It's just made us more comfortable."
Mauldin and MacDonald have been the junior forward's most consistent linemates this year, if for no other reason than the trio's collective thirst for success and willingness to work for it.
"He never takes a second off, he's never taking a break. The guy just wants to win," MacDonald explains. "I know all the younger guys want to have a work ethic like that."
He isn't used to the role of mentor, but Turner is certainly familiar with the teacher-student relationship. For his first two years in the Pioneer Valley, he thrived (52 points in two seasons) on a line with his older brother Jeff, who showed him around the rink and around campus.
Now Tim hopes to do the same for his own pair of pupils.
"Having my brother here was a big advantage for me," Turner recalls. "He taught me a lot and I feel like I am [Mauldin and MacDonald's] big brother. I want to teach them some stuff and hopefully leave a lasting impression on them."
Turner didn't wait long to make an impression on the incoming class. He made his statement from day one — without saying a word.
"Since the day we got here you could tell he was one of the leaders, just how he carries himself on the ice," MacDonald recalls. "It's not what he says, its how he takes care of his business."
Day in and day out he sports the efficiency of a stockbroker. From analyzing game tape with his linemates to in-practice drills to pre-game warmups to his regular game shifts, Turner wears the same face of competitiveness.
"He's got a great will to compete," Cahoon says. "Timmy is a well-conditioned and highly-motivated kid."
Turner's ethic is the high-water mark for the rest of the UMass frontline. His leadership among the forwards is silent yet unchallenged, but "role model" is not the only post he occupies for the Minutemen.
"We expect Timmy to score some big-time goals for us this year," said Cahoon before game one of this, Turner's junior season. "He's one of our leaders, our veteran guys. But we need him to put the puck in the net as well."
With the shadow of brother Jeff stripped off the Pioneer Valley map, the younger Turner has stepped to the forefront for a growing program.
"I absolutely want to be around the puck when it matters the most," Turner says. "I like putting the pressure on myself to put the puck in the net. I know I can come through in the clutch."
Turner has been a poster boy for the timely in the early goings of his third year in college hockey. In UMass' six wins this year, he has two game-winning goals, one game-tying tally and an assist on Mauldin's clincher against Northeastern.
"I pride myself on being out there in important situations," Turner says. "It's exciting knowing that coach has faith in me to get the job done."
Late in the second period of the season opener, with his inexperienced team clinging to a one-goal lead in what was supposed to be a cakewalk against Niagara, Turner personally took the UMass faithful off the edge of their seats.
The junior fearlessly rushed the crease and stuffed home a rebound in the face of two opposing defensemen and sprawled Eagle goaltender Ryan McNeil. Just three games later, Turner found himself on a game-hinging power play, down one and on the road against heavily favored Providence. The Minutemen's silent leader rose to the challenge again with a brilliant tip-in off a Toni Soderholm pass that knotted the game at two and gave UMass the momentum to take a 4-3 decision.
"Me and coach sat down before the season and he told me I was going to be an integral part of the team and the offense," Turner remembers. What Cahoon neglected to mention was that in Amherst, integral means irreplaceable.
Forget that Turner is the top scorer on the team's best and most consistent line. Note that his three power-play goals lead a team that has made a cellar-exiting jump in man-up efficiency (12.8 percent in '00 to 22 percent in '01), while his plus-1 rating makes him one of only six players with a plus/minus in the white.
Now factor in that his line, with two freshmen at his side, has combined for 12 goals (four GWGs) and 21 points, as UMass has moved to a steady 6-6 record.
Most impressive is Turner's ascension to success, when doubters were plentiful and expectations were absent.
"Timmy is an overachiever," Cahoon says. "He skates faster than he should and plays bigger than he is. It's all of product of his will and character."
Nobody ever expected him to be the big-time goal-scorer that he is. And now that he has become the go-to guy, the player who lights the lamp under pressure, so what? Anyone can score goals, but it takes a player of a different cut to lead.
Tim Turner fits the mold of leader — and that goal-scoring thing?
He can do that too.