Logjams, Lurkers and Longshots
"Any one of the top four teams in Hockey East could win the national championship."
— UMass-Lowell coach Blaise MacDonald
Who'll win Hockey East this year?
New Hampshire. It's got to be the Wildcats. Goaltending, scoring, defense. They've got it all. It's gotta be them.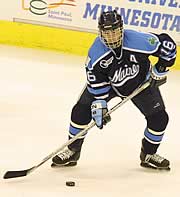 No. Make that Maine. Hey, the Black Bears came within a minute of the national championship. Look at all that talent coming back!
How about Boston College? The Eagles only lost two players. Two! How can you go against Eaves, Voce and Forrest?
Yeah, but what about Boston University? If the Terriers went three straight years without a title, matter and anti-matter could collide and — poof! — there goes the universe.
Then again, you can't dismiss Providence. Yeah, yeah, last year, blah, blah, blah. Fuggedaboudit! Jupiter must have been misaligned with Joe Bertagna. It was a fluke! DiSalvatore. Rask. Fregoe. Schaefer. Friar Fever, baby!
Hey, don't forget about…
Aw, geez, just put the names in a hat and pick 'em out like last year. You'll look like a dolt either way…
---
Look, at the end of the season, Hockey East's eventual winner will almost certainly look perfectly predictable in 20-20 hindsight. Right now, though, all that's visible is a logjam of candidates. Just ask Boston University coach Jack Parker, whose Terriers were picked to finish first in the coaches' preseason poll.
"It means nothing," he says. "You can ask Providence. They were picked number one last year and they had injuries and some problems and wound up seventh in our league. What baffles me is that Providence was the number one pick last year, they've got everybody back from last year's team and they're picked fifth this year. I think that just indicates that it doesn't really matter.
"We have five and maybe six teams that absolutely could win the regular season championship and nobody would be surprised."
— Boston University coach Jack Parker
"What it really does is point out the balance in the league, especially for the top spot. I think this is the best year we've ever had as far as who would possibly win this league. It's the closest we've ever had. We have five and maybe six teams that absolutely could win the regular season championship and nobody would be surprised.
"If Maine won this championship, people would say, 'They were picked fourth? They were the NCAA finalist and they've got almost everybody back. How could you not pick them to be the number one team in the league?'
"If BU won it, if BC won it, if Providence won it, if UNH won it, nobody would be surprised. I think that's what makes the league so great, its competitiveness from top to bottom. This year, more than any other year, the competitiveness for the number one spot is going to be great. It could be that one team shows up and is so much better than everybody else by December that they pull away, but the probabilities are that we're all going to be fighting for that one spot for a long time."
Enough equivocation? How about some picks?
With all the above protestations and disclaimers duly noted, let's take our best shot and say that the league breaks down three ways: logjams, lurkers and longshots. (One final caveat: Providence defies categorization, straddling logjam and lurker status.)
At the top, there's a logjam of the usual suspects: New Hampshire, Maine, Boston College and Boston University. All four can harbor serious hopes of challenging for a national championship as well as a league title. They have the fewest question marks and the most exclamation points.
Providence, Northeastern and UMass-Lowell lurk just a bit behind the four perennial favorites. Only PC seems to have much of a shot at joining the logjam and winning the Hockey East title, at least on paper, but any of the three could take home ice without an eyebrow being raised in surprise. For every hole in their depth chart, there's a game-breaking player to give hope of a FleetCenter surprise or a berth in the 16-team NCAA tournament.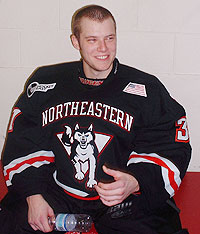 Merrimack and Massachusetts, both with rosters loaded with youth as they build for the future, appear almost certain to duke it out for the final playoff spot. They'll compete night in and night out and extract hard-earned points on many weekends, but remain longshots to climb in the standings.
At least that's the way it looks on paper. No doubt, there'll be surprises, both good and bad, in the standings at season's end. That's the way this game works. It's part of its charm and mystery.
It also gives enraged fans the opportunity to email yours truly and use opening salutations like, "Hey, moron!"
Here's a brief look at the nine schools, in order of predicted finish, with links provided for more detailed analysis of each team.
Last year's top offensive and defensive team in league play has all the makings of a juggernaut again. Yes, it hurts to lose top defenseman Garrett Stafford (academically ineligible) for the first semester and some guy named Darren Haydar must be replaced, but the Wildcats return the top goaltender and entire blue line from a squad that ran away with top defensive honors in Hockey East games. And of the league's seven returning 40-plus point producers, three wear UNH uniforms.
2. Maine
There are holes to fill, most notably between the pipes and to a lesser extent on the blue line. There isn't a single game of collegiate experience under the goaltenders' belts and it's unclear who will assume Peter Metcalf's quarterbacking role, but make no mistake. This is a very talented Black Bear squad, especially up front. Barring problems in the nets, Maine should be a top 10 team all year that once again makes a run at the national title.

After sustaining far and away the league's biggest offseason losses one year earlier, the Eagles swung to the other end of the spectrum, this time suffering the least damage from attrition. If Ben Eaves (only 23 games last year) and J.D. Forrest (surgery to repair five torn wrist tendons) are healthy, BC should be in the mix for a Hockey East title once again. Continued maturation of a still young squad and more consistent goaltending are the keys.
Depth and defense will be the Terrier calling cards. BU should again have one of the best blue lines and will third- and fourth-line you to death. Barring a major emergence, there isn't an All-Hockey East forward looming on the roster, but nine return with double-digits in points. It wouldn't be a surprise to see a BU Hockey East title for the seventh time in nine years.
5. Providence
The Friars were picked to win Hockey East in last year's coaches' poll (albeit without a single first-place vote), but finished a disappointing seventh. Their fans may be humming The Who's "Won't Get Fooled Again," but this is still a very talented team. There aren't many lines better than Devin Rask, Peter Fregoe and Jon DiSalvatore. If the defense improves and goaltender Nolan Schaefer regains the form that earned him All-America honors as a sophomore, then Providence could make a serious run at first place.
6. Northeastern
There's a hole about the size of the Grand Canyon on the Husky blue line left behind by Jim Fahey. That said, a considerable amount of skill returns. Mike Ryan ranks as one of the top snipers in the league and linemate Jason Guerriero is one of the best playmakers. Although he faltered down the stretch, goaltender Keni Gibson excelled for much of the season, earning a unanimous berth on the All-Rookie team as well as runner-up status to UNH's Sean Collins for Rookie of the Year. Home ice is not at all out of the question.
7. UMass-Lowell
No longer one of the oldest teams in the league, the River Hawks will have to make up with increased speed and skill what they've lost in strength and maturity. The biggest question, however, lies in goal, where last year's incumbents have left behind a void. If there's a solution between the pipes, Ed McGrane and a mobile corps of defensemen will lead a run at home ice.
8. Merrimack
Finishing eighth in Hockey East last year? Disappointing.
Losing four significant players with eligibility remaining? Frustrating.
Seeing Coach Chris Serino battle back from throat cancer to a clean bill of health? Priceless.
Forget last year's won-loss record. It was a winning season for the Warriors because Chris Serino is healthy again. This will be a rebuilding year with a very young team, but Warrior fans should count their blessings every time they see their good-guy coach behind the bench.
As for what does transpire on the ice, there are three established scorers and three returning defensemen. Depth at all positions is a major concern. Other than Joe Exter in goal, the lineup will likely be in a state of flux into the holidays.
It looks like a season of taking baby steps toward the destination of becoming a winning team. Once again, the Minutemen will be very young: 14 freshmen, 12 sophomores, three juniors and two seniors. With nine freshman forwards, the offense is likely to struggle again despite the talents of Greg Mauldin and Tim Turner. Goaltending is another major question. It'll likely be another year or two before UMass fans begin to see the building efforts pay off.