After four straight Frozen Four appearances and a 2001 national championship, the Eagles took an expected nosedive last year. With almost three-quarters of the roster made up of freshmen and sophomores, BC dropped to a .500 record. With that rebuilding year under their belts, however, the Eagles should once again be a power in the league and on the national scene.
The strength begins up front where Tony Voce (26-22–48) and Ben Eaves (13-25–38 in 23 games) form one of Hockey East's best one-two punches. Add to that a strong sophomore class led by Dave Spina and Ryan Shannon and impact freshmen Patrick Eaves (Ben's brother) and Chris Collins.
"I feel that we're the deepest at this position," says coach Jerry York. "In Tony Voce and Ben Eaves we've got two of the most dynamic players that we've had here for a while. The other group of players are really going to add depth and make us a dangerous offensive unit because you can't just ride two people.
"The two seniors, Anthony D'Arpino and A.J. Walker, both have been role players for us and are ready to assume a larger role for us in their fourth years… Our sophomore class — particularly Spina, [Ned] Havern, [Ryan] Murphy and Shannon — are really going to be strong players for us this year. They had a great baptism by fire last year."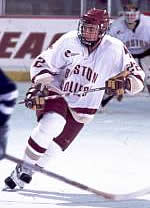 Although Patrick Eaves is already penciled in on his brother's left side, BC fans may need to rein in expectations for a second familiar name. Freshman Steve Gionta won't be expected to reprise brother Brian's heroics; he'll be filling more of a hard-nosed, checking role.
The entire defensive corps is back, led by J.D. Forrest, who feels he's close to 100 percent after surgery to repair the five wrist tendons cut in the regular season finale. As with the forwards, the sophomore class — made up of Andrew Alberts and John Adams — holds the key to the blueliners' collective success.
"It's an area where we certainly feel that we're going to be better," says York. "We expect our senior, Billy Cass, to have his best year of his four. Brett Peterson, a junior, has played a lot for us in his two years and we think that will show in his play this year.
"The two sophomores, John Adams and Andrew Alberts, got so much better as the year progressed last year. We think their size and competitiveness are really going to help give us a solid core of defensemen. [They] are going to be very, very strong for us.
"Then we have what we think is one of the premier defensemen of all college hockey in J.D. Forrest. We're very excited that the offseason surgery on his wrist has come along very well. He'll log a lot of minutes."
Eagle goaltenders Tim Kelleher and Matti Kaltiainen both had their moments last year, but could use the same step forward that Scott Clemmensen took two years ago when he became dramatically more consistent.
"We're certainly stronger because of the experience they both had last year," says York. "It'll be interesting to play it out and see how it all evolves, but my initial observation is that I feel more confident about our goaltending position. They're both going to compete. I think we've made some steady improvement in that position."
The pieces seem to be in place for a BC return to playoff home ice, at the very least, and a likely return to the national stage.
"I think we're right back in the mix of teams that will compete for a Hockey East title," says York. "And it's been proven if you're in that mix, you're in the national mix. So I feel very good about the season in front of us, based on the maturation of our players from last year, the addition of some key freshmen for us and [the hope that we'll] stay healthy through the lineup.
"I like our talent level, our speed, our comrade-ship. I like a lot about this club."