If any hockey coach, no matter the level, is ever posed the question of what is the most important position on the ice, the answer will always be the same.
No, it's not the men or women who put the puck in the net. Nor is it the soldiers who guard the blue line. The resounding answer that coaches all over the world will give is … the goaltender. The crazy fool who stands in front of the vulcanized rubber traveling sometimes in excess of 100 miles an hour, voluntarily.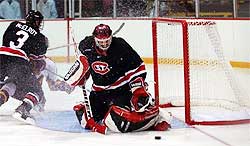 A goaltender shouldn't be built with skin and bonesl; nuts and bolts seem more appropriate. You see, the human mind shouldn't allow one to be subject to such abuse, but, as St. Cloud State senior netminder Jake Moreland put it, somebody's got to do it.
Moreland is in his fourth and final year with the cardinal and black, and has been stopping pucks since his childhood days in Grand Forks, N.D. Last year, Moreland played in a career-high 18 games and charted a 2.43 GAA and .916 save percentage. In his career at SCSU, Moreland is 15-8-0, with a 2.42 GAA average and a .913 save percentage.
In his tenure with the Huskies, St. Cloud State has enjoyed the most successful four-year stint in the program's young history.
In that time the Huskies have piled up 86 wins, including their three victories this year, and have made a trip to the national tournament all three years. Although Moreland has only been personally responsible for 15 of those wins, his presence in the Husky locker room and practices has been felt. And his patience has been a virtue.
He has played with some of the best over the past four years. First, it was All-American Scott Meyer. Then All-WCHA netminder Dean Weasler, who shared duties with Moreland most of last season. This season, it's been redshirt freshman Jason Montgomery who has been spitting time. But in this, his senior season, Moreland finally appears to have the confidence to be "the man," something that may have been lacking in the past.
"Mental toughness has probably been his toughest battle," said Huskies head coach Craig Dahl. "In Jake's case, you know last year he played in 18 games and stopped 91 percent of the shots he saw, but it would be that one funny goal he would let in that would kill him and then he would struggle after that. If you can get over that — because everyone's going to let in a funny one once and a while — but if you can get over that and get back to battle, you're going to be OK. I think Jake's ready to make that step."

He took some serious strides last season. Moreland, who played junior hockey with Sioux City in the USHL, began the year splitting weekend series with Weasler. Dahl tooled a bit with his goaltending tandem and then, for a short time when Moreland suffered a broken hand from a Mark Hartigan slapshot during practice, handed the job to Weasler.
Again, Moreland took his time and healed patiently. He returned to the ice during the third period of a Friday night loss in Denver after Weasler couldn't continue due to the flu. He started the next night and helped lift the Huskies to a 4-2 win over the then top-ranked Pioneers.
He started both games against Minnesota the following weekend and he was in net when the Huskies clinched their WCHA playoff series over Minnesota-Duluth. Dahl also chose Moreland to start the Huskies' Final Five opener last year against the Gophers.
The experience gained in those "big" games however have given Moreland and his teammates the confidence to know that, if needed, he will be ready.
"We've been in those positions a few times the last couple years and our starting goaltenders really haven't played that well," said Moreland. "But that little bit of familiarity with it will help."
Familiarity is something that Moreland will have quite a bit of with this weekend's opponent at the National Hockey Center. North Dakota is in town for a two-game series, a weekend that Moreland has to look forward to.
He grew up in Grand Forks and was a regular at UND games as a child. He even served a stick boy when he was in elementary school. He beat North Dakota last year for one of his more memorable college hockey moments, and another win this weekend over his hometown team would be even that much more meaningful to the guy who used to give Ed Belfour his stick and cheer on Jon Casey on a kid.
"It should be fun," said Moreland, who had 38 saves in the Huskies' 6-1 win over North Dakota last season. "I was pretty stoked [after last year's win]. It's bragging rights, which is always nice."
And those bragging rights will be up for grabs again this weekend, as Moreland and the Huskies take on UND once again.