Colorado College captain Tom Preissing has been racking up points in unexpected places this season. You don't generally expect to see a blueliner among the nation's leaders in goals and power-play goals, but the senior is tied for 11th nationwide with 18 goals and holds third in power-play tallies with a whopping total of 13. Additionally, Preissing was an early leader in the second round of Vote For Hobey at www.hobeybaker.com before setting into a very solid second behind teammate Peter Sejna.
To put Preissing's goal scoring in context, consider that only eight of the 60 D-I teams have a forward with more goals than the Rosemont, Minn., native. As for defensemen, you can count on one hand the number of blueliners who have scored more than half of Preissing's 18 goals this season. Thomas Pöck of Massachusetts has 13, and Wade Winkler of Quinnipiac has 11. John-Michael Liles of Michigan State has notched 10 goals thus far, and a handful of players have nine.
Coming into this season, though, Preissing had solid but unspectacular numbers for an offensive defensemen. In fact, he had scored less goals in his previous three years combined (16) than he has with plenty of time left in this campaign. So what has changed?

"That's a good question," Colorado College coach Scott Owens acknowledged. "I think first of all he's shooting the puck better than he has. He's got a strong shot, and he's able to find the shooting lanes a little easier for a defenseman.
"Secondly, I think he's getting the puck in a better position a little more, especially on the power play with Noah Clarke and Peter Sejna and Andrew Canzanello; he seems to be getting the puck in better spots. I think those two things and the fact that he's a senior all definitely come into play."
Preissing is the first to acknowledge that he plays with some terrific playmakers, a small cadre that have led the Tigers to their new spot at No. 1 in the USCHO poll this week.
"I think first and foremost I've been the recipient of some pretty good passes," Preissing said. "Also, every time I get the puck, I'm looking to shoot when I'm on the power play. Beyond that, I think I'm just shooting with a lot more confidence than I have in the past, and things are just going in for me."
Sometimes defensemen goals can be a little misleading. Given the distance involved on a typical point shot, some goals can sneak in on a lucky carom off a defenseman or result from a rush off a neutral-zone turnover. Yet that doesn't seem to be the case for Preissing this season.
"I think actually the majority of his goals have been just blasts — they've been good shots," Owens said. "Either there's been traffic in front on a power play, or they've been on a five-on-four power play on a one-time shot. I think a lot of his have been very strong goals; in fact he's missed two empty-net goals this year — one of them was ridiculously close that he missed — otherwise he'd have two more in there. His have not been on rushes; they've just been on good shots from the top of the circle or just inside the blue line."
Preissing's freshman defensive partner, Mark Stuart, can attest to his captain's knack for one-timing the puck.
"As far as him scoring goals, he can pretty much one-time anything," Stuart said. "He can one-time the puck better than anybody I've seen I think. Coming down the left side on the point on the power play, he can put it upper corner and pretty much put it wherever he wants."
"We kind of play a little bit of a left-handed overload, and I play on the weak side point," Preissing said. "So a lot of my goals have either been one-timers from up top or getting good passes from the corner, and I've just been able to find openings in the net."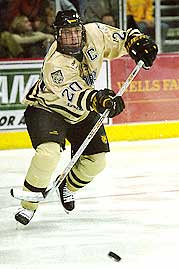 Preissing should end up setting at least one goal-scoring record, maybe more. The Colorado College team record for defenseman goals in a season is shared by former longtime NHL blueliner Doug Lidster, who scored 18 in his freshman season of 1979-80, and Rob Doyle, who matched that sum as a junior in 1985-86. The mark for goals scored in all games by a WCHA defenseman also may fall — Steve Richmond scored 22 back for Michigan in 1980-81, the last year that the Wolverines belonged to the conference.
No one seems to know for sure what the all-time record is for D-I goals in a season by a defenseman, but it remains to be seen whether Preissing can match the 26 goals scored by Curt Bennett for Brown in 1969-70, a mark later matched by Ron Wilson for Providence in 1974-75. Preissing also certainly won't top Lidster's career record of 56 defenseman goals for the Tigers.
Given Preissing's strength in scoring and bringing the puck out of the zone, Owens emphasizes that his captain's defensive play gets overshadowed.
"He's pretty good at defending the rush," said Owens. "He's pretty stocky in that he's strong in front of the net. He plays against the top lines and some of the best players in our league, but he's probably known for his breaking the puck out, his playmaking, and his goal scoring. But his defensive play doesn't take a back seat to anybody."
Given that Preissing is team captain this season, his personal successes are not nearly as gratifying as the team's remarkable 21-2-5 record — especially after some Rocky Mountain lows early on.
"As far as last year was concerned, preseason we had pretty high expectations," said Preissing. "We were picked to win our league, and we promptly went out and went 0-5 in the league. So I think our heads were a little too big at the beginning of last year.
"We ended up having a pretty good year, but it took a toll on us and wore on us because it always felt like we were fighting an uphill battle. This year it's been the complete opposite: Other teams' expectations of us weren't too high, and we just started off pretty quickly out of the gate. We played Maine early in the year and beat them, and I think that was a huge confidence builder for us 'cause I think as a team we were still building our identity.
"We just took it from there, and we've been kind of fortunate — everyone's playing their roles really well. In particular guys like Peter Sejna and Noah Clarke — they're having outstanding seasons, and all the freshmen have settled into their roles actually earlier than we expected."
Indeed, Peter Sejna currently leads the nation in goals (28) and points (57), in 28 games. Sejna and conference foe Zach Parise of North Dakota are currently the only players nationwide averaging over two points per game. Meanwhile, Clarke leads all D-I players with 34 assists this season.
All of which left Preissing completely mystified last week when he learned that the standings at www.hobeybaker.com indicated he was then leading all players in voting points.
"I had no idea about that," Preissing admitted, laughing sheepishly. "I really don't understand that. As far as I'm concerned, no one I've seen play even comes close to Peter Sejna. He's phenomenal — there are really no adjectives to describe him. He's led our team, and every time we've needed him to step up and play well he has."
Pressed for a description of his teammate, Preissing made a comparison to another player well-known in the Rocky Mountain State — Avalanche forward Peter Forsberg.
"He's kind of a power forward but he's got pretty good hands and he's got a rocket for a shot," Preissing said of Sejna. "He's not afraid to hit or be hit; he's pretty good defensively; he's a real powerful skater."
So it looks as if CC opponents the rest of the way may have their hands full, while Owens may well have two Hobey Baker finalists on his hands. Just don't ask him to have to pick one over the other.
"I probably couldn't," said Owens. "Peter Sejna's [point-scoring] streak of 29 games [dating back to last season's NCAA tournament], and his goal scoring, goals-to-assists ratio and all those things are pretty amazing," Owens said. "He is a total offensive package.
"Tommy can score from the blue line; he can play against the top lines defensively, and he's a captain. So I think both of them offer two different things, and I would hate to have to choose."
Not as much as opponents hate to have contain these offensive powerhouses.