In 1986 Cornell won its seventh ECAC championship. The big name on that team was a junior by the name of Joe Nieuwendyk who led the team in scoring and was named All-America.
But one of the three captains was a senior from Durham, Ont., the heart and soul of the Big Red.
Mike Schafer was known for his tenacity, his hard work and his dedication to his team and his school. In fact, the Lynah Faithful worshiped him. From the chants of "Kill, Schafer, Kill" to the story of Schafer breaking his stick over his head to fire up the Lynah crowd, he may not have been the offensive powerhouse Nieuwendyk was, but he was one of the Faithful's most beloved.
"They've finally decided to give it to me 17 years later. It's an amazing feeling," deadpanned Schafer at the ECAC awards banquet in Albany, N.Y., a few weeks ago. "Who would have known that a short, stocky defenseman could have ever won this award?"
The 1986 alum was referring to the fact that the evening's emcee, Greg Madden, had forgotten to introduce David LeNeveu as ECAC Co-Player of the Year and had gone straight to the ECAC Coach of the Year instead.
So there stood Schafer at the podium with the ECAC Player of the Year trophy in front of him. He wasn't quite sure what to do with it, but he knew what to do with the other one.
For the first time in league history the Coach of the Year Award had gone to the same man for a second consecutive year — and he stood on the cusp of bringing his team to the Frozen Four for the first time since before he arrived on the Ithaca, N.Y., campus in 1982.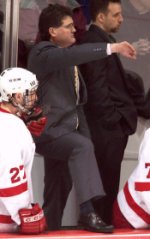 After his Cornell tenure as a student and then assistant coach, Schafer left Ithaca, but found himself back in 1995. He took over a Big Red club that had not won an ECAC championship or had a 20-win season since he himself was a senior. In just one year, he guided the Big Red to both. And again the next year.
The tradition of Big Red hockey had come back with a vengeance.
The Big Red would have a three-year wait until it reached the ECAC championship game again, falling to St. Lawrence in 2001. In 2002, Harvard downed Cornell in the championship game, but the team had arrived once again.
This season, the Big Red are back with a vengeance.
"This team has been driven," said Schafer. "I don't know how many times I said it to the media that this team was so disappointed last year losing the championship game to Harvard and then a devastating loss to UNH [in the NCAAs].
"It's gone full circle for us; it's been 365 days since we lost to UNH, and these guys set the goal and accomplished it of giving this team a chance to win a [national] championship."
That chance doesn't come along a lot, but perseverance has paid off for Schafer, and it translates to the entire team and the Lynah crowd. The Lynah Faithful now play the closely-enough-named Schaefer beer commercial in his honor and the Big Red show the utmost respect for their coach.
"He's done an incredible job. When he first got there he won the ECAC championship," said senior Mark McRae. "I think he knows what it takes to take a player to the next level. He brings the knowledge of the Cornell tradition, he's a good hockey person and he's done an incredible job."
"I said to my wife after [Cornell defeated BC], 'This is what we've been working for,'" said Schafer. "Not only our team and our program, but I've always thought to myself that my coaching career would never be complete at the collegiate level until I get to the Frozen Four and get the job done, and now we're there.
"My coaching career is far from complete, but that's the goal that our staff and all of us have set for ourselves."
Not only that, but as a Cornell alum, Schafer teaches what it is to put on the Carnellian Red and White and what it's like to take those colors to the Frozen Four.
"Tradition has been heavily emphasized in our program," said McRae. "We have a lot of tradition on our team and to bring a team back to that level of tradition was Coach Schafer's goal when he first came here. It's an incredible feeling for us to come back to national prominence."
"We want them to embrace the fine tradition of our university and our hockey program, and they've done that," said Schafer. "They understand they're playing for more than just themselves — they're playing for our whole institution."
"When we first entered campus as freshmen, the history of our program was there," said Sunday's double-overtime hero against Boston College, Matt McRae. "It's been a long time since we've been to the Frozen Four. It's just great for our team and our program to get there again."
Schafer had a taste of the NCAA tournament in 1986, but the Big Red stopped short of the semifinals. It's taken Cornell 23 years to get back to the Frozen Four, and eight years for Schafer as a head coach to get back to the glory days — the days of Dryden, Nieuwendyk and the others.
"It's a responsibility of every player that comes in that when they look on the ice and see '25' they see Joe Nieuwendyk in that jersey, or Ken Dryden in that jersey or Lance Nethery," said Schafer. "Or the guys in the past that played with that jersey. They have to match those standards. Look at LeNeveu, he's broken Dryden's records and I didn't think that could happen. They stepped up and lived up to the past."
Perhaps one of these days, the next player to wear 3 for Cornell will look back at the defenseman who led his team to the ECAC title. Or perhaps, he'll look back at the coach that led Cornell back to the NCAA championship.