The underdog. Americans can't get enough of this fabled hero. We love the guy who comes from behind, the guy who beats the odds, the blue-collar boy who overcomes adversity and triumphs through a combination of talent, smarts, perseverance, and good will.
In hockey, we love the grinders, the teams that rely on role players to win, players who are fearless in the corners, defenders who do anything to block a shot before it even thinks of getting to the net.
Oh, we love those guys who aren't expected to win, the longest shot in any given situation, the older guys whose careers have stood the test of time, the boys "too young" to be so experienced.
We love a great PK, a good fourth line, a wunderkind goaltender, a team that plays working class hockey, a group that has overcome injury and adversity, a team that wasn't supposed to go so far.
Unless, of course, that team is the Michigan Wolverines.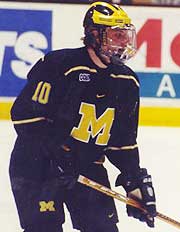 In any sport, there are teams that fans love to hate. If you didn't graduate from Notre Dame, you root against the Fighting Irish. Not from the greater Gainesville area? Then you despise the Gators. No money in the southern branch of your family? Then Duke it isn't.
And this quirk of fandom isn't limited to collegiate sports. Take the Dallas Cowboys, for instance. You love them if you're from Texas, if you're a bandwagoner, or if you fondly remember Roger Staubach; otherwise, you laugh at their misfortune.
(By the way, if you're in Buffalo for the Frozen Four, don't mention the Cowboys. In fact, any mention of the word "Dallas" without an accompanying derogatory comment is grounds for arrest or a quick ride to the city limits, depending on your audience.)
And so it is with Michigan, the CCHA team college hockey fans love to hate.
But for this Frozen Four, it doesn't have to be this way. In fact, it shouldn't be this way, not for this tournament and not for this Michigan team.
Why? Because this Michigan team is a team worth cheering for. These Wolverines are good — no, great — kids. This team is what college hockey is all about.
And it's my job to convince you, the CCHA fan, to root for Michigan in Buffalo.
"That's quite a task." Eric Nystrom laughed when I told him what I was setting out to do. "That would be awesome going in there, to have a good entourage. It would be nice."
The 20-year-old native of Syosset, N.Y. — that's on Long Island, far from Buffalo, for those of you unfamiliar with New York State — doesn't quite understand why fans around the league are either Michigan diehards, or root for anyone opposing the Wolverines.
"I don't get it. I mean, we're representing the CCHA."
The problem for Nystrom is that he — like most of his teammates — is too young to understand why CCHA fans hate Michigan. He was barely in long pants when Red Berenson turned the program around, taking the Wolverines from bottom-dwellers to perennial winners.
Nystrom — like his teammates — was decidedly pre-college when Brendan Morrison made his now-infamous "the best team doesn't always win" remark when accepting the Hobey Baker Award in 1997.
In fact, Nystrom and his teammates have missed a whole lot of history, and not just of the Wolverine kind. The Wolverines are the youngest team in the CCHA, with an average age of just 20.8 years.
How tender is that? The Reagan years? In full force when these boys arrived on the scene. By the time these kids hit kindergarten, AIDS was a household term. The first space shuttle, Columbia, orbited Earth when most of these guys were in diapers, before a few of these Wolverines were born.
Forget having been born after Star Wars changed American cinema forever. These guys most likely missed the first run of The Empire Strikes Back. The Maltese Falcon? For this bunch, Out of Africa is a classic, Prince is old school, and Springsteen's "Born to Run" is a golden oldie.
But don't dismiss these boys because they can't remember life pre-Madonna. They can't fathom living as prima donnas, either.
These aren't your dad's Wolverines. In fact, your older brother or sister wouldn't recognize them.
On this team, there is no pretense, no star attitude, no sense of elitism. This is a hockey team that never takes winning for granted, a team for which simply taking the ice is pure pleasure.
"We're an honest, hard-working team," said Nystrom, with absolute sincerity. "We don't have any cocky superstars on our team. We don't have a major player like Peter Sejna or a Chris Kunitz, either.
"This year we have four lines, and if we're going to win, every guy on every line is going to have to put his best foot forward every game."
Nystrom himself has certainly put his best foot forward come playoff time. In his last two games, the sophomore had two goals and two assists and was named to the Midwest Regional all-tournament team in Ann Arbor.
His classmate, 20-year-old Dwight Helminen, was the kid who pulled Michigan through the Super Six.
And don't forget another sophomore, David Moss, the center who is among the Wolverines leading scorers — while playing on the fourth line.
Gone are the days of Mike Comrie, Mike Komisarek, Mike Cammalleri. In fact, the offseason losses of Komisarek and Cammalleri — and their 34 goals — put the Wolverines in a tight spot to start the season. Additionally, the Michigan defense was left a little shorter, still banged up from last season, and woefully inexperienced.
And then Eric Werner made an unexpected early departure, becoming academically ineligible after the fall term.
But as the season progressed, the team solidified in front of a very young goaltender: Al Montoya, the young man who began the season as a mere babe of 17.
No superstar, a shallow defense, a young goaltender — and yet the Wolverines are in Buffalo, having advanced to the Frozen Four for the third consecutive season.
How did they do it?
"It's starts with the coaching staff, and with our captains," said Nystrom. "Johnny Shouneyia, Jed Ortmeyer, and Andy Burnes — they set the example on and off the ice."
Shouneyia exemplifies the blue-collar work ethic of this team. Having played on line with Mike Comrie, Shouneyia knows what it's like to play with a playmaker, but this year Shouneyia is the playmaker for Michigan, if such an entity exists, leading the team with 28 assists.
Then there's Ortmeyer — the old man on the team, born in 1978 — this year's CCHA Best Defensive Forward, an award that has been in recent years more comfortably given to a team just down the road from Ann Arbor, a team most CCHA fans think epitomizes "blue collar," a team in East Lansing.
"Orts is a heart-and-soul guy," said Nystrom. "He's not flashy. He's someone you look up to.
"And then there's Andy Burnes, who probably doesn't get a lot of recognition, but he's just steady."
And steady does it for this Michigan team, on and off the ice. Sure, there are plenty of Wolverines who do charity work, just like the players on your favorite team do. They are, after all, hockey players — a good breed, as you know — but visits to local children's hospitals and literacy initiative aside, these guys just really love the game, and really care about each other.
"We're all out there just to have fun," said Nystrom. "We work hard every game.
"I think we're a bunch of guys who truly just love to play, truly love learning about the game, and being the best we can be.
"We're very close — it's a family atmosphere. I've played on teams in the past where every guy was out for himself. That's not at all the way it is here. Everyone wants to see everyone else succeed.
"Everybody is willing to buy into the system. We don't have that one guy who can make or break the team. We're a team, with a capital 'T.'"
Sound familiar? Like your Bulldogs, Broncos, Nanooks, and Wildcats, for example?
Or can you only wish your team were like that this season?
Another Michigan sophomore, Jason Ryznar, is truly baffled by the anti-Michigan sentiment among CCHA fans. If he could, said Ryznar, he would "sit down and reason with" the folks who root against Michigan just for the sake of doing so.
If he did — trust me — you'd be sold.
"I don't see any reason why they shouldn't [root for Michigan]," said Ryznar. "If Ferris State, Bowling Green, Notre Dame — anyone from our league — were [at the Frozen Four] instead of us, we'd all be pulling for them."
That's the biggest reason you, the average CCHA fan, should pull and pull hard for this Michigan team. Work ethic and humility aside, these guys know that they're not only playing for Michigan, but they're playing for the CCHA.
They're playing for you.
"We're representing the CCHA," said Nystrom, "the best league in college hockey. We wouldn't be here if it weren't for the other teams in the league, for the level of competition.
"Night in and night out, we knew how hard we had to play to beat the teams in our league. It didn't matter if we were playing Lake State or Michigan State; we knew every night that every shift had to be good for us to win.
"We're representing a great league, and as much as you want to see us beat, it's been a long and hard path to get up there, and we couldn't have done it without the other teams in the league pushing us."
Even head coach Red Berenson credited the CCHA with his team's success, after the Wolverines beat Colorado College at the Midwest Regional.
After giving up two goals to the nation's top power play in the first period, Michigan came back to shut down the CC power play, and that was the key to winning that penalty-filled game.
"The teams in our league prepared us for this tournament," said Berenson. "Big games in our league and at Joe Louis … helped Al [Montoya] and our freshmen understand why they came to Michigan, to play in games like this. When they get in a game like this tonight, it's not going to rattle them."
In other words, since they've played your team, the Wolverines are prepared for anything.
At the Frozen Four in Providence three short years ago, fans of the Western Collegiate Hockey Association made a little magic, and made their conference proud.
After North Dakota had secured its seventh national championship, the arena erupted in a chorus of "W-C-H-A!" a show of solidarity by fans of the only non-Eastern conference represented in that year's tournament.
It was a heartwarming moment. Minnesota fans, Wisconsin fans, the St. Cloud faithful — and, of course, fans of the Fighting Sioux — all united in cheering not just for North Dakota but for their entire conference, people from all over the West proud of their teams, their boys, their tradition.
And when Michigan takes the ice in HSBC Arena Thursday night, CCHA fans attending the Frozen Four will come together to pull for the Wolverines, to pull for the team representing their teams, their boys, their tradition.
Well, a girl can dream, can't she?