In each of his first 17 seasons behind the bench at Michigan, head coach Red Berenson has allowed the players to select which teammate will wear the "C" that signifies the captain of the Wolverines.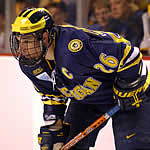 Last year, however, for the first time, Berenson selected his captain himself — junior Jed Ortmeyer. Recognizing Ortmeyer's leadership abilities, Berenson wanted to make sure that there was no chance that he wouldn't be voted team captain.
"I can't say enough about Jed Ortmeyer," said Berenson. "He's been one of those individuals that we'll really miss. It's not just that he's a senior, but that he's a leader.
"He's a great example of a student athlete and a great competitor. He may not have the numbers that other players have, but he's a heart and soul guy, he's a team guy, he's a school guy, he's the epitome of what I would want in a captain on my team."
Pride on ice
In the past, Minnesota has had a famous — some would say infamous — policy of choosing Minnesota-born players to fill out its roster. When Don Lucia became coach of the Gophers four years ago, he vowed that the policy would not last if he saw a non-Minnesotan that he thought would help the team toward its goal of a national championship.
Captain Grant Potulny, from North Dakota, was the first player born outside Minnesota chosen for the team in over a decade. Minnesota fans could overlook his birth state, however, since he came from just over the Red River from Minnesota land, and the fact Potulny's game winner last year gave the program it's first national championship in 25 years didn't hurt.
But this year came a whole new challenge — not only a player not from Minnesota, but a player not from the continent.
Austria's Thomas Vanek came to play for the Gophers, and no one knew just how he would be accepted. But no doubt it will help Lucia's cause that Vanek was named the WCHA Rookie of the Year, scored three goals and added two assists in being named the MVP of the West Regional held at Mariucci Arena — and then scored the overtime game-winner against Michigan to give Minnesota the chance to be the first repeat champion since Boston University in 1972.
This might put an end to any Minnesota bias that might still exist. But what about the fans that might still have trouble accepting non-Minnesota players like Potulny and Vanek being leaders?
"Tommy [Vanek]'s got 30 goals this year, and people are going to be concerned about non-Minnesotans doing this, doing that. So be it," said out-of-stater Grant Potulny. "But this team has embraced the players and the coaching staff and the majority of the fans have embraced us.
"We've got two more coming in next year, two more fantastic players. I think winning is more important than being all-Minnesotan."
Michigan vs. Minnesota
These two teams have a long and rich tradition in playing each other, with over 240 games between them. Despite that, the two have faced each other just four times in the NCAA Tournament prior to Thursday's semifinal.
The most recent meeting came in last year's semi, when Minnesota beat the Wolverines by an identical 3-2 score.
Prior to that, however, the Gophers didn't have a win against Michigan in the postseason. The Wolverines ended Minnesota's season in 1996 and 1997, the former particularly memorable for Mike Legg's "lacrosse-style" goal against Minnesota goalie Steve Debus.
"They play to win. They come at you with the puck," said Berenson, on the Gophers. "They play offensive hockey, and they play pretty well without the puck, and we do the same thing.
"That's why they are good games, because both teams are trying to win. You're seeing skill, you're seeing speed, you're seeing good offensive hockey."
Youth vs. Experience
When both Michigan and Minnesota faced off in last year's Frozen Four, it wasn't obvious that either team would be returning the next season.
Both programs experienced significant off-season losses, as Michigan lost Mike Cammalleri (44 points), Mike Komisarek (30) and four-year goaltender Josh Blackburn (2.24 career GAA).
The Gophers were hit even harder, losing Hobey Baker Memorial Award winner Jordan Leopold (48 points as a defenseman) and John Pohl (79) to graduation, while Jeff Taffe (58) followed the siren song of the NHL and left school early.
Both teams featured large freshmen and sophomore classes, 13 members for each squad. On each team, rookies played a huge role in returning to the Frozen Four, most notably goaltender Al Montoya and CCHA Rookie of the Year Jeff Tambellini (44 points in 42 games) for the Wolverines and Minnesota's Thomas Vanek (58) and Gino Guyer (27).
The players didn't disappoint in this game, either, as freshmen Brandon Kaleniecki and fellow rookie Andrew Ebbett combined for the first Michigan goal, and Tambellini assisted on the second, while Montoya stopped 29 shots in the overtime loss. Guyer scored Minnesota's game-tying goal in the third period, and Vanek won it in overtime.
"I don't think you've seen a better freshman goaltender than Al Montoya. He kept us in the game tonight when we were on our heels and Minnesota was throwing everything at us. He played well enough in the playoffs for us to be playing again. "
"It was up to us over who was going to fill those roles," said Minnesota netminder Travis Weber. "It was a team movement. The younger guys stepped up and started to play better the second half of the season."
Which is not to discount the role of the older players on the teams. Michigan's second goal was scored by two-time captain and senior Jed Ortmeyer, and with three minutes left in regulation, Minnesota junior defenseman Paul Martin stopped an empty net bid by Jason Ryznar when Weber was out of position.
"Grant Potulny is one of the oldest guys on the team," echoes Vanek. "He takes charge of this team in the lockerroom. Grant's definitely our leader."
Quotables
"It meant alot. That could have been the game right there." – Weber, on Martin's save of Ryznar's empty net chance.
"We've got two teams that play on the Olympic rinks playing for a national title." – Lucia, noting that both New Hampshire and Minnesota's home rinks are Olympic size ice sheets.
"It's not always the best team." – Michigan coach Red Berenson on the NCAA champion, echoing Brendan Morrison's infamous comment during his Hobey Baker acceptance speech in 1997.
"Dick Umile is a great friend of mine, and [UNH Athletic Director] Marty Scarano was my AD at CC, so we'll have a mafia reunion going here on Saturday. Maybe they'll play the theme from the Godfather when we get on the ice." – Lucia, on Saturday's impending meeting between Minnesota and New Hamsphire.